Alexi McCammond is a passionate broadcaster who is gradually paving her way to the top through hard work and dedication. She is a news editor and reporter with strong interests in politics as evidenced by her career profile. Though still a budding journalist, McCammond is undoubtedly one to watch out for in the industry. Here are lesser-known facts about the gorgeous journalist in the news business.
Alexi McCammond (MSNBC) – Bio
Alexi McCammond is an Illinoisian whose exact birth date has not been made public but she is believed to have been born in the year 1994. She is one of the three kids born to Shelli McCammond and a father whose name the journalist hasn't shared with the public. The only information McCammond has disclosed about her father is that he is an African-American who towers at a height of 6 feet 3 inches. Alexi and her siblings, a brother -Braxton and a sister – Aubyn were raised in the suburbs of Chicago.
According to Alexi's academic records, she attended Guilford High School, Rockford. An ambitious young lady, she once nursed dreams of becoming a medical doctor in the future but when her family began experiencing some financial constraints in her junior year, that dream seemed really far fetched. A bright student, McCammond applied to three tertiary institutions after high school which included the University of Chicago as well as two other Ivy Leagues – Yale and Brown universities. Thankfully, Alexi got an offer which her family described as a 'lottery win' from the University of Chicago in 2011. The burden of paying tuition fees, housing and books were lifted off their shoulder with a full four-year academic scholarship worth $60,000 per annum to study Sociology, Romance Languages & Literature.
Career
Alexi McCammond began working as a student in order to support herself through school. Her first job was as an intern political reporter at The Gate Undergraduate Political Review. Next was as a digital editorial intern & a freelance political writer at the Cosmopolitan magazine. After college, Alexi landed a job with Bustle. She joined the online magazine in 2016 as a political and news reporter and quickly rose through the ranks to the position of an associate news editor. Given her strong interests in the political scene, McCammond was assigned to cover the 2016 presidential debates for the media outlet. Alexi left Bustle in 2017 and currently doubles as a political editor and deputy news desk editor for an American media company, Axios.
Alexi McCammond is a budding broadcaster that has garnered good experiences in her young career. Besides her stints at various networks, she has made other screen appearances. As a media personality, she has featured on a New York radio station WNYC, MSNBC, Fox Business, a Washington-based ABC affiliate WJLA, and a couple of TV documentaries. She also hosted a 2016 short series Love, Factually.
Is She Dating Anyone, Who is Her Boyfriend?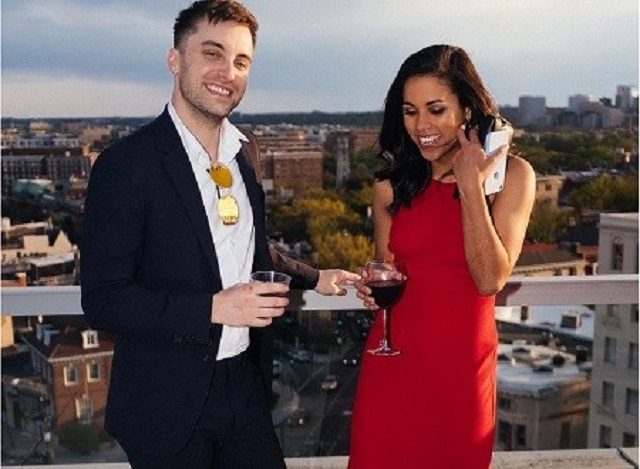 Since the gorgeous journalist began gracing our screens, fans have been curious to know who the man in her life is. Though Alexi McCammond has not officially disclosed details of her love life, our investigations reveal she is currently in a romantic relationship with Washington-based filmmaker Rob Groulx.
It is uncertain when exactly the lovebirds became an item, but their social media accounts suggest it is no later than 2017. The pair has apparently found love in each other's arms and are not hesitant to share their romance on social media.
See Also: Weijia Jiang of CBS News – Biography, Husband, Age, Salary and Other Facts
Other Facts About Alexi McCammond
The beautiful journalist stands tall at a height of 6 feet 1 inch. Details regarding her weight and other body measurements have not been made public knowledge.
Alexi McCammond is not just active on the traditional media but also on social media. She has amassed a huge following on popular platforms such as Instagram, Twitter, and Facebook.
The broadcaster loves animals and nurtures a dog (miniature Schnauzer called Marlin) as her pet.
Alexi McCammond is undoubtedly a hard-working, ambitious journalist and one to watch out for in the industry. Though her exact earnings are unknown, she is believed to have amassed a decent net worth and can afford a comfortable life.
Alexi McCammond made headlines in 2016 while covering the presidential elections for Bustle. As later revealed by the journalist, she had a run-in with Donald Trump during a press conference. According to Alexi, just like other pressmen present, she used her phone as a recording gadget to ask the then Republican candidate a question about the elections but was rebuffed. In a viral video that was later uploaded on one of her social media platforms, Alexi claimed Trump grabbed her wrist, ordered her to put the phone down and then shoved her hand down.
Some of McCammond's articles during her early career days depict her life experiences. For instance, on different platforms, Alexi has revealed that she has been drugged by strangers twice in her life but luckily survived unhurt.