Alicia Etheredge is an American producer, career manager and businesswoman who came to the public eye after marrying American Singer, Bobby Brown, the widower of late superstar Whitney Houston. Etheredge has produced several TV series such as The Real, The Insider, and Outside's Inn. She is also an ace career manager whose clientele base includes celebrities and sports stars like her own husband, Bobby Brown.
Brown hasn't minced words in praising his wife as the force behind his refined behavior. He equally gives her credit for helping him retrace his steps back to God. Let's get a peek into the bio, age and other interesting facts about this wonderful woman.
Alicia Etheredge's Bio and Age
Alicia Etheredge was born in Culver City, California, on December 21, 1973. She and her siblings, Kim and Justin were raised in Culver City by their entrepreneur parents; Justin JJ Etheredge who works in the film industry and Kim Etheredge who went into business and co-founded the hair product line, Mixed Chicks.
Alicia also took the high road; together with her husband, she runs the spice production company, Bobby Brown Foods. A food processing company that manufactures gluten-free natural hot sauce. Although not much is known about her childhood, early education and her parents, we know that Alicia attended Howard University, Washington, D.C.
As far as we know, Alicia Etheredge had built her professional career managing the career of high-value individuals and celebrities. In 2008, she joined Bobby Brown's management team. Previously she had worked for several celebrities, sports and music personalities, including Macy Gray and Magic Johnson. On top of that, Etheredge also works as a TV producer and has been at the front lines in the production of a number of TV programs such as The Insider (2004), Outsider's Inn (2008), The Real (2013), and has appeared in the show Omg!
Facts About Bobby Brown's Wife
1. Alicia Etheredge's Salary and Net Worth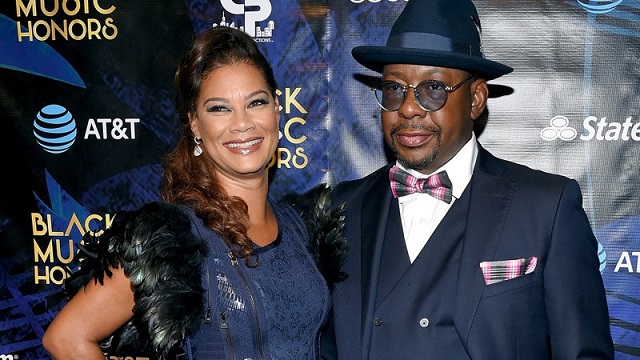 According to sources, Alicia Etheredge has a net worth of $500,000. Much of that has come from her work as a producer and career manager for sports people, celebrities and musicians including her own husband, Bobby Brown. While $500k is no small feat, it quickly becomes four times smaller when compared to her husband's $2 million fortune. Brown, an accomplished R&B singer has established several income streams including his company, Bobby Brown Foods, which he runs with his wife.
2. Marriage to Bobby Brown
Alicia Etheredge met Brown at a dance hall. Bobby was 18 at that time. Although they became friends instantly, life soon pushed them away from each other. She would later reappear at his wedding to Whitney Houston in 1992. However, due to an uncultured life of sex, drugs, relationships, and unwanted drama, the marriage got so dysfunctional it shattered in 2007. Houston's drugs habit continued, eventually leading to her death in 2009.
See Also: Shante Broadus, Snoop Dogg Wife – Bio, Age, Children, Siblings
Following his divorce, Brown and Alicia Etheredge got romantically involved and in 2010 they got engaged. The two were married two years later on June 18, 2012, in Honolulu, Hawaii. So far, their union has produced three beautiful daughters, Cassius Brown (b. May 30, 2009), Bodhi Jameson Rein Brown (b. July 9, 2015) and Hendrix Estelle Sheba Brown (b. July 14, 2016). Etheredge is Stepmother to Landon Brown, Bobby Brown Jr., LaPrincia Brown and the late Bobbi Kristina Brown who died in 2015.
3. Controversy
On February 9, 2006, Alicia Etheredge got caught up in serious trouble after she was arrested for Driving Under Influence (DUI). The authorities subjected her to 209 hours of community service. Her probation was later dismissed by court warrant with a penalty of $10,000.
In September of 2018, Alicia Etheredge was thrust into controversy again when Bobby Brown's sister Leolah Brown Muhammad came open about Etheredge's part in her brother's docu-miniseries, The Bobby Brown Story.' Muhammed insisted that her brother had lied about Etheredge's character and spoke about Etheredge's ill manners and behavior with her family members. She also added that her brother, Bobby Brown, is being controlled by Alicia Etheredge, who reportedly prevents him from releasing money for his own mother's medication.
4. Height and Body Measurements
Alicia Etheredge is of average height; she stands tall at 5 feet 6 inches (1.67 meters) and weighs 132 lbs (60kg). She has black hair and dark brown eyes. Etheredge wears a bra size 33B, a shoe size of 6 (US) and body measurements of 34-28-35; for her bust, waist, and hips.
5. Favorites
Alicia Etheredge's favorite actor is Johnny Depp from Pirates of the Caribbean. She cherishes Pink color and relishes seafood. She also loves to shop and travel.