Alicia Keys is a singer-songwriter with quite a lot of awards to her name. In fact, her debut album went platinum five times over and she has continued to stay relevant in the music industry with a lot of other hit albums and successful projects added to her name over the years. She is also an awardee of the Songwriters Hall of Fame and has proven many times over that she is truly a girl on fire.
Beside her love for music, her activism in many areas have also set her apart and made her one woman whose fans won't forget in a hurry.
Alicia Keys' Biography
Alicia Keys was born in New York on the 25th of January 1981 and given the full name Alicia Augello Cook. Despite having a very tough background with her family not being exactly well-to-do and the neighborhood she lived in being quite rough, she went to school at Manhattan's prestigious Professional Performance Arts School and majored in choir. She graduated from the school at the young age of 16 because of her incredible academic performance. At the time, Record company executives were already paying attention to her during her and finally, in 1998, she settled with Arista Records. Columbia University meanwhile accepted her on a full scholarship and she started there but left after only four weeks to devote herself completely to music.
Alicia Keys followed Clive Davis, the then head of Arista Records when he left the company to found J Records. She trusted him as he had worked on the careers of such greats as Aretha Franklin. With the new record label, Alicia Keys found the freedom to unleash the full range of her talent in singing, writing and producing and went on to complete the debut album that she had been working on for years. Davis focused a lot of media attention on her prior to the release of her album and when the debut Songs in A Minor (2001) finally came out, it went platinum five times over.
Songs in A Minor carted away five Grammy Awards in 2002 which included awards for Song of the Year, Best R&B Song, Best R&B Album, Best New Artist, and Best Female R&B Vocal Performance. She followed through in 2003 with The Diary of Alicia Keys, which was also quite successful winning her some extra Grammy's in Best Female R&B Vocal Performance, Best R&B Album, Best R&B Song and Best R&B Performance by a Group or Duo with Vocals. Her subsequent albums As I Am (2007), The Element of Freedom (2009) and Girl on Fire (2012) were also hits and won her Grammy after Grammy.
Alicia Keys has also explored a talent in acting over the years from as young as when she was four years old and appeared as one of Keshia Knight Pulliam's friends on The Cosby Show (1984). Her film debut, however, happened in 2006 when she played the role of Georgia Sykes in Smokin' Aces. In 2006, she joined the singing competition, The Voice, as one of the judges.
Who Are Alicia's Parents?
Alicia Keys was brought up in a single-parent household in New York City. Her mother, who is named Nikki Augello, worked as a paralegal and part-time actress. She raised her daughter alone instilling in her every possible advantage that she would need to succeed. Alicia Keys, for instance, began piano lessons when she was 7 years old and her mother gave her no avenue to quit leading to her enrollment and attendance of Manhattan's prestigious Professional Performance Arts School. The extracurricular activities that Alicia Keys was pushed into by her mother helped her to stay out of trouble in the rather rough streets of Hell's Kitchen.
See Also: Who is Janelle Monae? Age, Height, Net Worth, Husband, Is She Gay/Lesbian?
Her father is a man named Craig Cook who was a flight attendant. Whereas her mother is  Sicilian (Sciacca) and either Scottish or Irish, Alicia Key's father is African American. He left the family when she was only two and the singer has admitted that her father is not in her life and that her parents never had much of a relationship. Alicia Keys is always full of high praise for her mother and rightfully so as Nikki Augello sometimes worked three jobs to keep them well provided for. The singer has admitted to learning a lot from her mother's hard work and dedication.
Who Are Her Family Members: Husband and Kids?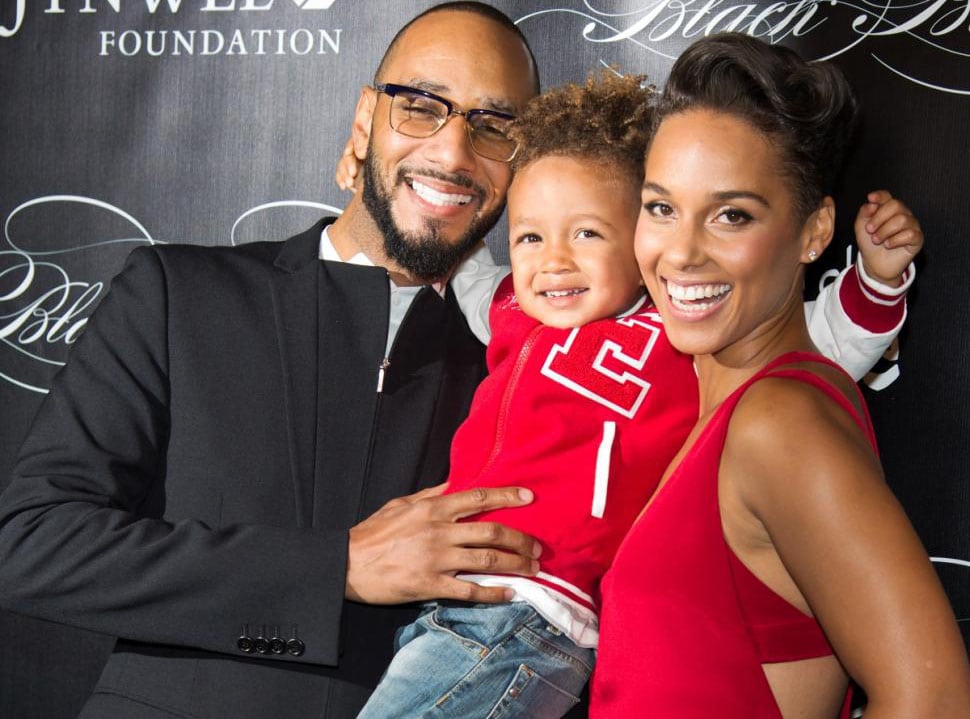 Alicia Keys is married to Swizz Beatz, a talented hip-hop producer and rapper in his own right. Prior to their marriage, Alicia Key's had been in a relationship with Kerry Brothers Jr. which ended in 2008, after which her relationship with her future husband began. Alicia Keys had known Swizz Beatz since the two were teenagers. In May 2010, the two announced their engagement and also said they were expecting their first child together.
During the 2010 FIFA World Cup, Alicia Keys and Swizz Beatz held a Zulu ceremony for the blessing of their unborn child. They got married in a private ceremony on July 31, 2010. The ceremony held in a venue near the Mediterranean Sea. In October 2010, they welcomed a son who they named Egypt Daoud Dean. Their second son, Genesis Ali Dean, was born in December 2014. The boys also have a half-brother from Swizz Beatz former relationship named Kasseem Dean Jr.