If you have watched the popular American political drama series, The West Wing, then you will definitely know who Allison Janney is. But if you have not, introductions are in order. Allison Janney is an accomplished TV and movie actress in Hollywood who has featured in many series and movies. She is, however, most popular for her role as C.J. Cregg, the tough-as-nails White House press secretary/chief of staff, in The West Wing. She played the breakthrough role for the seven seasons that the TV series lasted. Allison not only received positive praise for her performance but also won several awards in the process. They include 4 Emmy Awards as well as 4 Screen Actors Guild Awards. Find out more about Janney here including her age, height, mom, boyfriend, husband, net worth etc.
Allison Janney's Age and Bio
Allison Brooks Janney was born on the 19th of November 1959 in Boston. She, however, grew up in Dayton, Ohio where she attended various schools such as the Miami Valley School, Dayton and Hotchkiss School, Connecticut. While in school, the actress excelled in various sports such as track and figure skating. She was so good in figure skating that she even aspired to make a professional career out of it. That dream was however cut short by a serious leg injury she sustained at a graduation party.
Allison Janney all the while also had a strong passion for acting from a very young age. She took part in several school plays and on leaving high school, she enrolled at Kenyon College to study drama.  While in college, Janney had the opportunity of meeting and working with the renowned actor, Paul Newman. Newman and his wife took her under their wings. They not only taught her but also advised her to pursue acting. She took the advice and on graduating in 1982, attended various acting schools to hone her acting skills.
Allison Janney commenced her professional career in the late 80s with appearances in the movie Who Shot Patakango (1989) and the TV series Morton & Hayes (1991). Since then, she has appeared in over 75 movies and over 40 TV series. Some of them are Drop Dead Gorgeous, The Help, The Hours, Big Night, 10 Things I Hate About You, The Girl On The Train, Finding Nemo, The West Wing, Mom, I, Tonya etc.
From all we have seen her do, Allison Janney has received a staggering 95 award nominations in her career, out of which she has won 69. In 2018 alone, Janney won the Oscar, Golden Globe, SAG, BAFTA and Critics Choice awards for the Best Supporting Actress. She received these awards for her role in the movie I, Tonya. Janney has also received a star on the Hollywood walk of fame. This was unveiled on the 17th of October 2017.
Net Worth
Allison Janney has accumulated a fortune of $4 million from her acting career. As it is with every other actor or actress who keeps on earning roles in film projects that turn out to be commercially successful, Allison Janney's net worth will certainly rise with more acting roles.
What to know about her mom and brothers
The actress hails from a family of 5. It includes her mother, Macy Janney and her father, Jervis Janney. Her mom was also an actress, albeit with lesser success. Janney also has two brothers named Jay and Hal. Hal sadly committed suicide in 2011 after struggling with addiction for much of his life. The actress has been outspoken about her brother's death and has even spearheaded a campaign on addiction.
Additionally, Janney is also popular for her role in the CBS sitcom, Mom. The sitcom follows a daughter and a mother, who are both recovering addicts, as they try to patch their relationship and their lives. Janney plays the role of the mom and has won many awards for her performance. It includes the 2014 and 2015 Emmy Awards for Best Supporting Actress.
Is she married or dating?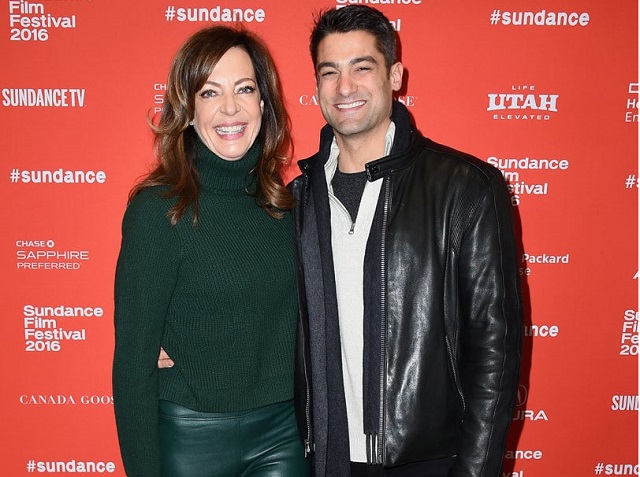 The Dayton native has never been married; she has publicly stated that she does not believe in the institution of marriage. Allison Janney has also stated that she doesn't want to have kids. However, even though she doesn't want to get hitched, she has been involved in some romantic relationships.
She previously dated actor, Richard Jenik. They even got engaged in 2004 but broke up in 2006. Janney is now in a relationship with Philip Joncas. Joncas also works in Hollywood as a production coordinator. The couple reportedly started dating in 2014 but made their first official public appearance in June 2015 at the Minions red carpet.
Height
One of Janney's trademark features is her above-average height. She is 6 feet tall (1.83m) and her weight is given as 63kg (138lbs). Her height proved to be a hindrance in the early days of her career as she lost some roles due to it. One casting director even told her that the only roles she can get is either as a lesbian or an alien. Janney did not let this detract her but instead persisted in pursuing her career. There is certainly no doubt that Allison Janney has proven the naysayers wrong given the illustrious career she has had.