There is a new crop of YouTubers known by their different contents with a very strong uniqueness that stands every one of them out, some upload video games, some fashion while some others have comedy video contents to showcase on their channels. Anna Akana has used her platform to showcase her comedy contents to the world and in return launched herself into the spotlight.
From mourning the death of her sister who committed suicide, she found herself in a comedy show and laughed to the jokes of a comedian as she found happiness in the midst of uncertainty. This made her see comedy as a means of moving on with life and earning a living. Today, she presents herself as a YouTuber, a writer, an actress, a filmmaker, a comedian, and author.
In this article, you will get to know more about Anna Akana, her boyfriend, family, net worth and many other things of interest we have gathered about her.
Anna Akana's Age and Ethnicity
Anna Kay Akana was born on August 18, 1989, in California, United States. Her father is Japanese whereas her mother is from the Philippine, which leaves Anna Akana as a mixed ethnicity of Japanese and Filipino. As a result of her father's work as an officer in the United States Marine Corps, she often found herself with her family moving from place to place. The exposure gave Anna Akana the opportunity of delving into learning other languages as she now speaks Japanese, Spanish and English languages quite fluently.
She had an ambition of becoming a Veterinary Doctor and had everything going in the realization of that until the unfortunate incidence on valentine's day of 2007, the day her sister committed suicide, Anna's dreams and aspirations shattered.
In a bid to overcome her grief, Anna Akana attended Comedy Central Special where comedian Margaret Cho performed to her admiration. She found laughter again since the tragic incident that left her unstable. Margaret's comic display at the event didn't just make Anna laugh; it made her see the healing power of comedy as a therapy and a possible means of livelihood. As a result of this new awakening, she jettisoned her dreams of becoming a veterinary doctor to embrace comedy fully.
At age 19, Anna ventured into stand-up comedy, however as a result of stage fright; she took a little time out from live performance and channeled her time and energy into YouTube. To keep her career afloat, in 2011, she created a YouTube channel and started uploading comic videos. As the channel attracted a good number of subscribers and became somewhat popular, she garnered confidence again to continue with live performances again.
In 2014, she formed a comedy music duo called Cat Benatar that had fellow comedian and writer, Megan Rosati on board. The same year, her channel made the list of New Media Rockstars Top 100 where it was ranked at Number 72.
As a gifted girl that could also direct and act, she directed and starred in some of the short films she uploaded in her channel. Aside from her productions, she has also starred in other YouTubers short films and TV series like Awkward (2011), Ant-Man (2015), Kids vs Monsters (2015), Hello, My Name Is Doris (2016). She has also featured in a good number of web series; some include Breaking Los Angeles (2011), Riley Rewind (2013), Youth & Consequences (2018) and many more.
Anna has also showcased her writing skills outside film scripts, she is a proud author of two books; her first publication was a book titled Surviving Suicide, it is a book she wrote to create awareness about mental health issues and prevention of suicide. Anna's second book titled So Much I Want to Tell You: Letters to My Little Sister was published in 2017 and chronicled Anna Akana's struggles and experiences during the loss of her sister.
Her Net Worth
Anna Akana has successfully built her channel to attract well over 2.4 million subscribers, with video views that are above 260 million, so much to show her relevance and dominance in the platform which comes with a reward of money. She is also an entrepreneur with a clothing line she established in 2015 called Ghost & Stars, which has been bringing in some cash. The net worth of this YouTube celebrity has been estimated to be within $2 million all accrued from her films, comedy sketches, books, and her fashion line.
Details of her Sister and Family
Anna and her siblings were born to Willian Akana who was an Officer in the US Marine, but of Japanese by origin. Her mother is Mia Akana, she is of Filipino origin. The other members of the family are his brother and little sister, Kristina who committed suicide on the Valentine's Day of 2007, her death was so devastating to Anna. She has been vocal about her sister's death; she got through it by the healing power of comedy. The younger brother who actually introduced her to YouTube currently resides in Los Angeles, California.
Who is Anna Akana Boyfriend?
Anna Akana is one of the few entertainers that has publicly admitted to being bisexual. She came out as a queer woman during her acceptance speech for a Streamy Award in 2018.
Meanwhile, she has been in relationships with men, maybe she carefully kept the womenfolk out of the spotlight. In the past, she dated Ray William Johnson from 2011 to 2014. Currently, Anna Akana has been in a romantic relationship with Brad Gage since 2014. They have been together since then as lovers with fewer worries.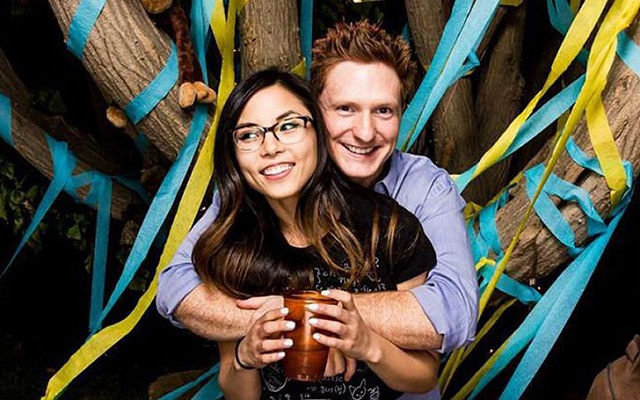 Brad is a stand-up comedian and has co-hosted the podcast Explain Things to Me alongside Anna. He graduated from the University of Miami where he bagged a degree in Geography and motion pictures. He also has his YouTube channel called Brad Gage Comedy.
Height, Weight, and Body Measurements
Anna Akana has a moderate height and body size for an entertainer; she has got a nice body and never shies away from flaunting it to the admiration of her audience and fans. She stands at a height of 5 ft 3 inches, weighs 55kg, has a bust measurement of 32 inches (bra size 32B), hips of 24 inches and waist of 32 inches.