When Benedict Cumberbatch was a high school student in boarding school, his drama teacher, Martin Tyrell spoke about how of all the student actors he had worked with, Cumberbatch was "the best schoolboy actor". This singular praise has set the tone and nature of the career Benedict Cumberbatch has had as an actor. 
Cumberbatch established himself as a professional actor in theatre productions, but he found a way to transition to the screen. The life he breathed in characters when he acted on the stage is what he does with those he has had the opportunity to play on the big and small screen. 
Benedict Cumberbatch's Career Beginnings In Theatre
Benedict Cumberbatch's career as an actor began in 1991 in the theatre, but it was not until 2001 that he started to play important characters. In 2005, he played the role of George Tesman in the 2005 theatre production, Hedda Gabler. For his performance, the Olivier Award body nominated him for the Best performance in a Supporting role. He has also received other nominations for this role.
As a theatre actor, Cumberbatch has performed in more than 15 classic plays at major theatre companies such as Regent's Park Open Air, Royal Court, and Almeida. Playing Hamlet in Shakespeare's play Hamlet is one of the highlights of his career in theater. The actor was nominated for two awards for this role but won only one.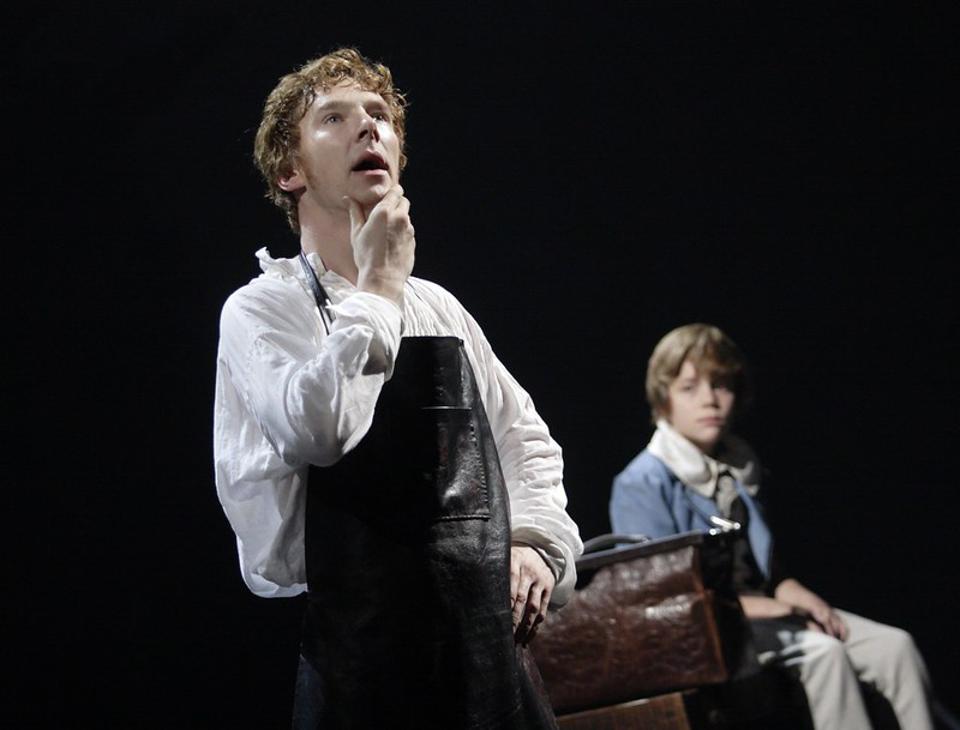 Playing Victor Frankenstein in the 2011 Royal National Theatre's production of Frankenstein is arguably his most notable theatre work. For his performance, he won one of the most prestigious awards in the British theatre circuit- the Laurence Oliver Award for Best Actor and was nominated for many others. 
A TV Series Earned Him International Acclaim
Around the time when Cumberbatch started to gain traction as a theatre actor, he was building experience in television. His first major role in television was as Stephen Hawking in the 2004 BBC television film Hawking. He was nominated for a BAFTA and a Golden Nymph award, winning the latter. Cumberbatch's next major performance was playing the lead in the BBC miniseries, The Last Enemy; he got nominated for a Satellite Award for Best Actor in a Miniseries for this role.
In 2010, Benedict Cumberbatch was cast to play Vincent van Gogh in Van Gogh: Pained with Words. In that same year, he experienced a pivotal change to his career when he was cast to play Sherlock Holmes in the eponymous television series. His performance was lauded by critics and also gave him international recognition.
For every season of the show, he was nominated by BAFTA for Best Leading Actor. However, he did not win the award any of these years but it was proof of how well he had done playing the character. But he won the 2014 Emmy for Outstanding Lead Actor in a Miniseries or Movie, was nominated for a Golden Globe, SAG award, and many other awards, some of which he went on to win.
His Career also Features Voice Acting
Cumberbatch has also contributed his voice acting skills and has voiced a number of characters in the course of his career. He voiced the character of Smaug and the Necromancer in the three Hobbit films, he also provided motion capture for the character. He performed the same role of voice and motion capture in Mowgli: Legend of the Jungle. He also has a voice role in Penguins of Madagascar.
The recognition that he got from starring in Sherlock, created opportunities for him to perform in movies. The Imitation Game, The Other Boleyn Girl, Star Trek Into Darkness feature some of his best performances. In 2016, he became a part of the Marvel Cinematic Universe where he plays the character of Dr. Strange. He has gone one to appear in 2 more films from this franchise and is set to appear in other films that will be released in the future.
His Career has Been Financially Rewarding
Benedict Cumberbatch has had a successful career as an actor, from the work he has done in theatre to the television shows and films. The actor has also lent his talent to the narration of documentaries, especially with National Geographic and Discovery Channels.
All of the work he has done has contributed to a net worth of $20 million he is estimated to have. However, this figure is not verified as sources like Celebrity Networth estimates his net worth at $40 million. With earnings like that acquiring to his Tuscan style villa in Hidden Hills worth over $11 million surely did not come as a surprise.
Asides from movies and series, Benedict also makes money from adverts for different brands. He also enjoys proceeds from the production company SunnyMarch, which he co-founded with Adam Auckland, Ben Dillon, Patrick Monroe, and Adam Selves in 2013.
Benedict Cumberbatch comes from a Family of Noble People
On the 19th of July, 1976 Timothy Carlton and Wanda Ventham-  famous actors, welcomed their son, Benedict to the world. Benedict Cumberbatch hails from a long line of aristocrats. His great-great-grandfather, Robert William Cumberbatch was a British Consul in Turkey and the former Russian Empire.
His great-grandfather, Henry Arnold Cumberbatch was also a diplomat to Turkey and Lebanon while his grandfather was a submarine officer who fought in the two World Wars. The long line of people from his family being in government does not end with just his grandparents as he is a distant relative of King Richard III.
In 2013, when he played William Prince Ford in the slave film 12 Years a Slave, there were speculations on how ethical it was for him to play a slave owner in a film, especially as he has spoken about his family owning slaves during the slave period. His half-sister Tracy Peacock who is from his mother's first marriage has spoken about how Benedict Cumberbatch is very much like the character of Sherlock Holmes, as he is widely read and very brilliant.
The Actor is Married to His Longtime Friend
Benedict Cumberbatch got access to a wider audience with his role as Sherlock. During that period he came to be known as "the thinking woman's crumpet" which is in reference to how handsome he is and his astute portrayal of Sherlock Holmes. He has also been featured on many versions of the Sexiest Man Alive lists. 
Although this has made him highly visible and widely desired, this did not send the actor on a string of relationships. However, he is known to have dated two other women before he got married.  Sophie Hunter who he had been friends with for seventeen years is the woman he is married to.
They only started to date in 2013 and on valentine's day of 2015 in the historic 12th-century Church of St.Peter and St.Paul, they got married. Four months after the ceremony they had their first son, Christopher Carlton, and two years after their second, Hal Auden followed.