Bernice Burgos is an African-American model and entrepreneur who is more popular in social media circles. Despite having a rough childhood which made her drop out of school and almost ruined her future prospects, Bernice rose through the dust and has successfully carved a niche for herself in the society. Quite a controversial figure, Bernice is also known for her sizzling high profile affairs. Read on to unearth surprising facts you never knew about the gorgeous model.
Bio, Age
A New Yorker, Bernice Burgos was welcomed into the world on April 17, 1980, in the Bronx. The model also has Puerto Rican roots. Details regarding Burgos's parents, early life and education have not been made public knowledge. However, it is known that she was raised in her hometown, Connecticut and New Jersey and also had to drop out of school due to teenage pregnancy.
Bernice Burgos Daughters
Bernice Burgos has had an interesting dating history which is no surprise to fans and critics, given her killer looks. Though a public figure, Bernice who regards herself as a shy and sweet lady has so far managed to keep details about her personal life and family under the radar. Burgos has never been married and is presumably single…for now at least. However, she has two children. Her first, Ashley is the product of teenage pregnancy at age 15. While Ashley's paternity is yet to be made public knowledge, Bernice once revealed that she had a hard time raising her kid alone as she was kicked out by her grandma and had to work hard to make ends meet.
Ten years after her first child, Bernice had another daughter named Sarai. She also became a grandmother with the birth of Ashley's daughter, Amarie in March 2018.
Dating Drake
She is known to have been in a few high profile relationships. In 2012, she was romantically linked to American businessman Marion 'Suge' Knight, the CEO of 'Death Row Records' and 'Black Kapital Records'. The relationship was shortlived and the duo soon parted ways. Burgos's next known affair was with Canadian rapper and singer, Drake. The couple seemed perfect for each other and were even speculated to be engaged after they were seen vacationing together in Australia. Sadly, just like the first, Bernice and Drake's affair soon went south and they parted ways in 2015.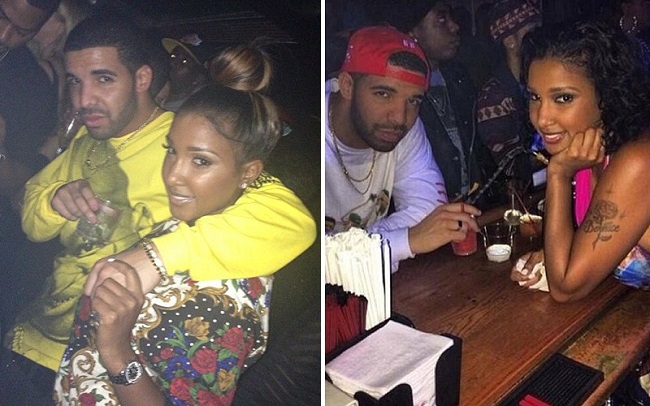 Bernice raised more eyebrows the next year after she was severally seen together with American singer Clifford Joseph Harris, who is better known as T.I at various hotspots. Though the relationship was never explicitly confirmed, Bernice later admitted that she and T.I were just friends and also insinuated that they may have enjoyed some other benefits in the relationship. After that, Bernice was also linked to NBA star James Harden.
Net Worth
Coming from a modest background, Bernice has done pretty well for herself. She rode on the rocky path to fame as she first did menial jobs including waiting tables and bartending before she came into the limelight. Then she went into modelling and appeared in several commercials, documentaries and music videos. Notably, some of her features include MTV's Wild 'n' Out, SHOW Black Lingerie, KING Magazine, The Source, Show Magazine, XXL Eye Candy, J-Cole's Work Out music video and Ain't Leaving Without You by Jaheim, among others.
See Also: Who is Amber Rose Age, Ethnicity, Nationality, Parents, Son, Boyfriend
Bernice is also a successful entrepreneur who has her own lingerie line called Bold & Beautiful. Though she may not have reached the peak of her career, she earns a modest paycheck from her different endeavours and her current net worth is estimated at $1.1 million. The exact figure of her salary is unknown.
Height and Other Interesting Facts
1. The dark brown-haired model is 5 feet 7 inches tall and weighs 54 kg. Her body measurements are bust 36 – inches, waist – 25 inches and hips – 40 inches which give her sensational and captivating curves. While there have been speculations that Bernice's alluring looks are a product of cosmetic surgery, she has not gratified the reports with either a confirmation or denial.
2. Following Bernice's relationship with T.I, his ex-wife Tiny accused the model of wrecking her home. Burgos debunked Tiny's claim, insisting that she played no part in their breakup and that she and T.I were just friends.
3. Burgos has an active social media life and a huge fan base on various popular platforms including Instagram, Facebook and Twitter. She has a teeming community on her Instagram account with over 4.5 million followers and more than 100k followers on both Facebook and Twitter.
4. Bernice and her daughter Ashley actually design the wears of her lingerie label Bold & Beautiful.
5. In December 2010, Bernice was arrested for physically assaulting a teenage girl and charged for committing a second-degree crime.