Kenyan recipes served in Kenyan hotels and restaurants have gained a well-deserved recognition around the globe and as a matter of fact, Kenyan foods are beginning to be served in some of the exotic eateries overseas. Part of the reason is owed to the fact that Kenya is a vast country and thanks to the 42 unique ethnic groups when it comes to meals, you will be spoilt for choices. Kenya is blessed with favorable conditions to support farming and definitely not to forget the lakes and ocean that provide quite a variety of foodstuff that enrich the food industry. Despite the fact that there are so many great recipes one can choose from, below is a list of the greatest Kenyan recipes you'll love this year.
1. Githeri – Kenyan mix of Corn and Beans
Githeri is a simple yet very nutritious meal that originated from the Kikuyu tribe.
Serves 4 – 5 people
Ingredients:
2 cups of corn cut fresh off the cob
2 cups of cooked beans
Potatoes
French beans
Bulb onions
Red-ripe tomatoes
2 tablespoon cooking oil
Salt and paper
Water
Directions:
1. Mix corn and beans in a sufuria, then add enough water just to cover
2. Boil the mixture over medium heat; let it simmer until well cooked, roughly 10 – 15 minutes.
3. Put the oil on a new dry sufuria, let the oil heat up a bit then add the onions.
4. Let the onions fry till they start to turn golden brown and then add the fresh French beans together with the chopped tomatoes; mix with a wooden spoon then cover to simmer for 3 minutes.
5. Add the cubed chopped potatoes, mix and cover for 5 minutes to create a thick broth, you can add pepper at this point.
6. Now add githeri and mix well, add salt as you taste to avoid over salting the dish.
7. Cook for ten minutes, the dish is ready to be served.
Serve along with fresh juice or if you wish you can serve with black tea
2. Mokimo – Kenyan version of mashed potatoes mixed with corn, peas and beans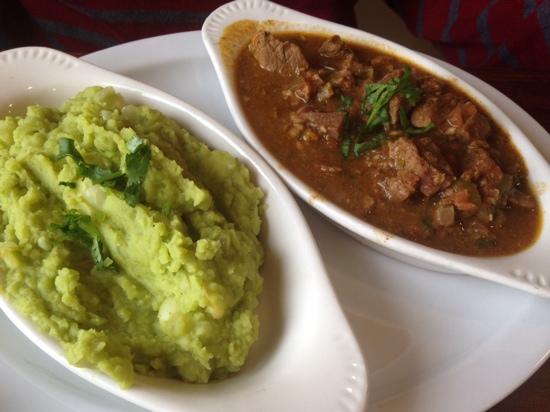 This dish originated from the Kikuyu community.
Ingredients:
Boiled potatoes
Boiled beans and peas
Boiled corn
Salt
Directions:
1. Put the boiled potatoes in a big pot or sufuria, you can add salt at this point with some little water and start mashing.
2. Marsh as you add the peas in small bits, this will change its overall color to a tasty green.
3. Then add corn as you keep on mixing and finally add the beans and mix for a short while, you wouldn't want to mash-up the whole beans.
Remember the mixing is done over a medium to low heat; this is to avoid burning the delicious meal.
The dish is ready and you can always smell its sweet blend of aroma, serves best with meat stew or tomato soup. The thought of this dish always makes me hungry.
3. Kuku Paka – Kenyan Chicken Curry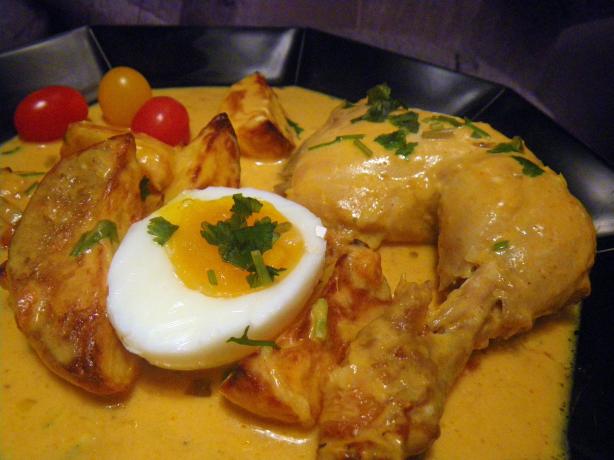 Nothing really beats a tasty African chicken.
Ingredients:
3 Ibs chicken
1 chopped onions
2 minced hot chili peppers
2 tablespoons garlic
2 tablespoons fresh ginger
¼ cup of oil or ¼ cup of ghee
1/2 of chopped cilantro
1 tablespoon of curry powder
2 teaspoons cumin seeds
2 cups of coconut milk
2 cups of chopped tomatoes
Salt and pepper
Directions
1. Blend the onions, garlic, ginger and chili until smooth, you can add a little water if necessary.
2. Heat the oil in a large sufuria, add the onion puree, cumin, curry powder. Stir frequently for 5 – 8 minutes until cooked down.
3. Add the tomatoes stir and let it simmer for 4 minutes then add your chicken pieces, salt, pepper and coconut milk.
4. For 30 minutes to 1 hour let it simmer over low heat.
5. You can add more water as needed.
6. Stir in the cilantro. The tasty mouth-watering dish is ready to serve, it can be served best with pilau, rice or chapatti.
7. This dish can be done with variations: for crispy and with authentic flavor, you can always grill the chicken before adding to the sauce.
8. You can also add cubed chopped potatoes to thicken the broth. For a mild dish you can replace the hot chili with a chopped sweet bell pepper.
There are so many Kenyan recipes that make my stomach grumble in hunger wherever I am. But of course, I cannot forget to mention the coasts wonderful mouth-watering dishes including Pilau served with Biriani. Or a little bit towards the lakeside for a fresh tasty fish with Ugali.