Born into a home filled with actors, Boston Russell caught media attention when he was a kid. He is the son of Kurt Russel and Season Hubley. His paternal grandparents were also creatives. A lot of Hollywood actors looked forward to seeing the days of Boston's activeness on screens while he grew, however, he has hidden behind the curtain and is currently working behind the scenes in the production of movies.
He has only appeared once on screen as an actor in the television program 60 minutes. Boston Russell isn't a talker and prefers staying off the spotlight. Here are the facts we've dug up on the quiet Russell's life.
Boston Russell – Bio
At birth, he was named as Boston Oliver Grant Russell. He was born on the 16th day of February 1980 in Los Angeles California as the son of couples Kurt Russell and Season Hubley who were quite famous as actors in the Hollywood industry. Being born into a home like that, baby Boston was often referred to as a celebrity baby. He was loved by many and was exposed to the media at a very tender age. He often graced lots of red carpets events alongside his parents. However, as he grew, he stayed off the spotlight and gradually lost the fame he got as an infant.
As regarding the details of his education, Boston Russell has held back these details, howbeit, anyone who works in the creative department of the movie industry is sure endowed with wisdom and is considered as a creative fellow.
Well, we wouldn't be totally wrong to say that Boston Russell didn't follow in the stead of his parents as actors. He was the production assistant in the 1996 movie, Executive Decision. The movie received lots of rave reviews and was box success making $122.1 million at the global box office. In 2005, he played as Goldie Hawn's stepson in an episode of the television program, 60 minutes.
Family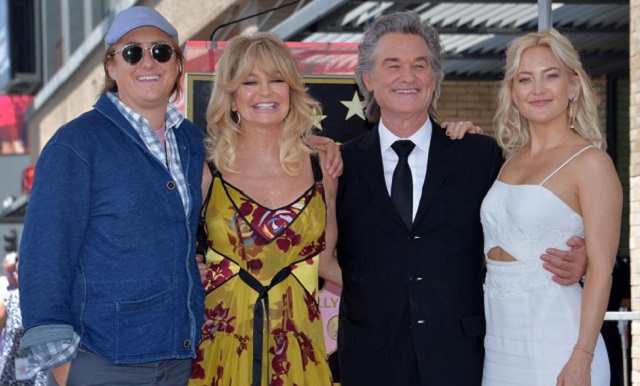 Boston's parent's marriage came crashing in 1983 when he was just four years old. After their divorce, his father took a break from the screens but his mom continued to chase her career and eventually fell in love with David Hayball, who she later married. Like her first marriage, it landed in a divorce just within two years of her union. Also, the union produced no children. She subsequently retired from acting in the 90s.
From his father, Boston Russell has three step-siblings. Wyatt Russell, a son produced from his father's union with Goldie Hawn and Kate Hudson and Oliver Hudson; children from Goldie's first marriage with Bill Hudson. Unlike Boston, all of his three siblings have quite established themselves as actors in the Hollywood industry.
Sources also say that Kurt and Goldie have managed to keep the family as one and Goldie's other children regard Boston's father as their biological father. It is quite obvious that the family has continually lived in peace. More so, from most picture uploads, it seems that Boston Russell is more attached to his father than his biological mother. He has appeared in just a few photos with his mom when compared to that of his dad.
Everything To Know About Kurt Russel's Son
Net Worth
Boston Russell's net worth and salary have remained uncertain ever since the inception of his career. He has managed to stay off the spotlights, while simultaneously building an awesome career behind the scene. Well, sources say that he picked up his tight-lipped habit from his mom who was barely known despite the waves she pulled as an actress.
Relationship
It is quite surprising that Boston's relationship life is yet unravelled especially based on the fact that he comes from a wealthy-famous family that has most of their details available on records. For instance, his half brother has been romantically linked with Meredith Hagner and was formerly married to Sanne Hamers. His step-sister, Kate Hudson is in a relationship with Danny Fujikawa while her brother Oliver Hudson has been involved with a string line of ladies in the past.
See Also: David Tenant: Wife, Height, Age, Children, Family, Net Worth
Body Measurements
Boston Russell has a round face and is not lanky or athletic but has a thick body build. He stands at a height of 5 feet 11 Inches and carries a balanced weight of 53kg. He possesses brown hair and is blue eyed.