Many popular figures have proven that time and chance is all it takes to storm the limelight and Brad Williams is one of them. The young man would probably not be in the industry now or still be struggling to make it up the ladder, if he was not present at one of Carlos Mencia's live comedy shows where the stand-up comedian noticed and picked him up to join the industry.
Brad was just one among the many people who attended the show but fate singled him out to change the course of his life for the better when Mencia called him up to the stage and had him crack some jokes. Because he was able to impress Mencia, he earned an opportunity to keep doing what he is doing today.
This subsequently opened more doors of opportunities for Brad who has appeared in many films and television shows.
Brad Williams Net Worth
Although he is yet to be counted among the highest income earners in the comedy business, Brad Williams has successfully registered his name in the super-competitive branch of the entertainment industry. According to credible sources, his net worth is estimated to be five hundred thousand dollars. This will definitely increase with time as the funny man has no plans of slowing down yet.
His Girlfriend Became His Wife – Jasmine
Brad Williams got married to his girlfriend named Jasmine Gong in Los Angeles, California, in 2017. Jasmine who is half Asian is 5 feet 6 inches tall, just one foot and three inches taller than her husband. Interestingly, Jasmine is a fourth-degree black belt in taekwondo.
Speaking in a video published on 98 Rock Baltimore YouTube channel on October 13, 2017, the comedian revealed that he met his wife on an app called Feeld, specifically designed for people who who have interest in polyamory, kink, and alternative sexual preferences. Brad had gone on the site to hook up with two ladies for a threesome and he succeeded but for some reason, one of the ladies failed to show up on their scheduled date.
During his first date with the second lady, Jasmine, sparks flew, according to the entertainer, and things continued between them from then on. They went on to engage in threesomes while they dated, having about 13 in their first three years together. Even now that they are married, the couple still do threesome because as Brad said, they both love women and are really good at getting them.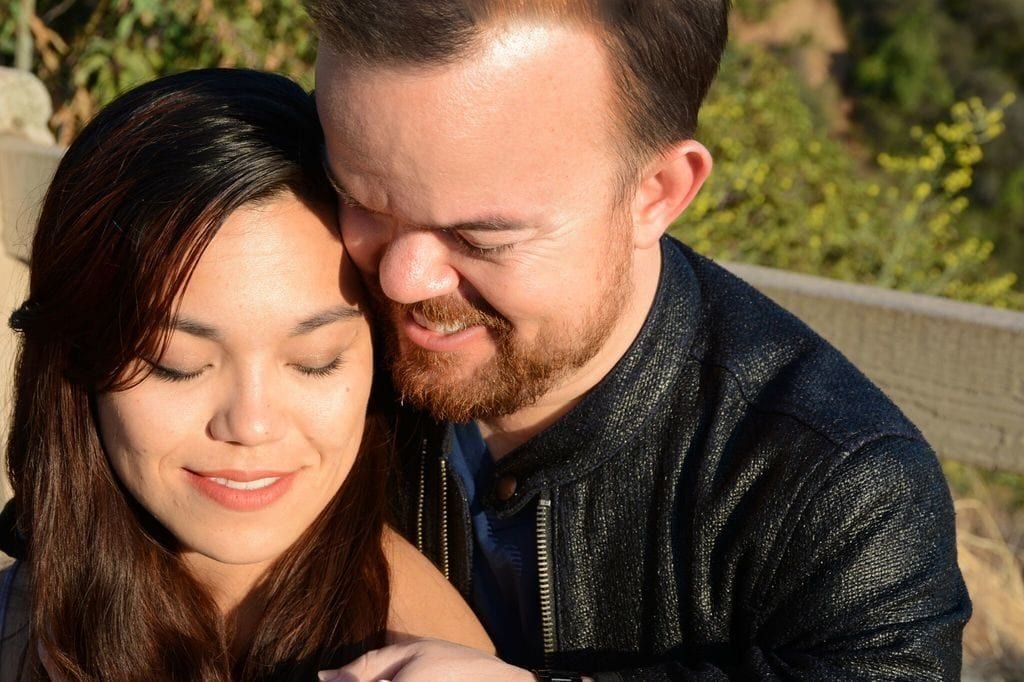 Other Facts
Background
The talented entertainer was born on the 13th of January, 1984, in Orange, California, where he was also raised. According to him, his father prepared him to face the world from the time he was a kid and that helped him fight back at anyone who tried to bully him because of his height. A California native, Brad was a student at Sunny Hills High School, Fullerton, California, and upon his graduation, he continued his education at the University of Southern California.
Breaking into the comedy industry
While still studying for his university degree, Brad attended a live comedy show put together by Carlos Mencia, a stand-up comedian. At the event, the comedian made a joke about dwarfs and even though it was funny, people sitting close to Brad Williams were too uncomfortable to laugh. When Mencia noticed Brad in the room, he invited the then 19-year-old Brad on stage and after making some jokes, the popular comic was completely impressed by Brad's performance. From that day, Brad became Mencia's opening act, touring with him and has remained in the comedy business ever since.
Brad later had to drop out from the university in a bid to focus on building his career in comedy and it seems that decision has paid off. His comedy is often based on disability, relationships, sex, and race. He made his comedy special debut in 2015 with Brad Williams: Fun Size and followed it up the next year with Brad Williams: Daddy Issues.
His Height
Brad is 4 feet 3 inches tall. He is a dwarf and doesn't get offended when addressed or described as such. The humorist was born with a type of dwarfism known as achondroplasia. This is a condition that would have made some people with it choose not to pursue their dream especially in an industry that involves standing before a large crowd but Brad is definitely not one of such people. Rather than hide, he is using his height to his utmost advantage and what he lacks in size he surely makes up for in talent.
Brad Williams has acting credits to his name
It would not be considered as an error to count Brad Williams among the funniest, most sought-after comedians in the business today but apart from comedy, he is also involved in other things like acting. He has featured in numerous television series and movies, including Legit, Jimmy Kimmel Live, Sam and Cat, the Tonight Show, Live at Gotham, Road Hard(2015), Mascots (2016) and Little Evil(2017), among others.
Brad is also an on-air-personality. His podcast "About Last Night" is one of the tops on the iTunes Charts.