Typical of Hollywood hunks, Bradley Cooper has been linked with a lot of women, most of whom are fellow stars in the entertainment industry. But unlike former playboy/now-hitched George Clooney, he does not seem to be one to pride about his way with women, however, this has not hindered the media's interests in the details of his love life.
After one failed marriage in the early years of his career, Cooper's subsequent relationships have been a thing of interest to the public. When word finally got out that he had a good thing going with model Irina Shayk, many were hoping that she would become the next Mrs. Cooper but the two later split up. A rumored entanglement with pop star Lady Gaga was erroneously said to be the cause of the breakup as the two both starred as lovers in the Oscar-winning hit film, A Star Is Born.
Bradley Cooper and Irina Shayk's Private Romance
Following his split from Suki Waterhouse after two years of romance in 2015, not much was heard in regards to Cooper's love life until he was spotted sometime in April of that year out and about in New York with Russian model Irina Shayk who herself was just out of a 5-year relationship with Portuguese football superstar Cristiano Ronaldo.
Cooper and Shayk were not in a hurry to announce their relationship to the world. Sources told Page Six in April 2015 when they were first spotted that they were just friends but the following months would prove that there was something more. The couple tried to keep flirting to a minimum when they were in public but that early romantic flame would soon burn out of their control.
Despite being spotted holding arms in May 2015, the duo attended and left the Met Gala separately but later that night they were spotted frolicking at Rihanna's afterparty in a Manhattan night club. Though the couple made other public appearances throughout the year, their red carpet debut as a couple did not come until a year later in March 2016 at the L'Oreal Red Obsession Party during Paris Fashion Week.
The Duo Were Rumored to be Engaged
In late 2016, there were rumors that Bradley Cooper had gotten engaged with Irina Shayk. Reports about their engagement began after the model was seen wearing what appeared to be an engagement ring as she left a spa in Los Angeles.
Again, in January 2018, the model sparked off another round of engagement rumors after she shared an Instagram photo showing a ring on her left finger but in the couple's typical manner, they kept mute about the news. When they dazzled the red carpet at the 2018 Met Gala, Irina boldly flaunted the emerald ring but continued to keep mum about the details.
They Welcomed A Daughter and Had Planned to Have More Kids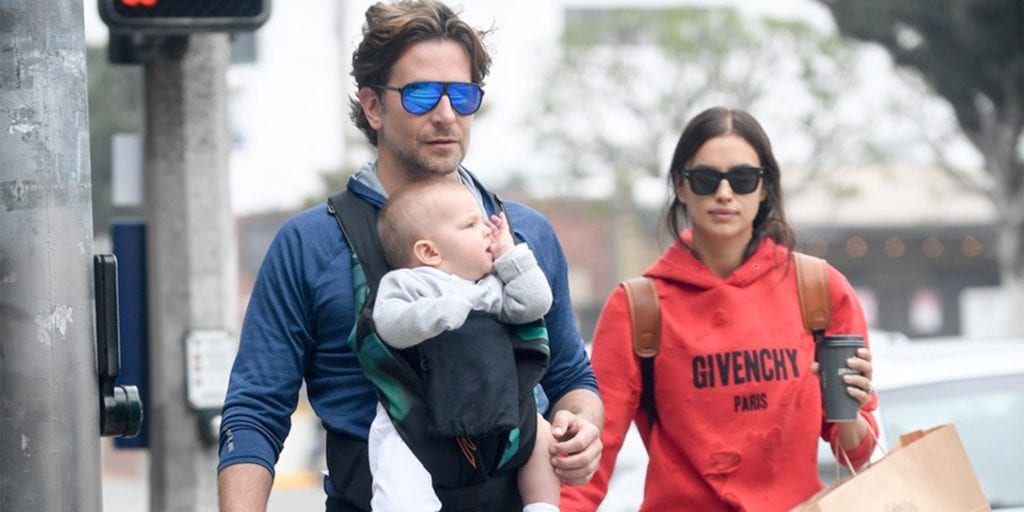 Further cementing the engagement rumors was the fact that Irinia had become pregnant. The model flaunted her baby bump in November 2016 at Victoria's Secret Fashion Show in Paris.
On March 21st, 2017, the couple welcomed a daughter whom they named Lea de Seine Shayk Cooper. In typical Cooper fashion, the new parents never made any comment about the pregnancy prior to the arrival of their baby, however, a reliable source said that they were so excited to be parents and the numerous vacations that followed a few months after their baby landed proved so.
Having a baby was a dream come true for the lovebirds. The brunette beauty once spoke about her desire to start a family in an interview while a source who spoke to E! News in 2016 revealed that Lea was not going to be their only child as there were plans to welcome more babies, unfortunately, their imminent break up truncated their dreams.
See Also: Julia Roberts Kids, Brother, Husband, Divorce, Sister, Family, Height
Cooper's Rumored Tryst with Lady Gaga
The first time questions were asked of Cooper's romance with Irina was after his 2018 film, A Star Is Born. The intense chemistry between his character and that of Lady Gaga had many suspecting that there was something more than acting going on.
The suspicions intensified following the duo's electrifying performance of the movie's soundtrack "Shallow" at the 2019 Oscars where the song won Gaga an Oscar for Best Original Song. However, both Cooper and the singer were quick to shut down the rumors. Us Weekly reported that Irina did not seem bothered by their chemistry as she was sure it was just acting.
Lady Gaga spoke up about the rumors saying that she and Cooper worked hard on the movie and were deliberate about making people believe that they were in love. She pointed out in her interview with Oprah that Cooper's Catholic guilt would not have let him look her straight in the eye during their performance if they were indeed in love. Cooper also dispelled the rumors by referring to Gaga as a "friend for life."
Irina Shayk and Bradley Cooper's Amicable Split
After the award season ended, Bradley Cooper reportedly took out more time to spend with family. However, as months progressed, speculations of a crack in their relationship increasingly intensified, and in June 2019, People magazine confirmed that they had split.
Though their romance is over, Cooper and Irina remain good friends as they co-parent their daughter. A source told Page Six in March 2020 after they were spotted together that the couple was very happy raising their child together. Irina opened up about her time with Cooper in early 2020 in an interview with British Vogue saying that she and Brad were lucky to experience what they had with each other.
Since the split, Bradley Cooper has not been linked to any other woman.
All The Women Cooper Had Dated Before Shayk
Jennifer Esposito
Bradley Cooper is one of the Hollywood actors who rejoined the single men's club shortly after saying 'I do'. He was once married to Jennifer Esposito, an American actress and author popular for her roles in films like Crash, Summer of Sam, and Don't Say a Word.
The couple dated for two years before tying the knot on December 30, 2006. But for some undisclosed reasons, they decided to call it quits in less than a year as their divorce was finalized in November 2007.
Renée Zellweger
Following reports that he had a thing with Cameron Diaz, Cooper's next confirmed relationship was with another actress, Renee Zellweger. The two met while filming Case 39 in 2006 and started dating three years later. Their relationship seemed rock solid and as a result, people thought she would be the second Mrs. Cooper but unfortunately, two years down the road, it crashed. Though Cooper and Zellweger's shocking split was attributed to the presence of another woman, Brad's close friend has said that it was due to his rising career.
Zoe Saldana
In 2011, the same year his relationship with Zellweger ended, Bradley Cooper started dating Dominican-American actress, Zoe Saldana, while shooting The Words. They spent most of their spare time on set together and were really cozy with each other. Even though they never really publicly confirmed they were a couple, the paparazzi got some pictures that proved they were. After an on-and-off relationship, the couple broke up before New Year's Eve in 2012.
Suki Waterhouse
In 2013, Cooper was introduced to model-turned-actress, Suki Waterhouse, at the Elle Style Awards and he asked her out at the after-party. Cooper was 37 at the time while Waterhouse was just 20 but the age difference was nothing to the couple who were very much in love. They attended many red carpet events and went on several vacation trips together. Two years later, the relationship packed up.