Do you want a dose of Mixed Martial Arts with a splash of entertainment and comedy? Then, Brendan Schaub is your guy. The American entertainer is a retired UFC fighter who has gone on to become a successful podcaster. He has also become a popular TV personality who has hosted a number of gigs and is gradually building a film career for himself. However, achieving these feats did not come easy as Schaub has faced several career challenges in the past like having a failed NFL career pursuit.
Brendan Schaub's Early Career Interest was to Play Football
Brendan Peter Schaub who was born on the 18th of March 1983 in Aurora, Colorado came from the small tight-knit family of Debra and Peter Schaub. His mother is English while his dad is an American but they are also known for their German and Italian ancestry.
Schaub spent his formative years in Colorado and attended Overland High School. While in high school, he excelled in lacrosse and football. He applied for college as a sportsman and was admitted for both the lacrosse team and the football team at Whittier College. However, he later moved to the University of Colorado as a full-time football player but he did not play in his first season there.
The aspiring NFL player did not also make the 2006 NFL Draft although he was later signed on by the Buffalo Bills to join their practice squad during the offseason. Unfortunately, he was not picked for the regular season when it kicked off as the club terminated their contract with him. This prompted Schaub to try his luck with the former Arena Football League playing for the Utah Blaze but his time with them was brief as he officially retired from football in 2007.
His Transition to Boxing & Mixed Martial Arts
On realizing that his NFL dreams were effectively over, Brendan Schaub returned home to Colorado and began training in boxing and jiu-jitsu. He took to combat sports like fish to water and won his first title just six months into his newfound career. This was the Colorado Heavyweight Golden Gloves which he won in 2008.
Upon achieving this breakthrough as an amateur boxer, Schaub continued to train and subsequently decided to focus on mixed martial arts and won his first four fights which earned him a heavyweight title from the Ring of Fire Organisation. Such impressive streak immediately got the attention of the UFC which picked him to compete on their reality fighting series, The Ultimate Fighter, in 2009.
Brendan Schaub scaled through to the Heavyweights Finale but lost to Roy Nelson in the first round of their match. However, he recorded massive success in his subsequent matches and it's on record that since his debut as a UFC fighter, he has participated in a total of 15 fights, winning 10 and losing 5. Out of the 10 he has won, 7 of his victories came by knockout, 1 by submission, 1 by unanimous decision, and 1 by split decision.
Schaub has also Recorded Massive Success as an Entertainer
In October 2015, the Colorado native announced his retirement from the UFC on Joe Rogan's podcast and nobody in their wildest imagination would have known that the heavyweight fighter was going to launch quite a successful career in entertainment. Schaub actually owes Regan who is also a retired fighter, for making him seek out another career path as he talked him into retiring from fighting. 
Prior to making his official announcement to leave the UFC, Brendan Schaub was already towing in the direction of establishing an entertainment career. He started a podcast in 2013 with Bryan Callen called, 'The Fighter and the Kid' which gained a lot of popularity.
He also has a podcast of his own titled 'Big Brown Breakdown' which he launched in 2016 but later renamed it to 'BELOW THE BELT with Brendan Schaub' in February 2018.  A web show of the same name was created with Schaub serving as the host and by December 2018, he collaborated with Theo Von to create 'King and the Sting' podcast.
He Has Ventured into Comedy & Films 
Schaub with Callen started to tour as stand up comedians sometime in 2014 and about 2 years later in 2016, the pair launched the comedy sires 'The Fighter and the Kid 3D' on iTunes. That same year, Schaub made his film debut in Range 15 in which he played the role of Guard Schaub.
The next year the heavyweight champion turned TV personality was seen on Showtime during a commentary with regard to the Mayweather/McGregor match. He joined the likes of Brian Custer, Maro Ranallo, and Paulie Malignaffi to analyze the match. He is also known to have co-hosted shows for E! Entertainment in 2018 which include the Golden Globes, Emmy Awards, People's Choice Award, Academy, and Grammy Awards. That same year he was seen as a panelist on Bravo network for the show, Play-By-Play.
In 2019, Brendan Schaub made his second movie appearance in The Tax Collector by David Ayer. He was also seen in the comedy special, You'd Be Surprised which was shown for the first time on Showtime on May 18th, 2019.
Schaub has Made an Impressive Sum from His Pursuits
The retired fighter has a net worth of $3 million. His source of income is not limited to the money he made from his time in the UFC as Brendan Schaub has been one busy bee since retirement making him one of the 8 fighters to have carved lucrative careers in other spheres upon retirement.
The former fighter has gone on to become a successful stand-up comedian, podcaster, actor, and media personality. His comedy works have earned him wide recognition and his comedy special show which was launched in 2019 attests to that fact. He is also notable as a host of top-notch Hollywood events for which he has been handsomely rewarded.
More so, Schaub who has 2 successful podcasts under his belt, The Fighter and The Kid (since 2013) and Below the Belt with Brendan Schaub (since 2016) has drawn a lot of listeners who are eager to hear him speak hilariously about the happenings in MMA.  Schaub has also made inroads to Hollywood with his appearance in 2 films so far and all these have contributed to his financial success.
The Media Sensation is in a Relationship with Joanna Zanella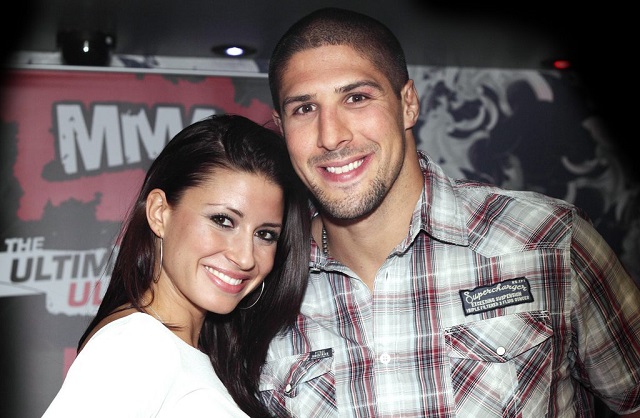 Although it is yet to be confirmed by Brendan Schaub and his fiance, Joanna Zanella whether they had tied the knot, many believe they did so secretly as Zanelly now goes by the name Joanna Zanella Schaub on Instagram. It is known that the lovebirds crossed paths sometime in 2014 and after having a 2-year steady relationship, the pair welcomed their first son together, Tiger Pax on February 21st, 2016. The couple would later get engaged in 2017 and add another son, Boston to their growing family on November 26th, 2019.
Like her partner, Zanella also has roots in show biz as she is a former model and one-time winner of the Miss Mexico For Sports USA. She has gone on to serve as a sports reporter for Fox as well as establishing an acting career for herself appearing in several Latin soap operas for which she won the 2005 Voz Latin Award. However, her big break on screen came in 2012 when she was seen in Sin Vergüenza as Christina Salaza.
Prior to Zanella, Schaub was in a relationship with Ronda Rousey. Rousey is undoubtedly one of the most popular female fighters in the UFC. They dated for almost one year before calling it quits in 2014.