Do you want a healthy dose of Mixed Martial Arts with a splash of entertainment and comedy? Then, Brendan Schaub is your guy. The American is a retired UFC fighter who has gone on to become a successful podcaster. He has also become a popular TV personality who has hosted a number of gigs and appeared in different movies. Want to know more about the man who initially aspired to go into the NFL not knowing that his talents lay in MMA? Read on to find out more on how his career unfolded.
Biography (Age)
Brendan Peter Schaub was born on the 18th of March 1983 in Aurora, Colorado, to the small tight-knit family of Debra and Peter Schaub. His mother is English while his dad is an American. Aside from being part-English, the retired fighter also has German and Italian ancestry.
Schaub spent his formative years in Colorado and attended Overland High School. While in high school, he excelled in sports such as football. He continued his sporting exploits in college, both at Whittier College and the University of Colorado. After college, Schaub made himself available for the 2006 NFL Draft, but he was, however, unlucky as he was not picked. He briefly joined the practice squad of the Buffalo Bills but still did not make headway.
On realizing that his NFL dreams were effectively over, Brendan Schaub returned home to Colorado and began training in boxing and jiu-jitsu. He took to combat sports like fish to water and won his first title just six months in. This was the Colorado Heavyweight Golden Gloves which he won in 2008. Schaub did not let his instant success get to his head, rather he continued training. He also decided to focus on mixed martial arts and won his first four fights. Such impressive streak immediately got the attention of the UFC which picked him to compete on their reality fighting series, The Ultimate Fighter, in 2009.
Brendan Schaub went all the way in the competition but lost the final to Roy Nelson. Since making his MMA debut on the 13th of June, he has participated in a total of 15 fights, winning ten and losing five. Seven of his victories came by knockout, one by submission and two by decision. The Colorado native has since retired, announcing his retirement in 2015 on Joe Rogan's podcast.
Does Brendan Schaub Have a Wife or Girlfriend?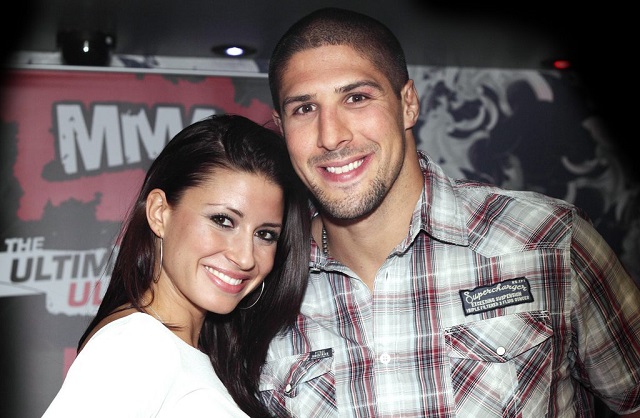 Brendan Schaub has never been married. As such, there is no wife in the picture. However, he has a long time girlfriend named Joanna Zanella who is also involved in the showbiz industry, specifically TV presenting and acting.
Schaub and Zanella commenced their relationship in 2014 and have a son together named Tiger Pax. He was born on the 21st day of February 2016. The couple got engaged in 2017, however, things do not seem to be well between the pair as recent reports reveal that there may be trouble in paradise.
Prior to Zanella, Schaub was in a relationship with Ronda Rousey. Rousey is undoubtedly one of the most popular female fighters in the UFC. They dated for almost one year before calling it quits in 2014.
Brother
Schaub has a brother named Jay Schaub. There is not really much information as to what his brother is up to. However, one thing that is for sure is that Jay is very supportive of his famous brother. He uses his social media accounts to promote his brother's ventures such as his movies and podcasts.
Net Worth
The retired fighter has a net worth of $3 million. His source of income is not limited to the money he made from his time in the UFC. Rather, Brendan Schaub has been one busy bee since retirement.
Since hanging up his gloves, he has gone on to become a successful stand-up comedian, podcaster, actor and media personality. He started performing stand up following retirement and did his first solo act at The L.A. Comedy Store in August 2016. He is set to release his comedy special as well as appear on season six of This Is Not Happening on Comedy Central.
Schaub also has two successful podcasts under his belt. They are The Fighter and The Kid (since 2013) and Below the Belt with Brendan Schaub (since 2016). Both podcasts focus on happenings in MMA as well as comedy. Schaub has also made inroads to Hollywood. He featured in the 2015 zombie comedy movie, Range 15. Additionally, he has also co-hosted the after awards show for the popular network, E!.
See Also: Khabib Nurmagomedov Wife, Religion, Age, Weight, Father, Net Worth
Height and Weight
Brendan Schaub is one massive fellow. He is 6 feet 4 inches tall (1.93 m) and weighs about 238 lbs (108 kg). His ample weight is the reason why he fights in the heavyweight category. For instance, the heavyweight division of the UFC requires athletes to weigh between 206 lbs and 265 lbs.