An easily recognizable face in Hollywood, Bruce Willis is a true thespian who has been in the acting scene for over three decades. Like many other celebrities, the multiple-award-winning actor triumphed over several challenges including stuttering, ditching school, and doing odd jobs before he found fame.
With several onstage, small, and big-screen features to his credit, Willis has become one of the most successful and influential Hollywood figures of this era. In case you have been unaware that there's more to Bruce Willis than his onscreen characters, here's an insight into the actor's real life.
How Bruce Willis' Father May Have Influenced The Actor's Love for Depicting Military Characters
Walter Bruce Willis was born on March 19, 1955, to David Willis and Marlene K. Though Bruce's birthplace is Idar-Oberstein, Rhineland-Palatinate, West Germany, he is of mixed ethnicity as his dad is an American army veteran and his mom, German. Bruce and his siblings David, Robert, and Florence were all raised in the US as their family relocated from Germany, shortly after the actor was born.
Interestingly, the star actor we know today did not have it all easy while growing up and on his journey to fame. Firstly, he grew up in an average home as his mom worked in a bank while his dad worked as a welder and mechanic after he was discharged from the army.
Establishing his name as a Hollywood star, Bruce became known for his love for playing military/action roles. While it wouldn't be out of place for one to suggest that being raised in a military family inspired this, the actor has never alluded to that, at least to the best of our knowledge.
Playing Military Roles Made Him Consider Joining the Army to Fight the 2nd Iraq War
Over the course of his career, the famous actor has depicted several military characters in popular films and the roles have solidified his passion and interest for the military. The first significant military role he played was as Emmett Smith in 1989's In Country. His role in the drama film directed and produced by Norman Jewison earned him a Golden Globe nomination for Best Supporting Actor.
After that, he starred alongside Denzel Washington and Annette Bening as U.S. Army Major General William Devereaux in The Siege, a 1998 action thriller directed by Edward Zwick. Hart's War followed in 2002 and had the actor portray Col. William McNamara in the box office disaster that grossed only $33.1 million against its $70 million budget.
The following year (2003), he was seen as Lieutenant A.K. Waters of US Navy in Tears of the Sun, an action thriller film that revolves around the Nigerian civil war. A few years later (in 2007), Bruce Willis took up another military role as Lt. Muldoon in Grindhouse. 2013 came and he was seen as General Joseph Colton in G.I. Joe: Retaliation, a military science fiction action film based on the line of action figures produced by Hasbor, a toy company.
All of these military roles have made the Die Hard actor respect men of the military a great deal. He regards them as his biggest heroes and once traveled to Iraq to give moral support to soldiers of the U.S Army. He even nursed a dream to join the army for real action but was informed that he was too old.
How He Came to Be Widely Regarded as an Action Hero
Bruce Willis attended Penns Grove High School where he was a popular student and served as the student council president. He later went on to study drama at Montclair State University but eventually dropped out to fully pursue a career in acting.
Willis courageously overcame his childhood challenge as a stutterer with increased stage performances and speech therapy. Prior to becoming a famous actor, he first worked odd jobs such as a security guard and private investigator. He kicked off his acting career in the year 1977 and on stage in the off-Broadway production, Heaven and Earth. Thereafter, he successfully appeared in several other plays.
He debuted on the small screen with a role in the series Moonlighting which aired from 1985 to 1989. His outstanding performance in the series earned him both a Primetime Emmy Award and a Golden Globe Award. More so, Willis won an Emmy Award for his role as Paul Stevens in the popular TV series, Friends, in the year 2000.
The action movie star made his big-screen debut with the 1987 movie Blind Date. His breakthrough role came the next year when he played the role of officer John McClane in the hit action movie, Die Hard. He later reprised the role in four of the movie's sequels, Die hard 2 (1990), Die Hard with a Vengeance (1995), Live Free or Die Hard (2007), and A Good Day to Die Hard (2013).
Willis suffered a hearing loss on the set of Die Hard due to very loud shootings. The success he recorded as an action hero in the movie defined his career as an actor who thrives in action films. Willis did not rest on his laurels but followed up with several other hits over the years. Though he has an exhaustive list of film credits, some of his notable screen features include 1994's Pulp Fiction, Armageddon (1998), Unbreakable (2000), Hostage (2005), Surrogates (2009), Moonrise Kingdom (2012), and RED 2 (2013).
Bruce Willis Invests a Large Chunk of His Wealth on Real Estate and Businesses
The man has several properties scattered across different cities such as Manhattan, Los Angeles, New York City, Idaho, New Jersey, Montana, as well as in Turks and Caicos.
Sometime in 2019, the actor and his spouse, Emma Heming put up their waterfront estate at Turks & Caicos for sale, asking for $33 million. The property was later sold for $27 million. The previous year, the actor sold his Idaho estate for $5.5 million.
As much as he spends his money on properties, the actor is invested in several business pursuits and is quite a tycoon. For instance, he is involved in the founding of Planet Hollywood in 1991, a themed restaurant chain inspired by the popular portrayal of Hollywood.
The Actor Is Worth at Least $200 Million
Having been in the entertainment industry for more than three decades, Bruce Willis has amassed a huge fortune and successfully established himself as a Hollywood A-lister.
The Die Hard actor's net worth has been estimated by various sources to be in the neighborhood of $200 and $250 million. In addition to acting, Willis is also a producer and singer: he loves playing the harmonica and has an album titled The Return of Bruno under his belt.
Given the foregoing, it is easy to see why it has been estimated that he is worth that much.
His First Marriage Was to Demi Moore and They Share Three Daughters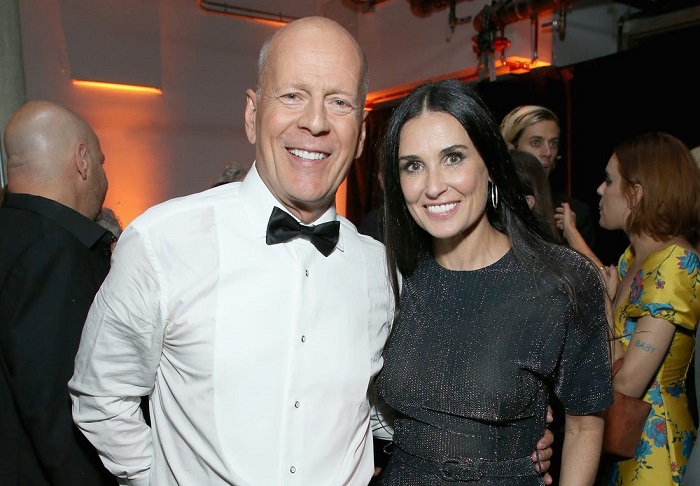 Bruce Willis has been married twice. His first marriage was with actress Demi Moore. The former couple who met on the set of the TV series Moonlighting got married on the 21st of November 1987.
Together, they had three daughters – Rumer, Scout and Tallulah – born August 16, 1988, July 20, 1991, and February 3, 1994, respectively.
Sadly, after more than a decade together, Bruce and Demi split in October 2000. It was sometime in June 1998 that Bruce and Demi disclosed their separation. Amid speculations that they were striving to work things out, they filed for divorce on the 18th of October 2000 which was finalized that same day.
The actor has maintained a good relationship with his ex-wife and her subsequent husband, Ashton Kutcher. He blames himself for the failure of the marriage and has related that Will Smith helped him prioritize what's most important – the Kids.
Bruce Was Engaged to Actress Brooke Burns But Eventually Married Emma Heming
Being a high profile actor, Bruce's relationships have always been headliners. After he split from Moore, the actor has been romantically linked to other women including Alisha Klass (2000 – 2001), Rachel Hunter (2001-2002), Emily Sandberg, and Nadia Bjorlin, both in 2002.
He was also linked to Kim Cattrall (2003), Brooke Burns (2003 – 2004), Karen McDougal (2007), Aida Yespica, and Lindsay Lohan, both in 2015. Of all of these popular women, he came close to walking down the aisle with Burns: they were engaged before the relationship fell apart in 2004.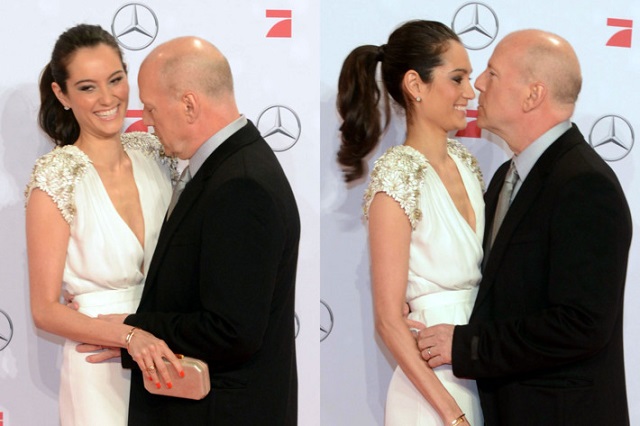 Willis is currently married to model and actress Emma Heming. The couple tied the knot on the 21st of March 2009 and has two daughters together, Mabel Ray born in 2012 and Evelyn Penn welcomed in 2014.