Anyone who takes delight in watching the teen drama series, Riverdale would be familiar with the lead role character, Camila Mendes. She is an American Actress who made her debut in commercials at a very young age and has since then grown her way to the top echelon of actors and actresses in Hollywood.
Apart from her roles on set, she is also known as an Avante-grande fashionista. The actress has not featured in a lot of movies but the little she had appeared in, Camila has given it her best shot. Here is full detailed information about her.
Early Life
The gorgeous actress was born as Camila Carraro Mendes on June 29,1994, in Charlottesville, Virginia. She is an American and is of mixed ethnicity, Portuguese, Italian and Brazillian.
Camila Mendes moved around the United States of America severally while growing up but has also lived in Brazil. She had her first experience as a scholar at the American Heritage School located in Plantation. Afterwards, she acquired a bachelor's degree in fine arts at the New York University Tisch School. To top up her career skills, she enrolled at the Stonestreet Film Acting Conservatory at Tisch.
Camila's interest in the entertainment world developed when she was just a kid. Her love for acting was more and at age 8, she began acting in school plays and drama. In an interview, she buttressed on the fact that she has taken delight in acting and is also satisfied at what she does.
Her debut on the screen wasn't one of the big shots in the entertainment world. First, she featured in a commercial for a furniture, kitchen appliances, and home accessories company known as IKEA which later became her platform to fame. By 2016, she hit it big when she played the lead character in the TV series, Riverdale which later premiered in 2017. There, she played as Veronica Lodge, a lady who was manipulative, cunning, devious and oratorical second-year student in high school.
Reaching this height in her career, she decided to work with a managerial organization known as Carson Kolker organization, she worked with them for a while before she opted to continue with the Creative Arts Agency. With the drama series Riverdale, she earned the Teen Choice Award for Choice Scene Stealer. In 2018, Camila played the role of Morgan in the movie, The New Romantic. That same year, she featured in the movie, Coyote Lake and The Stand-In.
Like most actress who has lost roles in the past, Camila Mendes is no different, in the movie, Shades of Blue (2016), she was supposed to appear as Jeniffer Lopez's daughter, however, she lost the role to Sarah Jeffery.
Camila has featured in a few television series including the famous television series GeekRockTv (2010) and Teenage Mutant Ninja Turtles (2014). Her performances on the Tonight Show with Seth Meyers kept her audience in awe. Mendes was the beautiful damsel who featured in the music video Give a little (2018) by Maggie Rogers. She also played a part in The Chainsmokers music video Side effects (2018).
Family – Siblings
Camila's mother Gisele is a native of Porto Alegre, the Rio Grande do Sul and her father, Victor Mendes is from Brasília, Federal District. Gisele works as a flight attendant while Victor is a business executive.
Camila Mendes has just one sister named Kiara Moreno. The two were raised single-handedly by their mom what with her parents' divorce.
Boyfriend
The talented actress is in a relationship. She started dating Ian Wallace sometime in September 2013. After three years of their togetherness, she made an upload on her Instagram page celebrating their anniversary, not long after she did that, she pulled down the post. No one knew the reasons behind her actions and she has never spoken about her ordeals with Ian after that incident.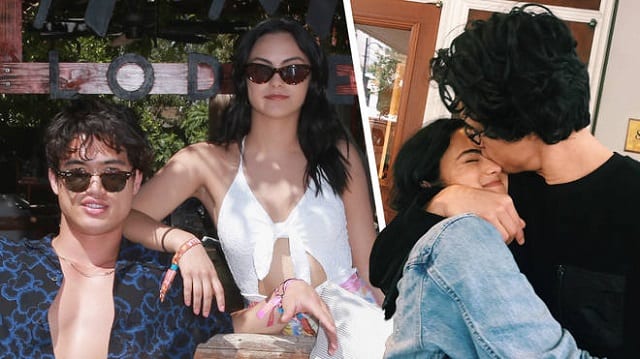 In 2018, it was rumoured that Camila was in a relationship with someone who acted with her in the movie, Riverdale. Initially, the identity of the said person was off the radar, after much ado, she gave her fans the best reply as she posted a picture of her and her co-star actor, Charles Melton on Instagram where the two were in a lip lock situation.
Height and Weight
Having struggled with eating disorders, Camila Mendes decided to educate her followers and fans on body positivity on most of her social media pages. There, she urges them to be proud of their sizes and also maintain a good eating habit. With that in mind, you could take a bet that the actress maintains her body build. She weighs 54kg and is not one of the tallest actresses with a height of 5 feet 1 inch, you wouldn't agree less that she is of average height.
See Also: Candice Patton Age, Height, Boyfriend, Married, Parents, Ethnicity
Camila is a lover of tattoos, she has one drawn just below her rights breast. She also is one of the most renowned actresses who would go to any extent to gain a perfect body description in a role. Naturally, she carries a dark brown hair but has dyed it in different occasions just to fit perfectly in her roles. For example, in her portrayal of Veronica Lodge, she dyed her hair black.