Caroline Mutoko is a Kenyan radio presenter, famously known for hosting a morning breakfast show on Kiss 100 FM. The station is based in Nairobi and ranks among the highly-rated radio stations in Kenya with online streaming services as well. Learn more about the Kenyan-born journalist.
Caroline Mutoko's Age and Bio
Born on January 4, 1973, Caroline is the daughter of Mr Chris and Mrs Rose Mutoko. She was raised mostly by her parents having come from a very stable home. She spent her early school days in Loreto convent valley road high school. She has two sisters and a brother. Good enough, her parents are still living up to their marriage vows and have stayed married for over 45 years now.
Caroline Mutoko started off her radio career at Capital FM. Despite working for 7 days a week as a pro, Mutoko was not entitled to a salary. However, to her, this did not matter most since she knew she was acquiring lifetime training and skills. And as you might expect, her years of experiences helped her land a fortune on Kiss 100 FM – one of the radio stations under Radio Africa brand.
Apart from enabling her to secure a post as the marketing manager of the Radio Africa Group, Caroline's experience of over 10 years has also brought her at the helm a number of remarkable projects. She is also an active activist of civil rights and has chaired the Kenya Tourist Development Authority.
She states that her motivation is from clients who recommend her and give her the spirit to keep pushing harder. To her, firing an individual is always a process which takes her time as she tries to give the individual time to be productive.
Had she not been a radio presenter, she would have become a teacher. Mutoko resents seeing the youths torn apart by the jaws of poverty. She believes that good grades are not enough if the individual cannot apply them in real-life situations. If she were a teacher, she would emphasize more on skills, she says.
Even during her campus life, which is the most challenging to many individuals, Caroline Mutoko never tasted the feeling of being broke. This was achieved through her hardworking nature for she worked as a waitress in many of restaurants in Nairobi CBD.
One of her hobbies is reading. This coupled with the breakfast show hosting, gives her lots of information both current and past to share. It's through the Star newspaper that she expresses her views on various issues.
Caroline Mutoko's Daughter
Caroline Mutoko has never been married and she isn't the type that talks so much about marriage. The outspoken radio host undoubtedly enjoys her immense success and doesn't believe there must be a man to trigger her happiness. However, she revealed that she is open to marriage only that she is yet to find her kind of man. Beyond marriage, she's a proud mother of one daughter, Theodora Nduku. She adopted her back in 2011 when the child was only 8 months old. It is clear that they have found a way to be each other's companion. According to her, she only wants the best for her, and that is part of the reason she is very hard-working.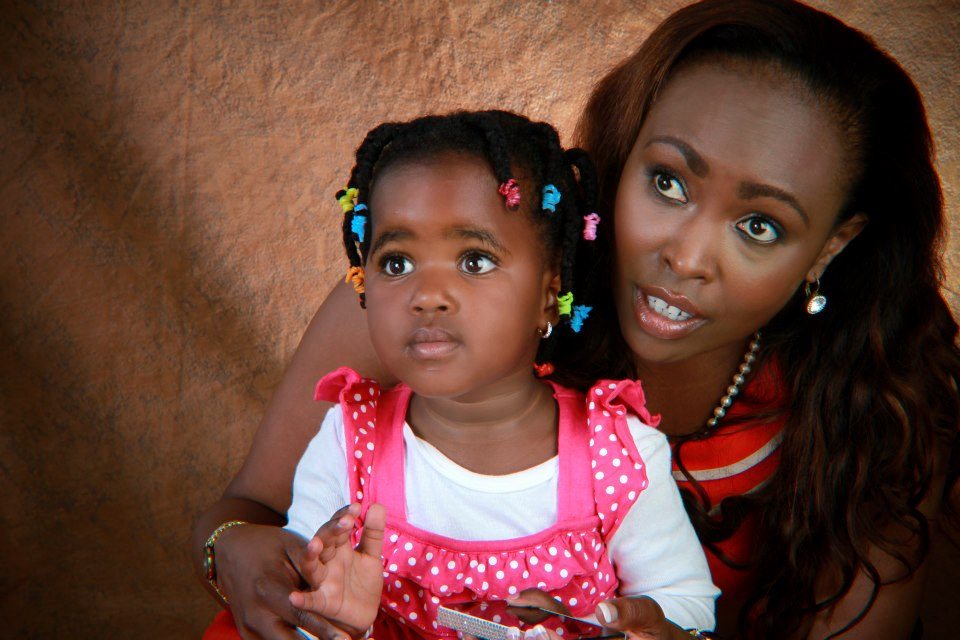 Caroline Mutoko Salary
Caroline is multi-talented and has more than one job; she is a radio presenter and a marketing manager. Also, she is a corporate MC, marketer via her social media platforms, and brand ambassador among other jobs. In addition to that, she has an active Youtube channel that weighs in on different local and international issues. From all these, you can tell that the journalist earns enough money to enjoy a high-flying lifestyle. Although nobody is sure of the exact figure she bags home,  reports available say that she receives over one million in remuneration. She, however, claims that a big part of her salary accrues from commissions due to her hard work. Whichever the source, the fact is she earns more than the majority of the Kenyans.
Caroline Mutoko House
You will be right to call Caroline Mutoko a real estate investor. She owns different landed properties in different areas of Kenya including Rongai, Kitenela, Mombasa and Nanyuki. The Strathmore and Havard Business school alumnus also owns a house in Rosslyn Heights, Nyari. From the above analysis, it's clear that Caroline is always determined to achieve and will not let any obstacle hinder her.
Conclusion
To those who claim that African women are incapable of achieving amidst a competitive environment, Caroline Mutoko is a good living example to them. She is a lady who will not stop until she accomplishes her goals Indeed, she is an iconic figure for many young Kenyans that are struggling to make ends meet.