A lot of young Americans have shot into the limelight for uploading different kinds of videos on YouTube. Some of these young stars include Connor Franta, Desi Perkins, Emma Chamberlain, the Dolan Twins (Ethan and Grayson), and Claire Abbott. The latter became a social media celebrity for uploading sexy bikini pictures of herself on social media.
Apart from her career on social media, Claire is also a singer and songwriter. In 2012, she made the cover of Adele's song titled Turning Tables. The gorgeous model was able to amass an enviable number of followers on social media, but surprisingly, she suddenly disappeared from the scene in 2016. What happened to her?
Claire Abbott's Early Life and Family Background
Claire Abbott was born in Ontario, Canada, on January 22, 1998. We don't know much about her parents, but we do know she grew up with a brother. It might be challenging to imagine Claire's life outside of the image of sexually suggestive pictures that brought her fame, but she had an exciting childhood.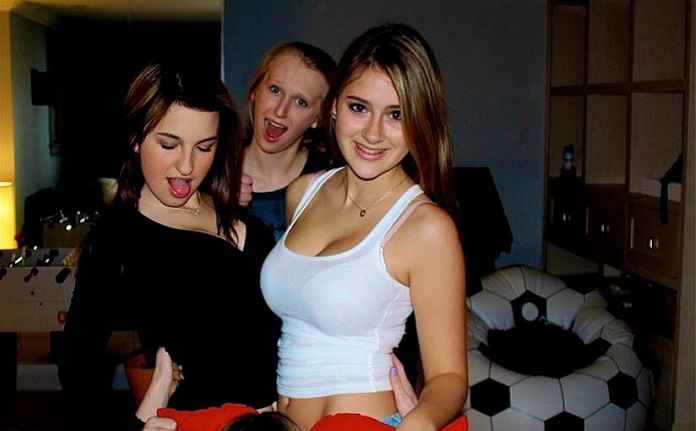 She grew up with a strong passion for the arts, especially performative arts like acting, singing, and poetry. As a performer, her interests went beyond the stage. During her high school days in Canada, Claire took part in cheerleading during sporting events and was also involved in acting.
But it wouldn't be her passion for performing arts that will bring Claire Abbott fame, that role was played by her body and social media.
Her Rise to Fame Began on Facebook
In 2013, back when Facebook was a popular social media platform among teenagers, Claire Abbott did something a lot of teenagers did at the time; she posted a bikini photo of herself. However, something different happened in her case; she went viral.
Observers of her rise to fame noted that the sexual nature of her pose, timing, and a bit of luck contributed to the virality of the photo. But it wasn't Claire's business to dissect the cause of her fame, she'd rather take advantage of it.
She set out to begin a modeling and social media career. She expanded her social media presence from Facebook to Instagram, Twitter, then YouTube. Claire quickly amassed hundreds of thousands of followers on Instagram and Twitter, reaching up to 400,000 across all the platforms.
Meeting Dan Bilzerian Solidified Her Fame
There is no telling if her bikini and sultry pictures would have made her social media fame endure. But any chance of her losing relevance died in 2015 when internet observers saw her in a photo with the modern Hugh Hefner. Dan Bilzerian is an internet personality who had developed an internet reputation for extravagant spending and womanizing. He is also known for indulging in dangerous lifestyle choices like drugs and guns.
So, when Claire Abbott, a seemingly innocent young woman known for consistently looking gorgeous on social media was seen in Dan's arms, it sent alarm bells ringing. Some wondered if they were in a relationship, while others speculated that Claire had gone bad.
Regardless, her connection with Dan Bilzerian, whatever the true nature of it was, boosted her fame. She also enjoyed coverage from Maxim Magazine in 2016. The magazine published a profile about her that no doubt increased her popularity. There is also the added fact that her nude photos leaked.
Claire Abbott Also Had a Brief Music Career
Not long after she graduated from high school, she thought it wise to use the internet to start her career as a model and singer. To that effect, she launched her YouTube channel in 2012 and began uploading covers for different songs by other musicians.
With some uploaded covers, she gained considerable attention. However, she later released a cover of Adele's song titled Turning Tables, and this won the hearts of more people over to her channel as a result of her colorful rendition. From then onward, Claire received massive attention which positioned her YouTube career for higher heights.
Concerning her music career, Claire Abbott has not done much outside the covers she posted on YouTube. In 2014, she released her song titled Fighter, featuring Phlex. As of 2020, the video had over 48 thousand views.
Along with a rising YouTube presence, a venture into the fashion and modeling industry, and a thriving social media career, Claire was set to become a successful internet personality for years to come. But in 2017, four years after she found fame, she deleted all her social media accounts and disappeared.
She Disappeared to Rebrand Her Public Image
There have been speculations about why Claire Abbott abandoned her rising fame and disappeared from social media. For years, there was no clear answer on the reason, but following a return to social media in February 2019, a clearer picture of her motives has been established.
Claire left social media to rebrand her public image so as to become a serious singer and songwriter. She had found fame showing off sexy curves, but felt her reputation as an Instagram star kept her from being taken seriously as a singer.
Hence, the disappearance that warranted deleting accounts that pointed to her past. Her return in February 2019 saw her post a video of herself playing the ukulele while singing a mash-up cover of Riptide, All the Pretty Girls, and Skinny Love.
It May Also Have Had Something to Do with Her Mental Health
The rebrand remains the dominating theory about Claire Abbott's sudden disappearance and eventual return. But it might not be the only explanation. During her heyday as an internet star, Claire shared that she suffered from severe depression, anxiety disorder, and borderline bipolar disorder.
Sharing the information from a hospital bed, she said she revealed those details about her to bring awareness to the disease and provide a safe space for those who suffered from similar issues. At the time, her actions were lauded, not just because of the implications, but it also brought depth to her online reputation.
A couple of years after revealing that fact, she disappeared from the public space, and there are suggestions that those issues may have influenced the decision. Whatever the truth is, fans of the internet star are no doubt happy she is back.