High School Musical sweetheart Corbin Bleu made the childhood of millennials a memorable and fun one and will not be easily forgotten for that. He is one of the Disney kids whose impact on the platform is widely commended and respected around the globe. He was loved by both young and old for his unique portrayal of his character in the high school movie which grossed millions of dollars. Hannah Montana was also one of the Disney shows through which Corbin endeared himself to his numerous fans. He is not just the cute and hairy Chad Danforth who loved Basketball more than anything, there is so much to know about the talented actor, dancer, and singer.
Corbin Bleu's Bio & Age
Corbin Bleu was born on February 21, 1989, in Brooklyn New York. He started to dwell in the showbiz world at a very tender age. At 2, he was featured in different TV commercials for different products; which is probably where his inclination for showbiz started. Some modelling agencies picked interest in him and Bleu continued to model for different kid brands. Growing up, he developed an interest in dancing and started to practice Ballet. Practising on his own was not enough for him, thus, Corbin soon enrolled at Debbie Allen Dance Academy after his family moved to Los Angeles in 1996. He then proceeded to Fiorello H. LaGuardia High School of Music & Art and Performing Arts.
His uniqueness started earning him some minor roles on TV series and in 1996, he landed a role in two episodes of medical drama series ER. Bleu's first movie stint was in sci-fi action movie Soldier (1998). After that, he made several appearances in many movies and continued to build his portfolio over the years.
It was in the year 2004 that he got his first major role in the movie Catch That Kid where he featured alongside Kristen Stewart. The following year, he landed a role in the TV series, Flight 29 Down. Whilst shooting for the series which was aired for three seasons, he got his big break in the world of showbiz as he landed the groundbreaking role of 'Chad Danforth' in High School Musical (2006). The movie which premiered in January 2006 was a massive hit, grossing millions and amassing over 7 million viewers.
Corbin became a full-blown celebrity alongside other casts of the hit movie; Zac Efron, Vanessa Hudgens, and Ashley Tisdale. The aforementioned all featured in the sequels of the movie; 'High School Musical: The Concert', 'High School Musical 2', and 'High School Musical 3′ which continued to garner more viewers. The movie which had a lot of songs projected the actors' singing and dancing skills to the world, and the likes of Corbin broke into the music industry with his outstanding tracks like 'I Don't Dance', featuring Lucas Gabriel, which made 2007 Billboard Hot 100. From there, he went on to record more songs.
See Also: Columbus Short Married, Wife, Divorce, Age, Height, Net Worth, Other Facts 
In 2010, Bleu's prominence had earned him lots of prestige among his counterparts, as well as more roles especially in TV series including 'The Good Wife', 'Blue Bloods', and 'Cleaning House'. 2013 came with more work as he got a role in the series  One Life to Live, where he starred as Jeffrey King in 40 episodes.
What Are His Height and Weight?
Corbin Bleu may not be the tallest but he passes for an average man and has the perfect build to go with his height. The talented actor stands at 5 feet 11 inches (180 cm) and weighs a proportional 68 kg (150 pounds). Bleu's chest measures 43 inches (109 cm), giving his biceps of 15 inches (38 cm) a sturdy look. He wears a size 9 US for his shoes.
What Is His Net Worth?
Corbin Bleu has enough to show for all his toils over his career years. His estimated net worth of $10 million is attributed to his movie roles as well as his musical endeavours. Bleu is also a model and has worked for different brands.
Who Are His Wife & Parents? Is He Gay?
Corbin Bleu grew up alongside his three sisters Jag, Phoenix, and Hunter with his parents, David Reivers, his Jamaican-American father, and Martha Callari, his Italian-American mother. It was his father who was also an actor that inspired him to follow in his footsteps.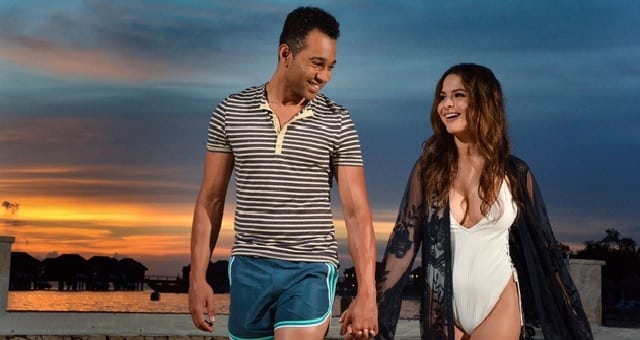 The actor has led a simple life both career-wise and off the screens. Even though he sometimes tries to be private with his relationship endeavours, you can trust the curious media to keep digging.
Corbin, in 2011, started a romantic relationship with Sasha Clements, a Canadian actress, and model. The two who met at a grocery store in Toronto had started out as friends but saw their friendship grow into a romantic relationship. Three years into the love life, Bleu proposed to Sasha in October 2014. On 23rd July 2016, they tied the knot in Santa Susana, California.
However, speculations about Bleu's sexuality were raised at the beginning of his career. People had thought that the actor who was so cute; left his fully curly hair to grow enormously, and had the sweetest of voices, was gay. But their rumours were trashed following his romantic wedding to his wife Clements.
Apart from that, Corbin has had relations with other women. Before Clements, he dated Keke Palmers whom he co-starred with in Jump-in in 2007. He also dated Maddie Cyrus in 2008.
Where is He Now?
Being a married man has not taken away Corbin Bleu's cuteness and charisma. He is still himself and looks even better. The actor, dancer, and singer have featured in a series of productions including a Broadway musical "Holiday Inn," in 2016. Some sources have thought aloud that the actor has been on a hiatus in recent times, but Corbin is still very active even on social media platforms.
It can be recalled that after Donald Trump's victory at the 2016 US Presidential Elections, Bleu had posted a message on his Twitter handle, urging the President-elect to lead the country with dignity and respect, contrary to his path to the presidency. Corbin's perceived dormancy has been associated with his popularity with kids' movies. Moreso, it is said that his roles in adult movies have not been so spectacular and that Bleu is still devoted to the High School Musical franchise.
However, in some interviews, Bleu has talked about life after his kids' episodes and is looking forward to going higher in his acting career.