One cannot be a fan of Hollywood movies and not be familiar with petite funnyman Danny DeVito. The American actor and filmmaker rose to fame on the hit ABC sitcom, Taxi which ran from 1978 to 1982 and earned him a Golden Globe and an Emmy Award. His wide range of work from stage plays to television to film has earned him widespread recognition as the actor has proved his versatility and talent time and time again.
DeVito is iconically known for his 4 feet 10-inch frame which is as a result of Fairbank's disease, a rare genetic disorder that stunts bone growth. Read on to find out more about his career and achievements.
Danny DeVito's Age and Early Life
Danny DeVito was born Daniel Michael DeVito Jr. on the 17th of November, 1944 in Neptune, New Jersey but was raised in Asbury Park, New Jersey. His parents were Italian immigrants originally from San Fele, Basilicata. DeVito's father, Daniel Sr. was a businessman who ventured into several businesses, including owning a dry cleaning business, and a diner.
DeVito attended private schools while growing up and even acted in a play or two in high school, although at the time he didn't really consider a career in acting. After his graduation from Oratory Prep School in 1962, he enrolled at the American Academy of Dramatic Arts, graduating in 1966.
The young aspiring actor went on to appear in several theatre productions, including appearing on-stage with his future wife Rhea Perlman in a play produced by the Westbeth Playwrights Feminist Collective. He landed his first film role in the movie Dreams of Glass in 1968. The movie, however, proved to be a disappointment to him and he made the decision to focus on theatre productions. A year later he appeared in the Off-Broadway debut of The Man With the Flower in His Mouth, followed by roles in the plays The Shrinking Bride and Lady Liberty. 
In 1975, Danny DeVito appeared in the hit film One Flew Over the Cuckoo's Nest. But while the film was a great success, DeVito still remained relatively unknown. It wasn't until 1978 when DeVito auditioned for and got the part of a taxi driver in ABC's sitcom Taxi, that he finally gained recognition.
His award-winning performance paved the way for bigger roles, and DeVito has enjoyed a steady incline in his career since then. Some of his most notable movies include Twins and Junior alongside Arnold Schwarzenegger, Batman Returns, Matilda, Other People's Money, The Rainmaker, Solitary Man with Michael Douglas and Susan Sarandon and When In Rome, with Josh Duhamel and Kristen Bell.
Danny DeVito has also tried his hand at producing and directing. He directed the comedy film Duplex, starring Ben Stiller and Drew Barrymore, as well as the popular fantasy movie adaptation of Roald Dahl's novel, Matilda, in which he made an onscreen appearance with Perlman. He further owns his own production company, Jersey Films, which has produced critically acclaimed films like Pulp Fiction and Erin Brockovich.
Danny DeVito has further lent his voice to several roles in animated movies including, Space Jam, The Lorax, Smallfoot and The One and Only Ivan. 
Danny DeVito's Wife and Children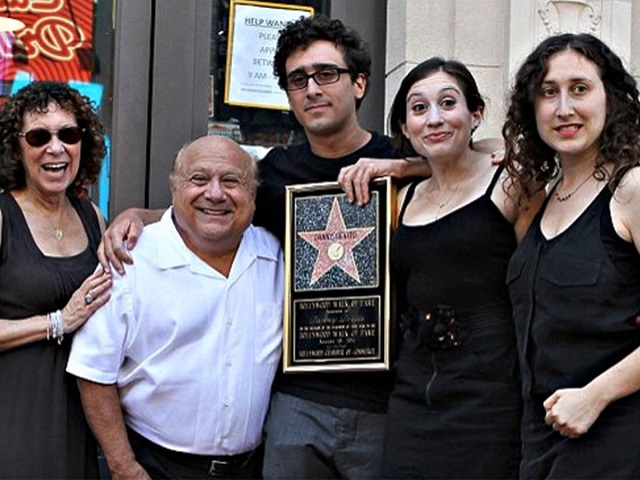 Danny DeVito met his wife Rhea Perlman in 1971 when she went to see the play The Shrinking Bride, which he featured in. The couple began dating soon afterward and were married in 1982. The union bore them three children: Lucy DeVito born in 1983, Grace DeVito born in 1985, and Jacob DeVito born in 1987. With DeVito being Catholic and Perlman being Jewish, the couple decided not to raise their children under any religion, but to celebrate Jewish and Christian holidays together.
Rhea Perlman is an award-winning actress and author. The Brooklyn, New York native went to school at Hunter College in New York where she studied drama and earned a Bachelor of Arts degree in 1968. Herself and her husband have appeared on several productions together, the first of them being Up-An Uppity Revue, a production by the Westbeth Playwrights Feminist Collective. She also had a recurring role in Taxi as the girlfriend of Louie DePalma, a character played by DeVito. In 1986, the couple was cast as an on-screen husband and wife in Steven Spielberg's Amazing Stories. Another joint appearance was on the set of the movie Matilda, where Perlman and DeVito once again played and on-screen husband and wife.
Rhea Perlman may not be as much of an A-list actor as her husband is, but she is definitely one of the most unforgettable faces in Hollywood. Her body of work and talent have earned her four Emmy Awards and many other nominations. She has further authored 6 children books and has an illustrated-book series titled Otto Undercover.
DeVito's first daughter Lucy Chet DeVito ventured into acting and theatre in 2005. So far, she has made many appearances in both film and television, appearing on several episodes on the series, It's Always Sunny In Philadelphia alongside her father. His last child, Jacob Daniel DeVito is also an actor who has appeared in the movies The Better Angels, Untitled Tim Long Project, and Curmudgeons.
Net Worth
Danny DeVito's career has spanned over 45 years and in that time, he has amassed considerable wealth. While he may not be as popular onscreen as he once used to be, his almost fifty years of hard work has earned him an estimated net worth of $80 million.
Whether he's acting, or directing, or producing, the Golden Globe Award winner is always busy and has had his hands full with different business ventures.
Is He Dead?
Danny DeVito is definitely not dead. In March 2019, the actor was involved in an internet hoax where a Facebook page titled "R.I.P. Danny DeVito" was launched stating that the actor had passed away on the 1st of March, 2019 and "…will be missed but not forgotten."
The fake news created mixed feelings as some found it distasteful while others actually believed it and left their likes and heartfelt comments on the page. Mr. DeVito's representatives later officially dispelled these rumors, confirming that the actor is very much alive and kicking.