Daymond John, the founder and president of the popular clothing line, FUBU, is a well-known American businessman and an investor of the popular ABC's reality television business show titled Shark Tank, which has gone ahead to clinch Emmy Award for Outstanding reality program from 2012 to 2014. As the founder of Shark Group which specializes in brand management and consultancy, the prestigious entrepreneur has also been able to make an excellent display of his skills as a motivational and business speaker.
He is also known as the author of The Power of Broke: How Empty Pockets, a Tight Budget, and a Hunger for Success Can Become Your Greatest Competitive Advantage. Interestingly, the book has turned out to be a huge success for Daymond John. It made the best seller list of two notable American journals – The New York Times and the Wall Street Journal.
Read on to find out more interesting facts that you need to know about his early life, career, earnings, and love life.
Age and Background Details
The reputable public speaker was born in Brooklyn, New York City, the U.S. on 23rd February 1969, into the family of Garfield and Margot John. He mostly had his childhood adventure in the neighborhood of Hollis, Queens. In regards to his education, John completed his basic education at Bayside High School. During this time, he enrolled in a program which enabled him to have an alternating weekly basis schedule for his studies, in order to use the rest of his time for work as he landed a full-time job.
Soon after graduating from high school, Daymond John followed it up by venturing into entrepreneurship proper as he launched into transportation business; a commuter van service. Few years down the line, the New York Times bestseller author commenced his clothing line business, FUBU, in a low key at his mother's place in Hollis, Queens. His mother, however, was the one who tutored him on sewing and she also rendered him great support at the early stage of the business by giving him financial aids and allowing him to grow the business in her house.
Eventually, the business started making headlines after LL Cool J's display of FUBU T-shirt and hat on a commercial in 1993. After experiencing a rough beginning, the business finally started grossing huge profits as they subsequently earned more than $6 million in global sales. In addition, the American businessman has also leaped into the limelight as the founder of The Shark Group, which is well-known for various brands management and consultancy.
As a public speaker, Daymond John has put his vocational skills into play at various occasions most notably California First Lady Maria Shriver's 2010 Women Conference. This bagged him a brand ambassadorship of the popular e-commerce company, Spotify. Furthermore, the famous Tv personality has made several appearances on different Tv shows including the popular reality business show, Shark Tank. You will also find him in Dr. Ken and the Big Idea with Donny Deutsch.
He has moved on to author three books, with one earning a spot on The New York Times and Wall Street Journal bestseller list. Throughout the years, his works have received several public recognition including Congressional Achievement Award for Entrepreneurship and an Image Award for Outstanding Instructional Literary Work from NAACP. Although at a certain point in his career, he was diagnosed with thyroid cancer of which he is presently cancer-free, it didn't deter him from reaching the peak of his career as he is now regarded as a role model to those in the business world.
His Net Worth
The notable entrepreneur and public speaker is known to have achieved quite a bloomy career from his multiple successful endeavors. Hence, Daymond John's financial value is estimated to be $300 million. He was able to achieve this through his earnings as an author, public speaker, entrepreneur, and television personality.
Daymond John Wife/Girlfriend, Kids, and Family Life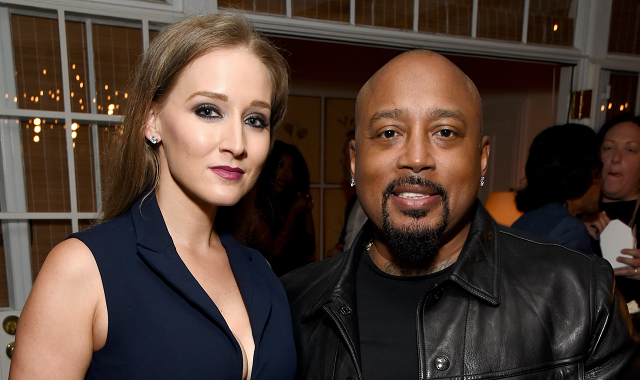 With regards to his personal life, Daymond John has successfully kept his relationship details on a low profile. Well, it's known that he was previously married and welcomed his two daughters; Yasmeen and Destiny, from the union.
However, he has been in a long relationship with Heather Tara. The couple got engaged in September 2016 and John proposed to Tara with a glitzy 95-carat emerald cut diamond ring on the set of Shark Tank. Together, they have a daughter named Minka Jagger John.
See Also: Andrew Frankel Bio, Age, Kids, Family, Net Worth, Other Facts to Know
Height
The Wall Street Journal best-selling author is about 5 feet 6 inches (1.69 m) tall which is slightly less than the height of an average American male – 5 feet 10 inches. Nonetheless, the height is fine for his body weight of about 75 kg (165 lb).