Daymond John is one name that really rings a loud bell in the business world, especially in the field of apparel creation. He is the founder and president of the popular clothing line, FUBU, as well as a well-known investor on the popular ABC reality television business show, Shark Tank.
John was not born with a silver spoon in his mouth; he gradually rose to prominence and affluence from virtually nothing. Today, he is one of the respected men making waves in the world of business. As the founder of Shark Group which specializes in brand management and consultancy, the prestigious entrepreneur has also been able to make an excellent display of his skills as a motivational and business speaker.
How Daymond John's Childhood Prepared Him To Run A Business
Born in Brooklyn, New York City, on 23rd February 1969, into the family of Garfield and Margot John, Daymond John grew up learning how to run a business and be a hard-working man. When he was just 10 years old, his parents divorced so he started working for a living from that young age.
At age 10, Daymond John was already working. One of the jobs he did at the time was handing out flyers for $2 an hour. Even though he was very young, he understood that he needed to do something to make his life a worthwhile one. The philosophy he grew up with was that he had to work for everything he ever has to get.
John took his entrepreneurial spirit to high school. While attending Bayside High School, he enrolled in a program that enabled him to have an alternating weekly basis schedule for his studies. This arrangement was to help him use the rest of his time for work as he landed a full-time job.
When he graduated from high school, John did not waste his time loitering around and doing nothing, instead, he started a commuter van service and even waited tables at Red Lobster. It was shortly after this that he got the idea to start his clothing brand.
The Idea That Birthed The FUBU Brand Was Conceived After High School
Daymond John developed the idea to start his clothing brand a few years after his high school. The idea was to create a clothing line for young men. When he told his mother about his idea, she was very supportive and even offered to let him use her living room at her house in Hollis, Queens, to kickstart the business.
His mother was also the one who tutored him on sewing and she also rendered him great support at the early stage of the business by giving him financial aids. Daymond John called his company FUBU which means "For Us By Us".
Eventually, the business started gaining some recognition when he began to sew the FUBU logo on hockey jerseys and sweatshirts, as well as T-shirts. John achieved this with the help of his friends whose help he enlisted at the time. In fact, they managed to get some rappers to put on the hockey jerseys which had the FUBU logo on them. This helped immensely in promoting the popularity of the brand.
Things turned around dramatically after his mother used her last saving to place an ad on the New York Times newspaper. This led to the FUBU company landing a deal with Samsung Textiles. The deal gave them enough funding to start completing orders and expanding the business. Shortly afterward, FUBU was a full-blown global company. Today, the FUBU brand has become very popular around the world, earning more than $6 billion in global sales.
John Is More Than Just The Owner Of FUBU
Daymond John is known globally as the owner of FUBU but managing FUBU is not the only thing he does. As an astute businessman, John is into different ventures through which he rakes in money.
John is also an investor. He is known for making appearances on Shark Tank, a reality business TV show that helps new entrepreneurs by giving them the opportunity to pitch their businesses to investors in order to attract financing. John has now invested more than $9 million of his own money into Shark Tank companies and has seen favorable returns because these companies have all gone ahead to make profits.
John is also a public speaker who has put his vocational skills into play on various occasions, most notably California First Lady Maria Shriver's 2010 Women Conference. This bagged him a brand ambassadorship of the popular e-commerce company, Spotify.
A Best-selling Author
The businessman is also an author. He has authored three books, with one earning a spot on The New York Times and Wall Street Journal bestseller list. Throughout the years, his works have received several public recognition, including the Congressional Achievement Award for Entrepreneurship and an Image Award for Outstanding Instructional Literary Work from NAACP.
How Much Is He Worth?
The notable entrepreneur and public speaker is known to have achieved quite a profitable career from his multiple successful endeavors. As a result, Daymond John's financial value has been estimated to be about $300 million.
He was able to achieve this through his earnings as an author, public speaker, entrepreneur, and television personality.
Who Is The Woman In Daymond John's Life?
Daymond John is a happily married man, committed to a woman named Heather Tara. They have been together for quite a while and it appears that relationsh9 is gaining quite some steam.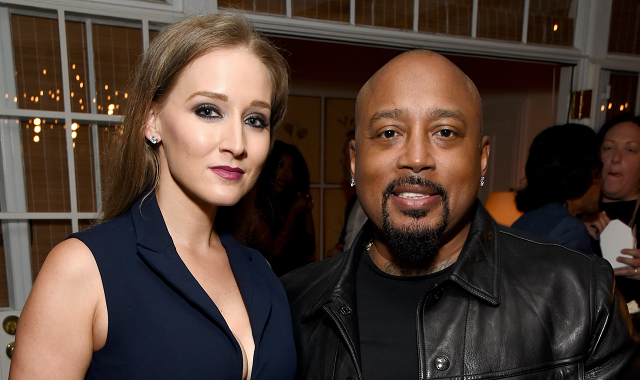 Daymond John was in a relationship with Heather for a long time before they got engaged in September 2016. John proposed to Tara with a glitzy 95-carat emerald cut diamond ring on the set of Shark Tank in front of a live audience.
The couple now has a daughter named Minka Jagger John. Interestingly, Minka who was born before her parents got married, was there to witness her mom and dad get engaged.
The lovebirds tied the knot as husband and wife in a very private wedding in 2018. Only family and very close friends were there to witness it.
Daymond John Was Married Before Heather Tara Came On Board
Before meeting and marrying Heather Tara, Daymond Joh was married to another woman. Details about this first woman are not readily available. However, we know that John had two daughters called Yasmeen and Destiny from that marriage.
The marriage crashed because Daymond John became quite an absentee dad. Talking about this with CNBC, John explained that his business had just found great success and he became so caught up in the whirlwind that he forgot to be there for his family. His wife saw him more on TV than in person because he was always in the commercials and was constantly traveling.
In the end, his first wife got fed up and left.