When it comes to sports, a common saying has it that a player or coach is only as good as their last game. This time-honored cliché has proven true over and over again and is once more manifesting in the case of Devonta Freeman
For several years, the Georgia native cemented a reputation as one of the most prolific running backs in the National Football League (NFL). Blessed with unbeatable speed and skills, he consistently returned impressive stats each season and received many accolades. He also helped his team to the playoffs and even a Super Bowl appearance.
Sadly in recent times, Freeman has witnessed a decline in productivity which has led his team to offload him. The running back is now shopping for a new home in a saga that gets captivating with each passing day. There have been talks of sit-outs, unreasonable financial demands, and even veiled threats of quitting the NFL entirely.
The Mentor who Introduced Devonta Freeman to Football
Devonta Freeman was born on March 15, 1992, in Baxley, Georgia. His journey to becoming a football star started in his fifth grade when he began playing organized football for a Pop Warner team called the Moore Park Generals. He subsequently played in Pop Warner games for Liberty City Optimist Club, with his eventual mentor, Luther Campbell (best known as the former leader of the rap group 2 Live Crew), as his coach.
Campbell, aka Uncle Luke, whose presence in the player's life contributed to making him the star he is today, is the founder of Liberty City Optimists — a youth sports program for inner-city athletes. He saw Freeman, who was nine at the time, playing baseball in Liberty City and convinced him to join his team for youth football. From there, he took the young boy under his wings and the two became so inseparable that the NFL star considers him as his mentor and second father figure.
At a very young age, Devonta's football skills were already polished so that by the time he got into Miami Central High School in West Little River, Florida, he was a shining star in the school's football team. With his help, the Rockets football team made it to the 2010 Class 6A state championship where Freeman gained 308 yards on 36 carries and was named the MVP. Following his exploits with the team, Rivals.com considered him to be a 4-star recruit in addition to rating him the best running back in the nation.
Excelling in His First Three Seasons in the NFL
Moving forward, on June 24, 2010, the young chap committed to Florida State University where he played college football for the Seminoles from 2011–2013. Forgoing his senior season, Devonta Freeman entered the 2014 NFL Draft and was subsequently picked in the fourth round (103rd overall) by the Atlanta Falcons.
Freeman made his NFL debut in a week one game against the New Orleans Saints in September 2014. He contributed an impressive performance as his team went on to win the game. The running back continued in this pattern for his entire rookie season and did even better in his second season of 2014. For that year, Freeman returned a fabulous 1,056 rushing yards and 11 rushing TDs as well as 578 receiving yards and 3 receiving touchdowns.
This earned him his first Pro-Bowl selection and he was also ranked as the 5th best running back in the NFL. Such top honors encouraged the player to do more and he improved on his performance and was able to take his team all the way to Super Bowl LI in his third year. They sadly lost out to the New England patriots but Freeman still picked up his 2nd Pro Bowl honors in recognition of his individual efforts.
His Search for a New Team
The Seahawks' offer to free agent RB Devonta Freeman is a one-year deal that would be worth up to $4 million. He has also attracted interest from the Jets and Eagles.

— Michael Silver (@MikeSilver) May 20, 2020
Following his 2016 heroics, the Falcons were quite pleased with Freeman and rewarded him with a contract (5-year deal worth $41.25 million) which made him the highest-paid running back in the NFL. In doing so, they hoped that the player would contribute to the team's push for success but that failed to materialize. Freeman's stats declined in 2017 and he missed the entire 2018 season with a knee and groin injury. Such realities did not sit well with his employers and they cut him from the team in March 2020.
The player is now a free agent and is searching for a new home. This search has become complicated and the fault seems to lie squarely with Freeman as he is asking for much more money than most teams can afford. The running back has turned down offers from teams such as Tampa Bay Buccaneers, the New York Jets, the Philadelphia Eagles, and the Seattle Seahawks (who offered him a one-year contract worth $4 million) because they are not lucrative enough.
He has even gone to the extent of saying that he is prepared to sit out the entire 2020 season and possibly retire if he doesn't get a deal worth his value. This has raised concerns and analysts have pointed out that Freeman is only hurting his career. They believe he should take the deal on the table as there is no guarantee that after he gets back from his sit out, he will be able to give good performances.
The Shining Light of his Family
Hearing her voice always brings me back, Every minute with her is a gift. Today, join me & share a few more together. #CallMom #ad pic.twitter.com/wK85Je50eN

— Devonta Freeman (@devontafreeman) May 13, 2019
Devonta Freeman's parents are Lorraine Freeman (mother) and Alfonso Nails (father). The player who lived with his mother and siblings in the Pork 'n' Beans projects of Miami's Liberty City, for seven years, is the first of seven children – four girls and two boys. Nothing has ever come on a platter for the Florida State running back. With his father in jail, Devonta was considered to be the man of the family at the age of 12.
He worked many jobs, including pumping gas, washing cars, raking leaves, and doing anything that did not involve breaking the law just to help take care of himself, his mother, and siblings in addition to two cousins he grew up with and the grandmother that helped raise him. By the time he was 13, Devonta Freeman had become very good at embalming dead bodies for $50 per body.
With his father absent from his life, another father figure, Cleveland Thomas (his mother's then-boyfriend) whom Freeman's called "Dad" came on board but he was also in and out of jail. According to the player, Cleveland was a big dope boy and he saw him do 'stuff'.
Despite growing up in a neighborhood full of gang members, drug dealers, and violence, he tried as much as possible to set a positive example for his younger ones. Football was always his escape plan and being able to help his family and put smiles on their faces was his biggest drive and motivation to work harder.
At the age of 14, the fourth-round pick of the 2014 NFL Draft lost his beloved aunt, Tamekia N. Brown, to a heart attack. He has never forgotten her and tattooed her name on his left arm. He also wears the number 24 jersey in her honor. According to the player, they were quite close, due to their closeness in age, and she even did his dreads for him.
Living with the Love of His Life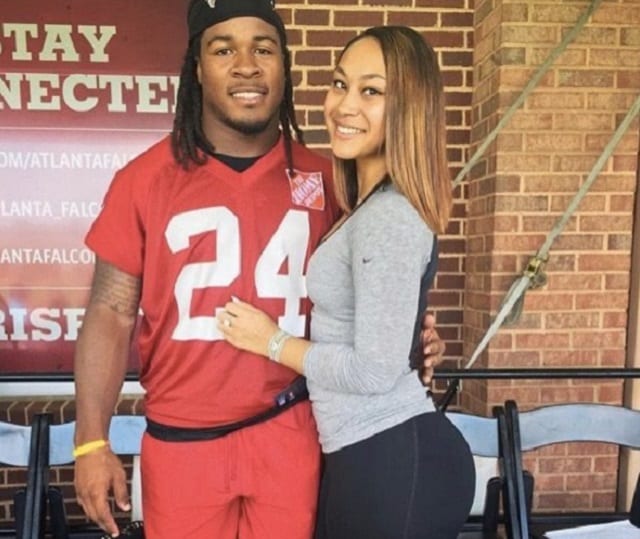 Devonta Freeman is in a relationship with Malikah Nash aka "Red Thang". For many months, the young lady was known only as Red Thang on social media and even Devonta called her by that for some unknown reasons. According to Devonta Freeman's Instagram, it appears the duo has been together since 2014. They regularly embark on vacations to exotic locales around the world and share their adventures online.
Malikah is a star volleyball player who attended Hillsborough High School in Tampa, Florida, where she played with the Hillsborough Terriers volleyball team and graduated in 2013. In the same year, she received the Heart of a Champion volleyball scholarship. The $1,000 scholarship provided by Bob Gries Jr., recognizes young athletes in the Tampa Bay community who have demonstrated what "heart" is all about.
Ms. Malikah Vorice Nash was born on January 11, 1995, to Mayli Dawn Nas (nee. Ryshoywer) and Kelsey Nash Sr. She has two siblings – brother, Kelsey Jr., and sister, Kamea.