Devonta Freeman is an American footballer who started his professional career after he was selected by the Atlanta Falcons during the 2014 National Football League (NFL) Draft. He is considered to be one of the best players in the league and he plays in the running back position.
Devonta Freeman's Biography
Devonta Freeman was born on March 15, 1992, in Baxley, Georgia. His journey to becoming a football star started in his fifth grade when he began playing organized football for a Pop Warner team called the Moore Park Generals. He subsequently played in Pop Warner games for Liberty City Optimist Club, with his eventual mentor, Luther Campbell (best known as the former leader of the rap group 2 Live Crew), as his coach.
Campell aka Uncle Luke, whose presence in the player's life left a positive impact and contributed to making him the star he is today, is the founder of Liberty City Optimists — a youth sports program for inner-city athletes.  He saw Freeman, who was 9 at the time, playing baseball in Liberty City and convinced him to join his team for youth football. From there, Campbell took Freeman as his son and the two became so inseparable that the NFL star considers him as his mentor and second father figure.
At very young age, Devonta's football skills were already polished so by the time he got into Miami Central High School in West Little River, Florida, was a shining star in the school's football team. With his help, the Rockets football team made it to the 2010 Class 6A state championship where Freeman gained 308 yards on 36 carries and was named the MVP. Following his exploits with the team, Rivals.com considered him to be a 4-star recruit in addition to rating him the best running back in the nation.
Moving forward, on June 24, 2010, the young chap committed to Florida State University where he played college football for the Seminoles from 2011–2013. Forgoing his senior season, Devonta Freeman entered the 2014 NFL Draft and was subsequently picked in the fourth round (103rd overall) by the Atlanta Falcons.
Family
Devonta Freeman's parents are Lorraine Freeman (mother) and Alfonso Nails (father). The player who lived with his mother and siblings in the Pork 'n' Beans projects of Miami's Liberty City, for seven years, is the first of seven children – four girls and two boys.
Nothing has ever come on a platter for the Florida State running back. With his father in jail, Devonta was considered to be the man of the family at the age of 12. He worked many jobs, including pumping gas, washing cars, raking leaves and doing anything that did not involve breaking the law just to help take care of himself, his mother and siblings in addition to two cousins he grew up with and the grandmother that helped raise him. By the time he was 13, Devonta Freeman had become very good at embalming dead bodies for $50 per body.
With his father absent from his life, another father figure, Cleveland Thomas (his mother's then boyfriend) whom Freeman's called "Dad" came on board but he was also in and out of jail. According to the player, Cleveland was a big dope boy and he saw him do 'stuff'.
Despite growing up in a neighborhood full of gang members, drug dealers, and violence, he tried as much as possible to set a positive example for his younger ones. Football was always his escape plan and being able to help his family and put smiles on their faces was his biggest drive and motivation to work harder.
At the age of 14, the fourth-round pick of the 2014 NFL Draft lost his aunt, Tamekia N. Brown due to a heart attack and being someone from a close-knit family, Freeman tattooed her name on his left arm and wears jersey number 24 in her honor.
Relationship – Girlfriend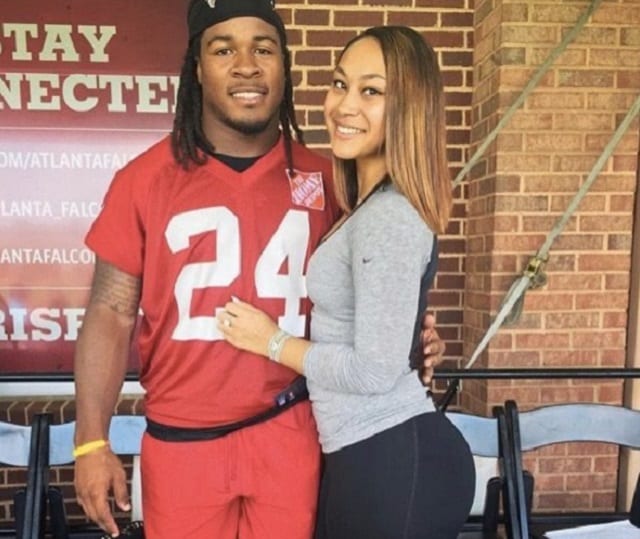 The running back is supposedly in a relationship with Malikah Nash aka "Red Thang". For many months, the young lady was known only as Red Thang on social media and even Devonta called her by that for some unknown reasons. According to Devonta Freeman's Instagram, it appears the duo have been together for about two or three years.
Malikah is a star volleyball player who attended Hillsborough High School in Tampa, Florida, where she played with the Hillsborough Terriers volleyball team and graduated in 2013. In the same year, she received the Heart of a Champion volleyball scholarship. The $1,000 scholarship provided by Bob Gries Jr., recognizes young athletes in the Tampa Bay community who have demonstrated what "heart" is all about.
See Also: Who Is Roquan Smith The NFL Linebacker? His Height, Weight, Other Facts
Ms. Malikah Vorice Nash was born on January 11, 1995, to Mayli Dawn Nas (nee. Ryshoywer) and Kelsey Nash Sr. She has two siblings – brother Kelsey Jr. and sister Kamea.
Body Measurement – Weight, Height
The Atlanta Falcons running back has a well-built body with a compact frame to suit his average height of 5 feet 8 inches (1.73 meters). Freeman's body weight of 93 kilograms (206 lb) also commensurates his height. The hand size of the soft-spoken trendsetter is 9⅝ inches while his arm length is 29⅜ inches.