They say that if you practice a skill for 10,000 hours you will master it. If you do that for the game of basketball, and you also happen to be tall and talented, you are Dion Waiters. The American basketball player is an emerging star in the National Basketball Association (NBA). He started his professional career in the NBA by playing for the Cavaliers but he currently plies his trade in Florida for the Miami Heat team, and he has been described as such a modern talent. Dion is a superstar waiting in the wings and you might want to know a few things about the man before the whole world starts screaming his name.
Dion Waiters' Bio
Dion Waiters loves basketball. A lot of players see basketball as a means to an end, a way out of poverty, but for Waiters, he genuinely loves the sport just for what it is and it showed right from his childhood. Despite losing his father Dion Waiters Sr. to the prisons at the time of his birth and getting raised by his mother, Monique Brown, Dion simply spent most of his time playing basketball.
The Miami Heat shooting guard, who was born on December 10, 1991, in Philadelphia, Pennsylvania made basketball his life. His high school career saw him get ranked as the number 2 Best Shooting Guard in the ESPN 100, 15th overall best recruit by ESPNU and 29th best overall recruit by Rivals.com.
At college, where most players have the last chance of impressing NBA teams before the door is shut and they give up on a professional basketball career, Waiters played for Syracuse for two years and secured a fourth overall pick in the 2012 NBA Draft. His short but fulfilling college career saw him average 6.6 points, 1.5 assists per game in his freshman season and 12.6 points, 2.5 assists per game in his sophomore season. It was his sophomore season that rolled in the accolades and national recognition with awards such as Big East Sixth Man of the Year, AP Honorable Mention All-American.
NBA Career
His professional NBA career has seen him set several personal records and maintain double-digit points per game ratio despite having played over 300 games and barely starting half of them. In his rookie season, despite being plagued by injuries that made him miss 21 games, he was graded as the fourth best overall rookie by NBA.com and placing fifth in the voting competition for the NBA Rookie of the Year.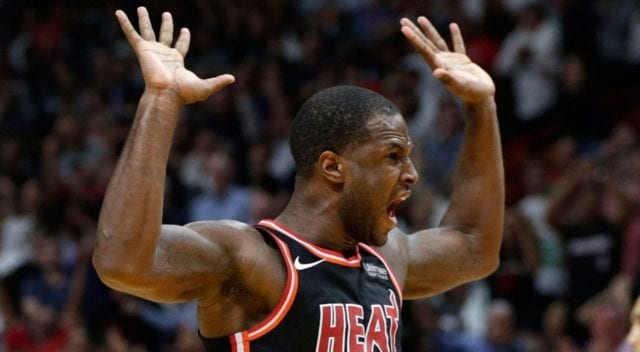 Dion Waiters spent three seasons at the Cleveland Cavaliers before getting moved on to Oklahoma City Thunder in a trade, that saw Iman Shumpert and J.R Smith move to the Cavaliers. Dion's new team took some time to adjust to having him as a part of their squad. He spent the first half of the season in a bench role, starting just two games. His time at Oklahoma was not all that successful and after two seasons, he was shipped out to his current team, Miami Heat.
Despite an unsuccessful spell at the Oklahoma Thunders, Dion Waiters is widely regarded as an efficient outside shooter, who possesses the unique ability to score double three's per game and the skill to find his way to the rim through large defenders.
See Also: Dwyane Wade Career Stats, Net Worth, Height, Wife – Gabrielle Union And Kids
Since joining the Heat in 2016, Dion, despite multiple injuries has been an asset to the team – showing some of the qualities he's widely known for. His shooting ability has been a mainstay of his time at the Heat so far, hitting a 33-point career-high multiple times with a notable 0.6 seconds three-pointer buzzer beater in a win over the formidable Golden State Warriors. His NBA career stats currently stands at 365 games played, 183 games started, 13.3 points per game, 2.8 assists and 2.7 rebounds per game.
What is His Net Worth, Salary?
Dion Waiters is currently believed to be worth $2 million. Dion in 2017, signed a four year $52 million deal with the Heat and he is on an annual salary of $12.7 million. It has also been reported that if he overcomes his injury problems and plays 70 games in the regular season, he will receive a $1 million bonus.
Body Measurements – Height, Weight 
Dion is known for his strength and ability to drive onto the rim against big defenders, much of that is down to his power, his 6 feet 4-inch height, and his 225 lb (102 kg) body weight. His dominant shooting hand is his right.