A cruise to the Caribbeans is one of the most fascinating, exhilarating and memorable experiences one can possibly have, perhaps this can inform why over time many cruise ship companies have made the Caribbean one of their top destinations. The industry has seen millions of people go for cruise trips yearly and Amy Lynn Bradley and her family have been one of such people. They were simply vacationing; seeking fun time, family bonding amidst alluring sights, sounds and exotic foods that are hard to resist in the calm blue sea of the Carribean.
The cruise ships are usually well built for safety and comfort with many decks, a railing of about 3.5 feets to avoid people tripping and falling to their death, 999 – 1000 spacious, luxurious rooms, with different  beautifully designed mini villages or towns consisting of recreational centers all for the pleasures of the passengers on board. A little wonder why the industry will not cease enjoying such teeming patronage despite the rate at which hundreds of persons have been reported to mysterious vanish without clues and traces since 1995 till date. One such person who we are going to discuss here is Amy Lynn Bradley.
Who is Amy Lynn Bradley?
Amy Lynn was born in Petersburg, Virginia on the 12th of May, 1974. She was a lifeguard and an excellent swimmer, though afraid of the open sea. Amy Lynn Bradley, with her family, boarded a vacation cruise ship from Puerto Rico; a Royal Caribbean ship named, Rhapsody of the Seas, but when she was reported missing in the most bizarre way on the 24th March 1998, three days after boarding the ship heading to Curacao, Antilles.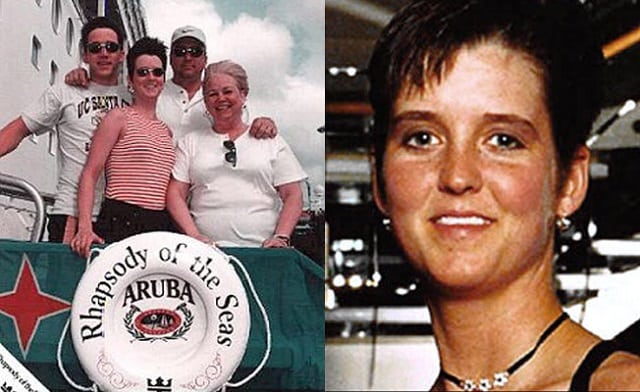 Circumstances Leading to Her Sudden Disappearance
According to investigations and eyewitness reports, Amy had on the 23rd March 1998 attended a dinner party hosted in the ship with her family when their ship was docked in Curacao, she danced with one Douglas Alister, also known as Yellow; a bass player who had performed that night, and stayed up late with her brother partying and only returned to the cabin around 3.40am. She was later said to have taken her cigarettes, lighter and had gone out for a smoke barefooted, though earlier it was reported that she told her family that some of the waiters were flirting with her and had invited her to go ashore with them which she found to be creeping but declined their invitation.
Her family on the discovery that Amy Lynn was missing appealed to the cruise officials and director to make an announcement over the pager to her, a request said to have been declined on grounds that it was pretty early in the morning so as not to arouse other passengers on board. The announcement was eventually made after most of the passengers on board had disembarked; a search party was set up by both the Netherland coast guards and the Royal Caribbean boat which of course came back with no answers as to the whereabouts of Amy Lynn Bradley after 3 to 5 days of search. Other eyewitness reports said that when the ship was docked strange people boarded the ship that night and mixed up with the ship's passengers which was weird and suspicious.
Amy Lynn Bradley was last spotted with same Douglas Alister the bass player by Crystal Robert headed to another part of the ship, but on his return a few minutes later, there was no Amy Lynn with him. The FBI had to wedged into the investigation and eventually dug up little or nothing in clues, traces or evidence as to what really happened to her.
Rewards amounting to $250,000 from her parents and the FBI's (Federal Bureau of Investigation) $25,000 was promised to anyone with useful information leading to where she may be found and all yielded no fruit till date. The wide publicity she got from news tabloids, magazines, Dr. Phil and The American Most Wanted shows, all generated only awareness but recovery of Amy Lynn.
Theories Surrounding The Mysterious Disappearance of Amy Lynn Bradley
A number of speculations and theories has been put forward over the years by different persons, However, we can only settle for these three assumptions and theories to be close to the truth based on pieces of information and reports released by the FBI and the few reported sightings of Amy Lynn after the bizarre way she vanished without traces.
The first theory based on the sight evidence states that Amy Lynn was kidnapped on board the cruise ship and probably drugged to keep her quiet and moved out of the ship at the early hours of 24th March 1998.
This postulates that she fell overboard and drowned in the sea. However, Amy was known to be a good swimmer and she would have easily swam to safety. On the other hand, her profile does not portray her as a suicidal person who is capable of killing herself and she was obviously not too drunk to have fallen off the docked ship.
The third and possibly the last theory is that Amy Lynn Bradley has been sold into slavery, this theory may have an element truth in it to an extent because, in 2005, a picture of a lady looking like Amy Lynn was posted online on an online prostitution site where she posed in a compromising sexual position. There are some possibilities to this because, over the past years, hundreds of young white ladies have mysteriously vanished from cruise ships in the Caribbeans with little or no trace and are still at large; not reunited to their loved ones. This dangerous trend may be an indication that sex slavery is very much thriving, as accusations have been made about cruise ship owners being in partnership with the traffickers.
Purported Sightings of Her After The Disappearance
The slim beacon of hope that has probably encouraged the family of Amy Lynn Bradley to soldier on with their search is the few accurately recorded sightings of her at various times and places.
The first time she was sighted was in Curacao beach in 1998, and 1999 she was spotted by two Canadians on vacation in the same beach. The Canadians gave the authorities a vivid description including her tattoos – the Tasmanian Devil spinning a basketball done on her shoulder, a sun look and gecko on her lower back and navel respectively, as well as the navel ring she had on her skin. This information could not have been known about her if she was not sighted, thus proving that there is an element of truth in this report, though she is said to have been tailed on both sides by funny looking men.
She was moreover reported to have been seen in a department store in Barbados in 2005 when she made use of the restroom, she was said to have pleaded for help before she was whisked off by mean looking men.
The last recorded account of her sighting says she was seen in a brothel by a young sailor, she approached him and asked for help but he quietly left the place as he did not want any trouble before some men again grabbed her way. When that brothel was visited, it was already burnt to the ground, perhaps to cover their tracks.
Read Also: Malaysia Airlines Missing Flight MH370: Facts You Didn't Know
Heartbreaking to her family is the fact that after years of losing their daughter in a bizarre and not so endearing way, the only hope after years of tireless pursuit to reunite Amy Lynn Bradley with her family, still remains abortive and chance of her recovery along with others who also vanished in like manner or in weirder ways than hers is slim.