Popularly known as Dog, a name which he got from the television series, Dog The Bounty Hunter, Duane Chapman, an American bounty hunter, and one-time bail bondsman, went from being convicted for a felony to being a reality TV star. He was brought to the limelight following the capture of the convicted criminal, Andrew Luster in 2003 and this eventually made him the subject of the TV show which began airing on A&E in 2004.
Dog The Bounty Hunter's Early Life
Born on February 2, 1953, in Denver, Colorado, with the full name Duane Lee Chapman, the Dog the Bounty Hunter star is the oldest of Wesley and Barbara Chapman's four children. He is of German and English descent, taking the former from his mother, an Assemblies of God pastor and the latter from his father. Duane has three siblings – two sisters and one brother.
Early in his adult life, he bagged a five-year jail sentence after his friend mistakenly shot and killed Jerry Oliver, an alleged pimp and drug dealer. At the time of the incident, Duane was in the car waiting for his friend who wanted to buy cannabis. A heated argument ensued between the deceased and Duane's friend, resulting in the death of Jerry.
Instead of 5 years, Duane Chapman served only 18 months at Texas State Penitentiary in Huntsville, Texas, after which he regained his freedom as a result of his good behavior. However, due to his conviction, he was stripped of his right to own a firearm and was also barred from entering the United Kingdom.
In 2007, Chapman revealed the inspiration behind his becoming a bounty hunter in an interview for Fox News, saying that while serving his jail term, he tackled a fellow inmate who wanted to escape. This earned him praises by a Corrections Officer and later motivated him to start a bounty-hunting career.
In 2003, the bounty hunter became widely known after he captured Andrew Luster who ran away from the United States while facing charges of drugging and raping different women. This subsequently led to the A&E reality television series, Dog The Bounty Hunter. The series which aired for eight years (2004 – 2012), documented Dog's experiences as a bounty hunter. After the show ended, he also starred in Dog and Beth: On the Hunt which aired on A&E from April 21, 2013, to August 22, 2015.
The Family He Built With His Wife -Beth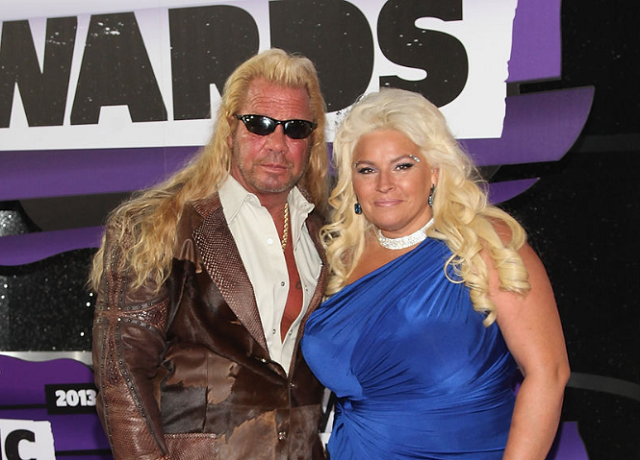 After two failed marriages, Dog the bounty hunter met his fifth and current wife, Alice Elizabeth "Beth" Barmore (née Smith). He first saw her when she was been arraigned in court for coveting and shoplifting lemons and he decided to bail her. This was in 1986 when Beth was 19.
They had an on-off romantic relationship throughout the next ten years and even married other people. Within the period, Beth got married to her first husband, who was her current husband's high school best friend and they gave birth to a daughter named Cecily Barmore. Cecily was Beth's second child with the first being Dominic Davis whom she birthed when she was 17 and was taken by the state afterward.
Chapman, on the other hand, tied the knot with Tawny Marie in 1992 and by 2002, they were officially divorced. According to Duane Chapman, he never wanted to marry Tawny and he told her so but somehow she was able to coerce him into marrying her. Despite his misgivings, he said, he married her and their union turned out to be a disaster from the start.
Following their series of failed relationships, Duane and Beth came back together and got serious with their relationship in 1995. They blended their families and moved in together while building their business. They lived together for 16 years before eventually getting married on May 20, 2006, at a Hilton hotel in Waikoloa Village, Hawaii. The occasion was, however, filled with mixed emotions as Chapman was mourning the death of his daughter from his third marriage. She died in a car accident a day before.
In 2017, Beth was diagnosed with throat cancer and has decided to let their fans in on her journey to combating the disease, the couple started a Special series named Dog and Beth: Fight of Their Lives, on A&E. Sadly, the disease eventually spread to her lungs, leading to a stage four diagnosis and subsequent death. She passed on on June 26, 2019, and was cremated with some of her ashes scattered at sea.
What To Know About His Kids
Dog The Bounty Hunter star fathered a total of 12 children, including adopted and deceased ones. His first child, Christopher Michael Hecht is the product of the relationship he had with Debbie White when they were teenagers. He was adopted after his mother committed suicide. Duane had no idea that he had a child anywhere until Debbie's mother contacted him to inform him that he had a son who was already an adult at the time.
The bounty hunter had two sons named Duane Lee Chapman II and Leland Chapman from his first marriage. Following the dissolution of his marriage from their mother when he was in prison, the boys were not allowed to see him for many years. However, their relationship was rekindled when the boys were aged 11 and 8 years and by the time they became teenagers, Chapman was granted custody of them.
His second marriage to Anne M. Tegnell produced three kids namely; Zebediah Duane Chapman, Wesley Chapman, and J.R. "James" Chapman. Sadly, Zebediah died not long after he was born in 1980. The reaming two grew up in Utah where they were raised by their mother.
Chapman had three more children with Lyssa Rae Brittain namely, Barbara Katie "B.K" Chapman, Tucker Dee Chapman, and Lyssa "Baby Lyssa" Rae Chapman but Barbara died in an accident in 2006.
The famous bounty hunter had no child with his fourth wife but with his present wife, Beth, he has two biological children, Bonnie Joanne Chapman, and Garry Chapman. He adopted Beth's daughter, Cecily, and located her first child, Dominic.
Duane Chapman, his wife Beth, his sons Leland Chapman and Duane Lee Chapman II as well as his daughter Lyssa, all worked together as bail bondsmen and bounty hunters in the A&E reality TV series, Dog the Bounty Hunter.
Divorce
Mr. Chapman has once admitted that he likes women too much to settle down and that explains why his previous marriages ended in divorce. The bounty hunter has been married and divorced four times so far. His first recorded marriage was to La Fonda Sue Honeycutt. They got married on April 1, 1972, in Pampa, Texas, and divorced on October 27, 1977, when he was imprisoned for murder.
He got married again to Anne M. Tegnell on August 22, 1979, in Colorado and three years, precisely on August 5, 1982, according to court records, they got divorced. That same year, Chapman married Lyssa Rae Brittain but their marriage also went the way of the others.