One cannot talk about country music pioneering-style without remembering Dwight Yoakam, a multi-talented personality. He is an American musician, songwriter, and actor but is also known as a frequent guest of The Tonight Show. His prowess as a country musician distinguished him as a music legend with so many compilations, albums, and two Grammy Awards. Not bound to music alone, he is also a movie and TV actor who stood out for his many acting roles that began in the year 1991.
Another interesting aspect of the country music legend's personality is his love life which is equally legendary. But as is the norm with most celebrities, Dwight has tried to keep the details of his relationship and personal life away from the media, but this has not stopped tidbits from getting out. From what we gathered, after several years of elusiveness, the lothario has finally walked into the marriage net and you would be surprised at the identity of the woman behind this feat.
Dwight Yoakam Abandoned His Academic Pursuit To Fan The Embers Of His Career In The Performing Arts
In his early years, Dwight Yoakam attended North High School and finished in the year 1974. While he was there, the rising talent was known as a very active character in most of the music events and drama organized by the school. This is where Yoakam's passion got fanned to burning flames. From then, his love for music and acting grew each day, stemming from the basic knowledge he had acquired. The Kentucky native became so acquainted with music and was known to spend quality time with some local garage bands, playing the guitar, as well as functioning as a vocalist.
Immediately after his graduation from high school, Yoakam enrolled in Ohio State University to study History and Philosophy. However, his passion for music saw him make a major move in 1977. Before the completion of his studies, he moved to Los Angeles and abandoned his academic pursuit.
The Young Artist Had To Relocate To LA When He Failed To Make Headway In Nashville
Dwight Yoakam's music career started in the late 70s. His early efforts in the industry were inclined towards pop "urban cowboy" music as his hip honky-tonk brand of music was considered unmarketable at the time. Not making much headway in Nashville, Yoakam had to relocate to LA where he concentrated on working towards bringing his brand of new honky-tonk or "hillbilly" type of music (as he would call it) forward into the 1980s.
Meanwhile, he already met Pete Anderson in Nashville – Peter is a guitarist and has a similar interest in Music. The talented duo began to grow their audiences and fans in Los Angeles. They continued to work together and played in night clubs and so many other places.
The emerging star wrote his own songs and continued to perform generally outside traditional country music channels, recording several shows in rock and punk rock clubs in LA. His early days saw him make some viable collaborations, playing with punk rock or roots rock acts like Los Lobos, The Blasters (Dwight later scored a small video hit with The Blasters' version of their song Long White Cadillac), and X. With this, he was able to diversify his audiences beyond the archetypal country music fans. Besides, his authentic, honky-tonk revivalism aided in bringing rock audiences closer to country music.
His 1986 EP 'Guitars, Cadillacs, Etc., Etc' Went On To Become His Breakout Hit
In 1984, Dwight Yoakam released an independent EP dubbed A Town South of Bakersfield which got major playtime on the radio in Los Angeles and alternative radio stations, and before long, he started receiving record contracts. In 1986 Yoakam dropped a self-financed EP Guitars, Cadillacs, Etc., Etc. This came from the stables of independent label Oak Records and the production end was tidied up by his lead-guitarist Pete Anderson. A while later, the EP was re-released via Reprise Records as his major-label debut LP, sporting several additional tracks.
The record couldn't have chosen a better time to hit the music stand. It came during the time the industry was experiencing a sea change in country music. The traditional urban cowboy music was fast getting out of style and was replaced by neo-traditional music based on classic styles. One good example is Yoakam's honky-tonk inspired music, which came into demand.
The EP that created a lot of buzz for music lovers became a breakout hit, spawning the musician's debut hit singles: Honky Tonk Man and the title track Guitars, Cadillacs. Dwight Yoakam's stylish video Honky Tonk Man went on to become the first country music video ever played on MTV.
Dwight Yoakam Followed Up With Other Successful EPs
Hungry for more recognition, the country music icon followed up his debut success with a second offering titled Hillbilly Deluxe (1987) which was just as successful. A third EP entitled Buenas Noches from a Lonely Room (1988), came with the singer's debut No. 1 – a duet with his musical idol, Buck Owens, on Streets of Bakersfield. He recorded another bestseller in If There Was a Way released in 1990. The album sold more than two million, earning double platinum status in the United States along with producing five top 50 singles.
This Time, the musician's most successful album to date was released in 1993 and went on to reach triple platinum status. Readin', Rightin', Route 23 is a track that pays tribute to the artist's childhood move from his home Kentucky, and the song is named after a local expression that describes the route rural Kentuckians took to find jobs outside of the coal mines.
U.S. Route 23 runs north starting from Kentucky via Columbus and Toledo, Ohio, and passing through the automotive centers of Michigan. As opposed to the standard line thought at elementary schools – "the three Rs" of "Readin', 'Ritin', and 'Rithmetic", Kentuckians would rather say that their own three Rs were "Readin', 'Ritin', and Route 23 North".
He Has Several Covers To His Credit, Earning Glowing Applaud From Fellow Celebs
At a point in time, Johnny Cash cited Dwight Yoakam's as his favorite country singer. According to Chris Isaak, his song is "as good a songwriter as ever put a pen to paper", Dwight was dubbed "A Renaissance Man" by Time, and on their own part, Vanity Fair stated that "he strides the divide between rock's lust and country's lament."
In addition to the artist's bluegrass and honky-tonk roots, he has gone on to write, as well as cover several Elvis Presley-style rockabilly songs. These include his covers of Queen's Crazy Little Thing Called Love in 1999, as well as Presley's Suspicious Minds in 1992. In 1987, he covered The Clash's Train in Vain and also did covers of Cheap Trick's I Want You to Want Me and the Grateful Dead song Truckin'.
Apart From Country, Dwight Yoakam Has Experimented With Other Genres
Apart from country music, Yoakam's genre also covers hardcore punk and he has played with bands like Hüsker Dü and has performed in several shows within LA with roots/punk/rock & roll acts. The vocalist's middle-period-to-later efforts saw him branching out to other styles, covering punk, rock & roll, 1960's, blues-based "boogie" like ZZ Top. He also penned more adventurous songs such as A Thousand Miles From Nowhere.
Warren Zevon had him on set for his last album, The Wind in 2003, providing background vocals. Dwight dropped Population Me within the years. Yoakam's dwightyoakamacoustic.net album which he released in 2000 featured solo acoustic versions of many of his hits. Before the end of the year, he dropped Tomorrow's Sounds Today and South of Heaven, West of Hell followed in 2001. His 2005 album Blame the Vain, released from the stables of New West Records, was well-received by fans and the general public. He dropped Gone the same year. On the 23rd of October 2007, the legendary vocalist dedicated an album to Buck Owens, entitled Dwight Sings Buck.
His Album 3 Pears Made A Lot Of Waves Upon Its Release
On the 8th of September 2012, he dropped the album 3 Pears, sporting 12 new tracks. He released the album via Warner Bros after re-signing with them in July 2011. 3 Pears was self-produced by Yoakam and includes one collaboration with Beck. The album was released to reverberating critical acclaim, earning him the highest-charting debut of his music career on the Billboard Country Albums and the Billboard 200 charts.
3 Pears still went on to hit #1 on the Americana Radio chart; this happened on the 29th of October 2012. It equally broke the 2012 record for several weeks at No. 1 on Americana Radio. As 2012 drew to a close, it was named on the annual best of lists by Rolling Stone, NPR, AOL's The Boot, American Songwriter, The Village Voice, Entertainment Weekly, as well as Rhapsody. The album has also been included in more critics' "best of 2012" lists than any other in the entire country genre. Dwight Yoakam's song Guitars, Cadillacs was also ranked #94 by Rolling Stone in their list of the 100 greatest country songs.
His Most Recent Efforts In Music Can Be Seen In 2015, 2016 and 2018
In February 2015, Dwight announced that he was working on a new studio album, Second Hand Heart which eventually hit the music stand on the 14th of April 2015. In 2016, the iconic country musician supported the album by performing at the C2C: Country to Country festival in Europe.
He equally performed at the Americana Music Honors & Awards, there, he drooped an announcement about working on a new album of all bluegrass songs. In September 2016, the album, Swimmin' Pools, Movie Stars..., became a reality. He did an LSD Tour with Steve Earle and Lucinda Williams in 2018.
Dwight's performances as a country musician and a movie star have also seen him acquire many recognitions and has been nominated severally for awards. He won an award in 1986 for Top New Male Vocalist in the Academy of Country Music Awards. The Kentucky native bagged Artist of the Year in 1993 CMT Europe Award. He clinched Best Country Vocal Performance, Male, in the 1994 Grammy Awards and Best Country Collaboration with Vocals in 1999 Grammys. His other awards include International Touring Artist at the 2007 Country Music Association Award, Cliffe Stone Pioneer Award at the 2011 Academy of Country Music Award, and more.
What Is Dwight Yoakam's Net Worth?
Dwight Yoakam, as a successful country musician, songwriter, film director, and actor with so many awards to his name, has about 25 million or more records sold. This in addition to the money he makes from his music and film career which has put his net worth at an eye-popping $45 million.
The singer has come a long way in building a robust career which justifies the fortune he is enjoying from his efforts. He is currently living a lavish life with his family.
Dwight Yoakam Has Been Involved In Several High Profile Relationships
Dwight Yoakam has been in several relationships with high-profile ladies, including Sharon Stone, Bridget Fonda, Karen Duffy, and Wynonna Judd. However, none of these unions resulted in any lasting affair.
Bridget Fonda – 1999-2002
Bridget Fonda was born in Loss Angeles US, and started dating the legendary musician in 1999. Their relationship eventually came to an end after barely two years of togetherness in 2002.
Karen Duffy – 1993-1994
Karen Duffy is a New Yorker, best recognized as a former MTV veejay. She became Yoakam's girlfriend in 1993 and the duo lasted till 1994 before going their separate ways.
Sharon Stone – 1992
Sharon Stone needs no introduction, she is one of the most popular actresses in America. The Pennsylvanian native was an item with Dwight Yoakam in 1992 but their relationship never exceeded that year.
Wynonna Judd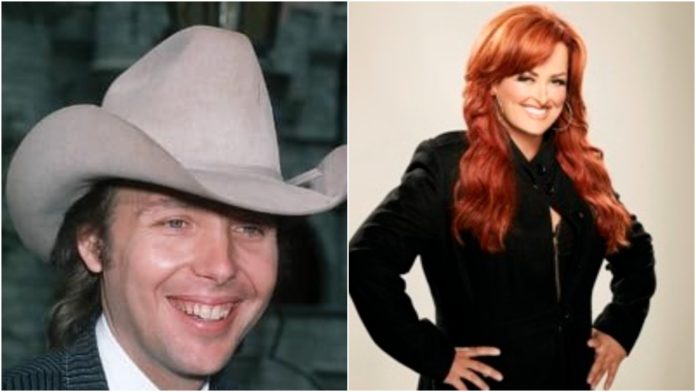 Wynonna Judd's dalliance with the country musician was an on and off thing. Like Yoakam, she was also born in Ashland, Kentucky, and is equally a country singer.
Who Is Dwight's Wife?
After dating several high profile women, fans were really surprised when the music icon started seeing photographer Emily Joyce. According to reports, the duo hooked up in 2010 and commenced dating almost immediately. It only took Dwight Yoakam a few months to pop the big question to which he received an answer in the affirmative.
After being engaged for nearly a decade, the couple's big day eventually came in March 2020 when they exchanged marriage vows in a small ceremony at St. Monica Catholic Church in Santa Monica. Though the quarantine period was yet to start in the US, the duo ensured that social distancing guidelines were strictly followed during the wedding. This included limiting their guest list to ten persons and ensuring they were all seated six feet apart.
The public didn't get to know about their nuptials until the 4th of May 2020 when they decided to make it public knowledge. According to Yoakam, they decided to hold back on announcing the good news out of respect for people affected by the pandemic. The couple has since increased their small circle with the birth of their son Dalton Loren Yoakam who joined the family in the midst of the pandemic on the 16th of August 2020.
Lets Meet Emily Joyce
She is a professional photographer and the CEO of her own photography business. Dwight Yoakam has been sharing some beautiful shots on his Instagram and it goes without saying that Emily Joyce is the brain behind those photos. Besides, she regularly photographs guests on Yoakam's SiriusXM channel – Dwight Yoakam and the Bakersfield Beat.
Even though she hobnobs with the rich and famous, nothing much is known about Yoakam's wife as she prefers to stay away from the limelight. In fact, she is noted for being notoriously private about her personal life and has not shared a single picture on her official Instagram page, which Yoakam regularly tags in the photos she takes.