Dylan Lee is a fast-rising male model, social media influencer and Son of the iconic actress and animal activist, Pamela Anderson and Tommy Lee, renown musician and founding member of the Mötley Crüe musical band. Famed for his well-built looks, much of which he arguably inherited from his super-hot Mum, Dylan was recently chosen by legendary designer Hedi Slimane to become the face of Saint Laurent. Having featured in major magazines like Vogue and Nylon, Dylan seems to be a hurricane taking the fashion industry by surprise. Thanks to his parents and his own hard work and initiative, Dylan is now establishing himself as a darling in the gung ho world of professional modeling.
Who is Dylan Jagger Lee?
Born to celebrity parents in Malibu California, on December 29, 1997, Dylan Jagger Lee (a.k.a Dylan Lee) is the younger of two children raised by his parents in the highbrow area of California. His parents went their separate ways when Dylan was barely two months old in February of 1998.
Although not much is known about his childhood and education, sources, however, reveal that Dylan and his elder brother, Brandon attended a Vancouver-based boarding school in Shawnigan Lake, for five years. Dylan also attended a music school for a few years. Although Dylan seems to be holding up quite well, his formative years had been fraught with a series of separations between his parents.
Tommy Lee and Pamela Anderson
Keen to start a family, his parents got married On February 19, 1995, just four days after they met. His mother suffered a miscarriage during the first pregnancy but a year later in June 1996, the couple welcomed their first child, Brandon Thomas, Dylan's elder brother. They separated briefly after Anderson filed for divorce in November 1996, but soon reunited and had Dylan. But on 28 February 1998, they both parted ways again.
Although divorced, the couple came back together for a brief period upon Lee's release from jail but eventually split again in 2001. Fast forward to 2008, it was noised that Lee and Anderson were back together and living with their two boys, but that too didn't last for long. They finally split for good shortly afterward. On February 14, 2018. Dylan's father, Lee, announced that he had proposed to his girlfriend, social media celebrity Brittany Furlan. They both tied the knot a year later on Thursday, February 14, 2019.
Dylan Lee's Career
In 2016 Dylan started his career in modeling as the face of Saint Laurent. He worked with the brand's creative director Hedi Slimane on a sunny Malibu beach. The young startling model has also worked for brands like Coach and Dolce & Gabbana. He also modeled a black and white photo shoot by the French photographer, Hedi Slimane.
Although his bio reads "American musician, songwriter, drummer, DJ, model, and actor," Dylan is also a guitarist, an ardent surfer and has appeared in short movies too. He has also run campaigns for True Religion and has done a few photo shoots for VMAN and W. According to Dylan, modeling was his major gig, however, through inspiration from his Dad, he is considering a career in music too. In music, his goal is to become a music producer and DJ. He hopes to go into large scale music production and to perform in music festivals like EDC and Coachella.
Net Worth
Dylan Jagger makes bank as a professional model and has clustered revenue working for numerous high-profile brands. As per the Glassdoor, the estimated salary of a professional fashion model in California is $662,380 which is what it is expected that he earns because at the moment, his earnings have not been revealed and as such, his net worth has not been pegged at a specific figure.
See Also: Thrilling New Photo of Mwai Kibaki's Model Grandson
Dylan Lee's Relationship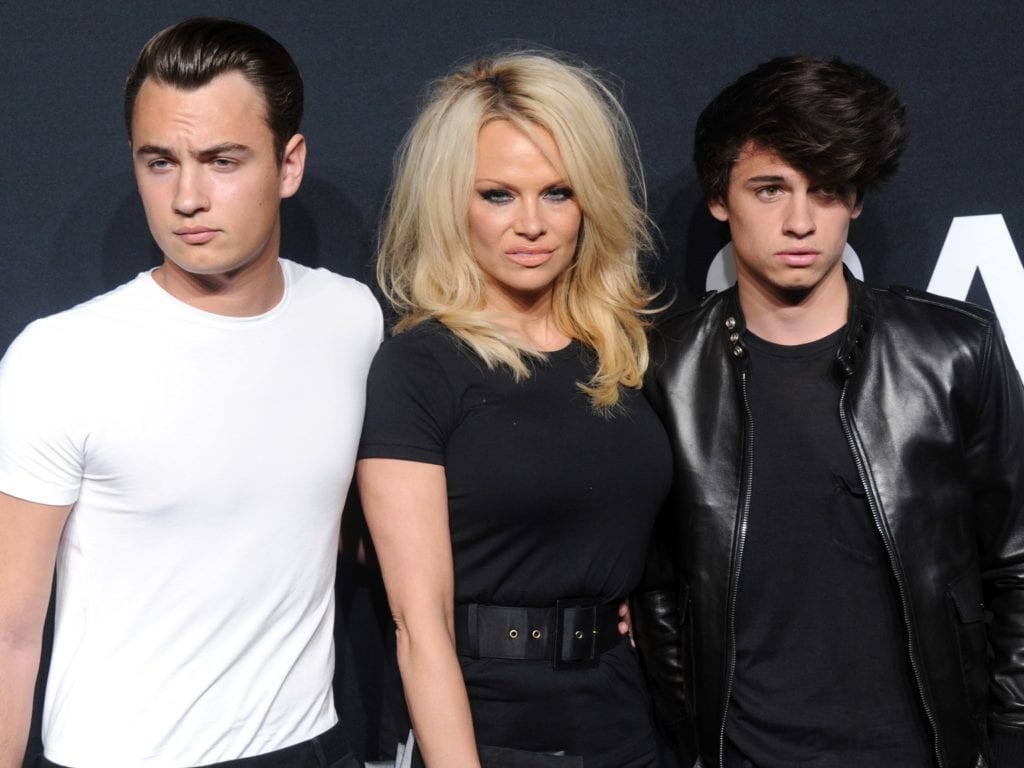 Dylan Lee hardly appears on social media with ladies. Not even casual friends. In 2015 however, the talented model gave millions of fans a glimpse of his love life. Following her recovery from Hepatitis C, his mother, Pamela Anderson, celebrated her recovery with her son and his mystery girlfriend. Dylan and his soon-to-be-named girlfriend joined his mum for lunch at OLLO restaurant in Malibu, where the lovebirds were spotted sharing a cheeky kiss while strolling in a nearby street. Dylan has not made another public appearance with her ever since. Although he has made no statement about it. Sources believe the two probably split.
Speaking on a US Weekly interview On 14 September 2016, Dylan's mom told the audience that she had asked Dylan to avoid finding love via Dating Apps, adding that she wanted her sons to meet and date ladies in the traditional face-to-face fashion. Dylan on his part bared details about the kind of girl he wanted as a partner. He said the lady has to be outstanding and fun-to-be-with, and should preferably have brown eyes.
Body Measurements
They are no clear details about his height. However, the Malibu-born-model is known to be a few inches taller than his mother Pamela Anderson who stands tall at 5 feet 6½ inches (1.69 meters).