Depending on who you ask, Eli Manning might be described as the lesser talented player of the Manning brothers. Regardless of what one's opinion is, the New York Giants quarterback selected first overall in 2004, is a two-time Super Bowl champion wherein he emerged the MVP and a four-time Pro Bowler. He has a robust list of attainments as an American football player that dates back to his years in college.
The Walter Payton NFL Man of the Year 2016 won the Maxwell and Johnny Unitas Golden Arm Awards in 2003, the same year he was named SEC Offensive Player of the Year and made the Second-team All-American and First-team All-SEC. His professional career was decorated with the Bart Starr Award and following his retirement in 2020, the New York Giants retired his No. 10 Jersey just like the Ole Miss Rebels (his college team) did.
For someone with such an illustrious career, it wouldn't be out of place for anyone to imagine that this Manning accumulated a massive fortune from his career. But just how much is involved here?
Events Leading To His First Multi-million Contract With The Giants
Along with his older siblings, Manning attended Isidore Newman School where he played high school football. Upon graduation, he enrolled in his father's alma mater, the University of Mississippi, where he rose to legendary status by setting a number of records that still stand today. He was named the nation's best all-around player by winning the Maxwell Award as he also bagged the SEC Most Valuable Player Award, the Johnny Unitas Golden Arm Award, and the College Football Hall of Fame Scholar-Athlete Award in his senior year. Manning, however, came third in that year's Heisman Trophy voting behind quarterback Jason White and wide receiver Larry Fitzgerald.
After graduating with a degree in Marketing, Eli Manning was selected by the San Diego Chargers in the 2004 NFL Draft with the first overall pick. However, having publicly stated that he was not going to play for the Chargers if they select him, Manning was traded to the New York Giants on the draft night where he put pen to paper on a six-year $45 million contract.
It marked the beginning of his reign among NFL players who commanded big checks. Manning had a slow start to life in the NFL as he competed for the starting quarterback position with Kurt Warner and as such, unable to lead his team to a decent record as they finished the year with a 6-10 record. In his second year, however, Manning was made the official team starting quarterback and he guided the Giants to the NFC East title on the back of an 11–5 record. In 2007, Eli Manning made his first trip to the Super Bowl where he upset the undefeated New England Patriots to win Super Bowl XLII.
Bagging A $97.5

M

illion Contract Extension
Following his incredible performance over the years which culminated into winning the Super Bowl XLII, Eli Manning's value appreciated and this reflected on his salary after his first contract with the Giants elapsed.
In 2009, Eli agreed to extend his stay with the Giants; this saw him make another six-years pact with the side that made him one of the highest-paid players in the league. The deal which was worth a massive $97.5 million, guaranteed $35 million and handed Manning's an average salary of $15.3 million.
After a four year hiatus from the big event, Manning returned to the Super Bowl in 2011 for a rematch against the Patriots where he again orchestrated an upset against Tom Brady and his teammates to win Super Bowl XLVI.
His Last Deal With The Giants Was Worth $84

M

illion
Following his Super Bowl victory in 2011, Eli was ranked 31st amongst the NFL Top 100 Players of 2012 by fellow players. As a second alternate, he was selected to his third Pro Bowl in 2012 and was again ranked among the NFL Top 100 Players of 2014.
All of these helped him retain his status as a very valuable player. As such, the New York Giants were willing to part with another huge sum and retained him as a part of the team when his second six-years contract ran out. This time, Eli settled for a four-year $84 million deal.
Until January 2020 when he retired, Eli Manning remained with the Giants where he has been able to set a myriad of franchise records which include the most touchdown passes, interceptions thrown, pass completions, pass attempts, and consecutive starts by a quarterback.
This is a huge honor. Thanks so much to the entire Ole Miss community. https://t.co/lnR2pSS9qi

— Eli Manning (@EliManning) June 22, 2020
Other Sources Of His $150 Million Net Worth
Eli Manning just retired from his NFL career so it is hard to tell at the moment what he will venture into and if he would continue to command massive income in years to come. Nonetheless, it has been variously estimated that he is worth at least $150 million.
Based on the foregoing, no one needs to be told that he earned a bulk of that amount from his career in the NFL. Other sources of his wealth are also linked to his NFL career. Being an A-lister in the NFL, he landed a lot of lucrative endorsement deals that had him represent popular brands like Reebok, Citizen Watch Co, and Toyota.
In 2018 when Forbes listed him among the highest-paid athletes of the year, the American business magazine reported that Eli earned $25.5 million with $7 million coming from endorsements.
Eli Manning Hails From A Football Family
Eli Manning was born Elisha Nelson Manning IV, the last of three sons to Jane Elizabeth (née Nelson) and Elisha Archibald Manning Jr., on the 3rd of January, 1981. His birth took place in New Orleans, Louisiana.
The Mannings have been described as American football's royal family since Eli and his older brother Peyton are both two-time Super Bowl winners just like their father Archie was also a standout quarterback in his time which led to him being inducted into the College Football Hall of Fame.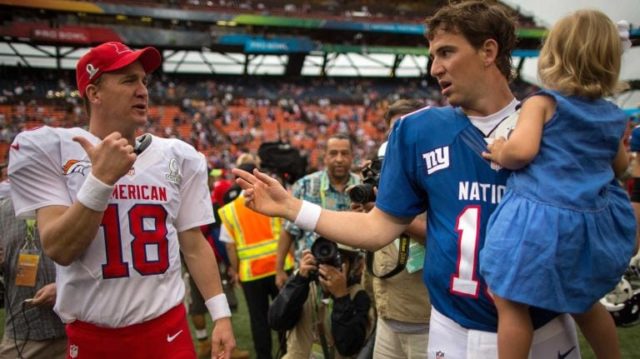 Peyton Manning, who played for the Indianapolis Colts for 14 seasons before joining the Denver Broncos for his last four seasons, is considered to be one of the greatest quarterbacks of all time. This is due to his achievements that include 14 Pro Bowl appearances (NFL record), 7 First-team All-Pro honours, 5 NFL MVP titles, 3 Bert Bell Awards, and 2 NFL Offensive Player of the Year titles, among numerous others.
Like Eli, Peyton was also a first overall pick in the 1998 NFL Draft. He then went on to become the only starting quarterback to win a Super Bowl with two different franchises as he also became the only quarterback to start the Super Bowl for two franchises on more than one occasion.
Eli and Peyton have an older brother called Cooper Manning. He was set to have a phenomenal college career when it was discovered that he had spinal stenosis which brought an end to his dream of becoming a professional footballer. He is now a television program host and has done well for himself.
He's Married To His College Sweetheart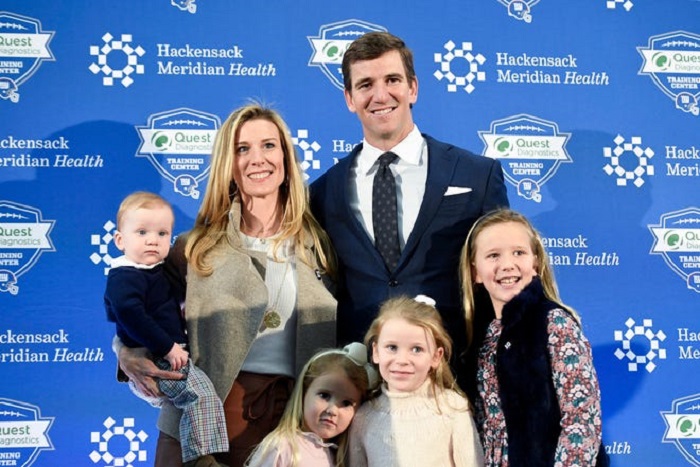 The NFL star is married to Abby McGrew, whom he met during his time at the University of Mississippi. McGrew was born and raised in Nashville, Tennessee. She attended Brentwood Academy before heading to Mississippi where she was a member of Kappa Delta's Alpha Mu chapter.
In 2005, she graduated with a degree in family and consumer sciences before moving to New York to work as an account executive for designer Pamella Roland.
Manning and McGrew exchanged vows on the 19th of April 2008, at a private ceremony held in San José del Cabo, Mexico. The couple has since welcomed three daughters: Ava France who was born in March 2011, Lucy Thomas born in June 2013, and Caroline Olivia who was born in January 2015.
The girls are now sisters to a brother named Charles Elisha Manning, he was born in 2019. The former footballer once suggested that parenting is more difficult than heading into the Super Bowl. For him, parenting is life-changing and he was very nervous about it. Eli would agree that he is now happy and overwhelmed by the love he has for his family.