Elin Nordegren is a former Swedish model/au pair. She rose to fame as the wife of great American golfer, Tiger Woods. Their union lasted for six years before coming to a sad end in 2009. This was after it emerged that the golfer had been involved in extra-marital affairs. Nordegren got a huge payout in the divorce settlement while Woods checked himself into rehab for 'sex addiction'. Find out more about Nordegren including her net worth, kids as well as her love life since the divorce.
Elin Nordegren Bio (Age)
Elin Maria Pernilla Nordegren was born on New Year's Day (1st January) 1980. She hails from a family of five. Her mother's name is Barbro Holmberg while her father's name is Thomas Nordegren. Her mom is a politician and has served as a governor and minister. Nordegren's father, on the other hand, is a radio journalist. She also has a twin sister named Josefin and an older brother named Axel. Her twin sister is a lawyer licensed to practice in countries such as England and Sweden.
Elin Nordegren grew up in Stockholm which is where she completed her elementary and high school education. She and her sister were responsible young adults and worked summer jobs in order to pay for school. While growing up, Nordegren aspired to become a child psychologist. She, however, did not pursue this path due to some unknown reasons. She rather worked as a model in the year 2000 before becoming a nanny for the family of Swedish golfer, Jesper Parnevik.
Kids
Elin Nordegren first met husband, Tiger Woods, at the 2001 British Open. Her employer had introduced both of them and they subsequently began dating. The couple got engaged in November 2003 and tied the knot a year later on the 5th of October 2004. The nuptials took place on a golf course in Barbados and the couple made their home in Orlando Florida. Their six-year union produced a daughter named Sam Alexis (b. 2007) and a son named Charlie Axel (b. 2009).
Their marriage, however, crashed in November 2009 after it emerged that the great golfer had been involved in several extra-marital affairs. At first, Elin Nordegren was determined to see if they could work things out. However, after many women came forward alleging that they had an affair with Woods, she threw in the towel.
The couple finalized their divorce in Florida on the 23rd of August 2010. They share custody of their children as part of their divorce agreement. Since the divorce, the friendship between the two has improved. They regularly communicate and things are amicable between them. Elin Nordegren, on her own part, has completed a course in psychology at the Rollins College. She performed well in her studies and received an outstanding senior award.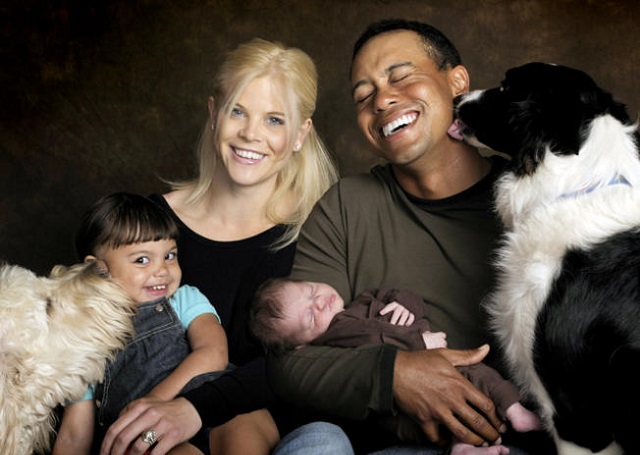 Net Worth
Elin Nordegren has pretty much flown under the radar since her split from Tiger Woods. Her exact net worth is not public knowledge but it is known that she received at least $100 million in the divorce settlement. Nordegren has put the enormous money to good use. She used part of it to purchase an old mansion worth $12 million. The entire mansion was torn down and in its place, a new 21,000 feet house was put up. The new digs feature a home theatre, nine bedrooms, a swimming pool and a miniature golf course. The house is located just 30 minutes from Tiger Wood's home; very ideal for co-parenting their children.
See Also:  Who is Erica Stoll – Rory McIlroy's Wife? Everything You Need to Know
Is Tiger Woods Ex-wife Dating?
Elin Nordegren has been involved in a few relationships since her divorce. She reportedly dated American businessman, Jamie Dingman. Their relationship started in the summer of 2011 but they broke it off in January 2012. It seems that she was the one to call it off as sources revealed that she wasn't yet ready to start anything serious.
Elin Nordegren is also said to have dated compatriot Douglas Murray. Murray is a professional ice hockey player. He played in the NHL but is now retired. It must be stated that this relationship was never confirmed and may very well be a mere rumour.
Nordegren has also dated Chris Cline. Cline is a billionaire businessman and owner of one of the most valuable coal companies in the world. The two are neighbours in the North Palm Beach community and started dating in 2012/2013. They were reported to have broken up in 2014. However, they were spotted kissing in Switzerland in 2016. However, as of this writing, it isn't clear the status of Erin's relationship with Cline.