Eniko Parrish is an upcoming model who is graced with one of the very best unique features. She has an oval face and a perfect glowing skin and has risen to fame through her husband's popularity. However, the model is yet to get to the peak of her career and we guess she may be limited since she recently embraced motherhood. Eniko is well known for her seductive pictures and work out session videos which she posts on social media platforms. She has a lot going on for her and being the wife of the skilled actor Kevin Hart has further cemented her popularity in the world of entertainment. Let's meet Kevin Hart's wife Eniko Parish.
Eniko Parrish's Bio (WIki & Ethnicity)
Nicknamed Enikobaby by many of her fans, the model is originally known as Eniko Parrish. She was born on August 18, 1984, in Baltimore, USA. Currently, she works as a fashion icon and has gained popularity on social media. At the moment, she has taken a break from her career, with reasons being that she just became a mother. Eniko belongs to the Afro-Jamaican and Asian descent and holds an American nationality. She lived with her parents until she relocated to pursue her career in Los Angeles.
Eniko became the talk of the town as soon as she started dating Kevin Hart who is an actor and comedian. He came to fame after his skilled role in the movie I'm A Grown Little Man. The duo found themselves at a Hollywood event and since their meeting, they have been lovestruck. Kevin was married to a lady named Torrie sometime in 2003 and they had two children; Heaven and Hendrix. Everyone thought he was having an affair with Eniko Parrish before finally divorcing his wife, nevertheless, Kevin debunked the rumours.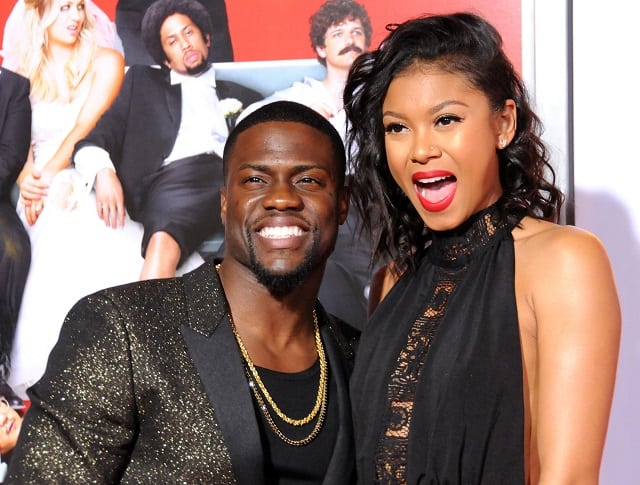 The actor gave her a pleasant surprise when he engaged her on August 18, 2014, in front of her family and friends. Kevin made the move romantically by proposing to her on her birthday. They finally tied the knot on August 16, 2016, after two years of getting to know each other. The ceremony was held at True BlueHollywoodd Event in Santa Barbara, California. The duo had their honeymoon on St Bart's Island and the model kept her fans up to date by posting most of their love escapades online. She had her first child on November 21, 2007.
Prior to their wedding, Kevin's ex-wife Torrie accused Eniko of being with her husband long before the divorce, however, Kevin came out openly and told the world that it was never true. While this was still on, yet another rumour sprung up, accusing Eniko to have agreed to settle with the actor because she was pregnant. However, the actor publicly announced how untrue the accusations were. Kevin has always proved he has got his wife's back and has also shown how much he loves her.
With all the challenges, they had a severe dispute sometime in September 2017 which was based on a video involving Kevin and another woman. Some thought it was a payback for what Eniko did to Torrie and expected the marriage to crash. However, they mended up things after Kevin had written a public apology to her.
See Also: Ashley Graham Bio, Ethnicity, Husband, Boyfriend, Measurements
Eniko seems to be addicted to social media because she uploads almost all her daily activities on different platforms but she is very active on Instagram and Twitter. The model has about 1.9 million followers on Instagram.
Body Stats
Being a fitness freak, we don't expect less from her. Eniko Parrish has worked out the perfect curves and she gladly flaunts her assets. She is way taller than her husband but this doesn't limit her from going around with him, gracing Hollywood events and meeting other personalities.
The model is 5 Feet 6 inches tall. She has never had a plastic surgery but she stands as a perfect figure with attractive curves, fully carved hips, a very seductive set of breast and perfect legs. She weighs 58kg and sports a perfect hourglass shape measuring 35-28-36 for her hip, chest and waist size respectively. Eniko has black eyes and long black hair flowing down her flawless olive skin.
 Parents
Despite her engagements on social media, the model has deliberately taken out all pieces of information about her parents online including information about her siblings. However, there are clear facts pointing to her parents being Jamaicans. We would put up more information about her immediate family as soon as we can.
 Net Worth
Eniko Parrish has hidden under the shadow of her husband's wealth and fame, her net worth hasn't been estimated just yet but her husband is said to be worth $128 million. She obviously revels in her husband's wealth.