Since he became a global superstar, Kevin Hart has influenced the lives of many people. But none of them has been touched as much as Eniko Parrish. She is a young woman who has become one of the most recognizable faces in the African American community, thanks to her relationship with the comedian as his significant other.
In a journey that began in 2009, Eniko has weathered personal storms like relationship problems. She has also enjoyed certain victories like the growth of her career in the fashion industry. Ultimately, the increase in Eniko's public profile has sparked substantial interest in her life, with her ethnicity among leading questions.
Eniko Parrish's Ethnicity Spans Two Continents
Now mostly known as Enikobaby by millions of her adoring fans on social media, Eniko Parrish was born on August 18, 1984, in Baltimore, USA. She is the daughter of parents with Jamaican nationality, but of African and Chinese descent. Despite her popularity, details such as her exact African ancestry remains unknown.
Regardless, her parents' marriage puts Eniko among a small group of African American women with Asian heritage. Speaking of her parents and family background, perhaps by personal design or the fact her fame exists only in relation to Kevin Hart. There is limited information on Eniko's life before she met the comedian.
As a result, facts such as the number of siblings, if she has any, her education history, or her parents marriage, remain a mystery to her growing body of admirers. But while her past is shrouded in mystery, Eniko's present is rife with details, particularly her interest in the fashion industry.
Her Career as a Lifestyle Influencer
Maybe she had an interest in another industry before she met Kevin Hart in 2009. But since that meeting, the relationship that ensued and their marriage, Eniko Parrish's profession can be described as being a lifestyle influencer.
With a major focus on the fashion industry, which she had admitted to having a massive love for, Eniko has become an influential figure on social media for varying fashion subjects. From beauty products and styles, fitness to destination travel and food, she has become an authority figure to millions of young women.
Using Instagram, where her account, @enikohart, has more than three million followers, she gives fashion advice, travel and fitness tips. Her reach has resulted in a promotion deal with the fashion company, Fabletics, known for its yoga leggings.
A closer look at Eniko's social media profile also reveals a deep interest in modeling. This interest has attracted the title of 'aspiring model' from some media outlets. Whether Eniko eventually follows up on the interest remains to be seen. If she doesn't, it certainly won't be because she is not good looking.
She is Also a TV Personality
Beyond her social media-focused professional life, Eniko Parrish is also quite the TV personality. She has appeared in a few TV programs over the years. Her first was a red carpet appearance alongside Kevin Hart on E! Live from the Red Carpet. She has also appeared on two episodes of Entertainment Tonight and in the TV show, Celebrity Game Face.
Although her husband has a vast onscreen presence, Eniko has only made sparring appearances via the medium and has chosen to stick to her social media work instead.
Eniko Parrish's Long-Running Relationship With Kevin Hart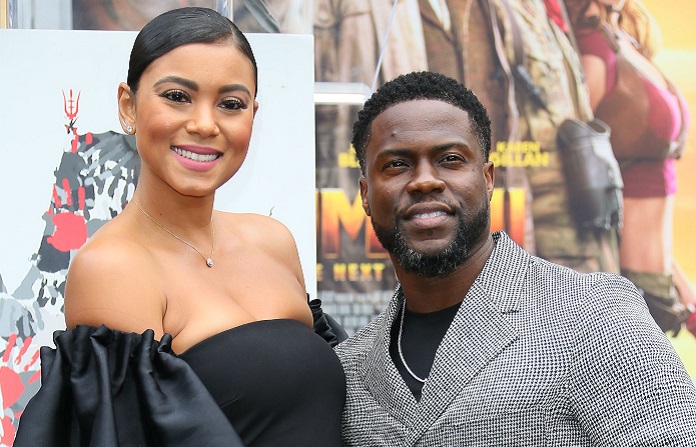 Eniko became the talk of the town in 2009 when she started dating Kevin Hart, an actor, and comedian. The duo found themselves at a Hollywood event and since that meeting, they have been lovestruck.
Their relationship began after Kevin separated from his first wife, Torrei, whom he had been married to since 2003. For years, the two of them maintained a stable relationship. They attended major industry events together and kept their personal life away from the media. Although they aren't always successful with the latter.
Five years after they started dating, on August 18, 2014, Eniko and Kevin got engaged. The comedian proposed to her on her birthday in front of their family members and friends. Two years after, they tied the knot on August 16, 2016. They held their wedding ceremony in Santa Barbara, California. The duo had their honeymoon on St Bart's Island.
Since they got married, they have given birth to one child, Kenzo Kash, born on November 21, 2017. In March 2020, the couple announced they are pregnant with their second child, a girl, who is due to arrive sometime in the year. Eniko and her family live in Calabasas, California in a mansion worth $5 million.
See Also: Ashley Graham Bio, Ethnicity, Husband, Boyfriend, Measurements
For most of their 11+ years together, Kevin Hart and Eniko Parrish have primarily kept the media attention about them to the glitz and glamour of celebrity life. However, they have dealt with their scandals and controversies, external and internal.
Kevin's Ex-Wife Accused Eniko of Being a Home Wrecker
Before their wedding, Kevin's ex-wife Torrie accused Eniko as the party responsible for the dissolution of their marriage. She infamously referred to the aspiring model as a home-wrecker, going as far as accusing her of dating Kevin before the two of them were separated.
In response, Kevin came out openly and told the world it was never true. While this was still on, another rumor sprung up, accusing Eniko to have agreed to settle with the actor because she was pregnant. However, the actor publicly announced how untrue the accusations were. Kevin has always proved he has got his wife's back and has also shown how much he loves her.
While Torrie is not a fan of Eniko, her children, Heavens and Hendrix, whom she shares with Kevin, are fans of their stepmother. The two have been photographed sharing great family moments with Eniko, Hart, and their stepbrother, Kenzo.
But Kevin has Also Cheated on Eniko
In September 2017, shortly before the birth of Kenzo Kash, Kevin Hart became the target of blackmail. Later in December 2017, the subject of the blackmail was revealed to be an explicit video of Hart cheating on Eniko Parrish while she was pregnant. The comedian was having an affair with a model, Montia Sabbag.
Despite the revelation and the massive backlash on social media, Eniko and Kevin Hart remained together. The comedian revealed in a documentary special, Kevin Hart: Don't F**k This Up, that she learned about the affair via Instagram DM. According to him, she chose to forgive him after he promised to be a better partner.