Ellen Johnson Sirleaf, a female politician and economist. She is also the former president of the small West African country, Liberia. She is, however, still one of the most powerful and influential women in the world as the world's first elected black female president and Africa's first elected female head of state. Sirleaf was the president of Liberia from 16th January, 2006 till 22 January 2018. The aforementioned are some of the common things all those that have heard about Ellen Sirleaf already know. However, there are a lot more lesser known facts about this great woman you probably never knew and would love to know. Here are some significant facts you must know about Ellen Johnson Sirleaf:
Ellen Johnson Sirleaf Biography 
Birth
She was born Ellen Johnson on October 29, 1938, in Monrovia, Liberia, to a lawyer and teacher as parents. Ellen is of a mixed decent – a Liberian (Gola) father and a German mother. Her father, Jahmale Carney Johnson was the first indigenous Liberian to sit in the national legislature.

Education
She studied Economics at the College of West Africa at Monrovia from 1948 – 1955. Following her marriage and subsequent divorce, she returned to the United States to continue her studies at Madison Business College, a small school in Madison, Wisconsin, and supported herself as a waitress and store clerk. After receiving a Bachelor's degree in Business Administration from Madison in 1964, she moved west to enrol at the University of Colorado, where she earned a Bachelor's Degree in Economics in 1970. She then moved on to Harvard University, where she was granted her Master's Degree in Public Administration in 1971.
Marriage & Family
In 1956, at the age of 17, Ellen Johnson married James Sirleaf. The marriage produced four sons. Around 1961, she left for the US with her husband to pursue further studies, leaving their kids in the care of their grandmothers. While her husband pursued a graduate degree from the University of Wisconsin's School of Agriculture, Ellen studied accounting at the Madison College of Business. Few years later on their return to Liberia, they had issues bordering on Ellen's career and she filed for divorce. She currently has six grandchildren, some of whom live in the United States.
Also See: Latest 12 Most Influential African Leaders that cannot be Ignored – No.12 Will Annoy You!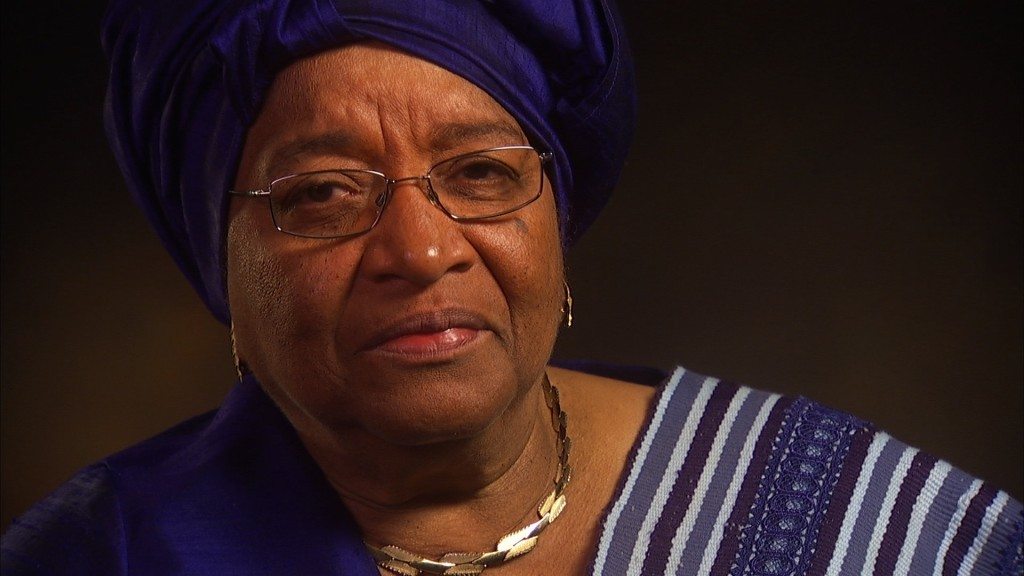 Road To Presidency
Political and Economic Positions
Johnson Sirleaf served as the assistant minister of finance (1972–73) under President William Tolbert and as the finance minister (1980–85) in Samuel K. Doe's military dictatorship, where she introduced measures to curb the mismanagement of government finances.
Sirleaf worked for the World Bank in Washington D.C before moving to Nairobi in 1981 to serve as Vice President of the African Regional Office of Citibank. She resigned from Citibank in 1985 following her involvement in the 1985 election in Liberia and went to work for Equator Bank, a subsidiary of HSBC. From 1992 to 1997, she was the director of the Regional Bureau for Africa of the United Nations Development Programme.
Johnson Sirleaf was the Chairperson of the African Leaders Malaria Alliance (ALMA); having succeeded the founding Chair, Tanzanian President Jakaya Kikwete in January 2012. ALMA is an alliance of African Heads of State and Government working to end malaria-related deaths. She also served as Chairperson of the Mano River Union where she leads the effort for political stability and economic cooperation among Sierra Leone, Guinea, Liberia and Côte d'Ivoire. The former Liberian leader is also Goodwill Ambassador for Water, Sanitation and Hygiene (WASH) in Africa. She was a founding member of the International Institute for Women in Political Leadership; she was also designated in 1999 by the Organization of African Unity (OAU) (now African Union) to serve on the committee to investigate the Rwanda genocide.
She was a Commission Chair for the Inter-Congolese Dialogue; and was selected by UNIFEM as one of two persons to investigate and report on the effect of conflict on women and women's roles in peace-building.
You'll like: Captivating Lesser Known Facts About Nigerian Novelist Chimamanda Adichie
Political Struggles and Exiles
In 1972, while working as assistant minister of finance under the government of William Tolbert in Liberia, Sirleaf made a speech to her former high school, the College of West Africa. In the speech which is now considered a famous one, she sharply criticized the government for failing to address the vast inequalities in the Liberian society and made a name for herself for speaking "truth unto power". This attracted much attention to her.
When Tolbert was deposed and executed in 1980 in a coup led by army sergeant Samuel K. Doe, Sirleaf lost her position as the minister of finance. Doe subsequently appointed her president of the Liberian Bank for Development and Investment. However, during Doe's regime, she was imprisoned twice and narrowly avoided execution. In the 1985 national election, she campaigned for a seat in the Senate and openly criticized the military government, which led to her arrest and a 10-year prison sentence. She was released after a short time and allowed to leave the country for Kenya where she spent about 12 years.
After supporting Charles Taylor's bloody rebellion against President Samuel Doe in 1990, and a tentative truce haven been reached in Liberia's conflict, Johnson Sirleaf ran against Taylor in the 1997 presidential election, representing the Unity Party. She finished second to Charles Taylor and was forced back into exile when his government charged her with treason.
Presidency 
In 2005, she ran for presidency the second time, vowing to end civil strife and corruption, establish unity, and rebuild the country's devastated infrastructure. She placed second in the first round of voting, and on November 8, 2005, she won the runoff election, defeating football (soccer) legend George Weah (who would later become her successor). Johnson Sirleaf was sworn in as president of Liberia on January 16, 2006.
In 2011, she once more won the presidential elections granting her a second tenure on the presidential seat. This was, however, contrary to her initial promise to Liberians to serve only for a tenure. She served as the 24th president of Liberia.
Ellen Johnson Sirleaf Net Worth
In light of Ellen Johnson Sirleaf's aforementioned career path and presidency, her net worth is currently estimated to be USD1.7million. During her time as Africa's first female president, she was one of the highest paid African presidents earning $90,000 annually. The accumulation of her presidential salary, as well as her personal endeavours which all contribute to her impressive net worth of USD1.7million.
Ellen Johnson Sirleaf: Records and Achievements
Considering serious economic challenges that were rife in her country, especially that of gross unemployment (of about 80%), and the national debt which stood at approximately US$4.9 billion in 2006, Sirleaf immediately sought debt amelioration and aid from the international community. By late 2010 Liberia's entire debt had been erased, and Johnson Sirleaf had secured millions of dollars of foreign investment in the country. In addition, she established a Truth and Reconciliation Committee (TRC) in 2006 to probe corruption and heal ethnic tensions.
In the face of more pressing needs, Sirleaf chose to transfer her office to the nearby Foreign Ministry building and live at her personal home in Monrovia instead of repairing the damages caused by the fire that gutted the Executive Mansion on 26 July 2006.
On 26 July 2007, Sirleaf celebrated Liberia's 160th Independence Day under the theme "Liberia at 160: Reclaiming the future." She took an unprecedented and symbolic move by asking 25-year-old Liberian activist Kimmie Weeks to serve as National Orator for the celebrations, where Weeks called for the government to prioritize education and health care. A few days later, President Sirleaf issued an Executive Order making education free and compulsory for all elementary school-aged children.
In October 2010, Sirleaf signed into law a Freedom of Information bill, the first legislation of its kind in West Africa. In recognition of this, she became the first sitting head of state to receive the Friend of the Media in Africa Award from The African Editor's Union.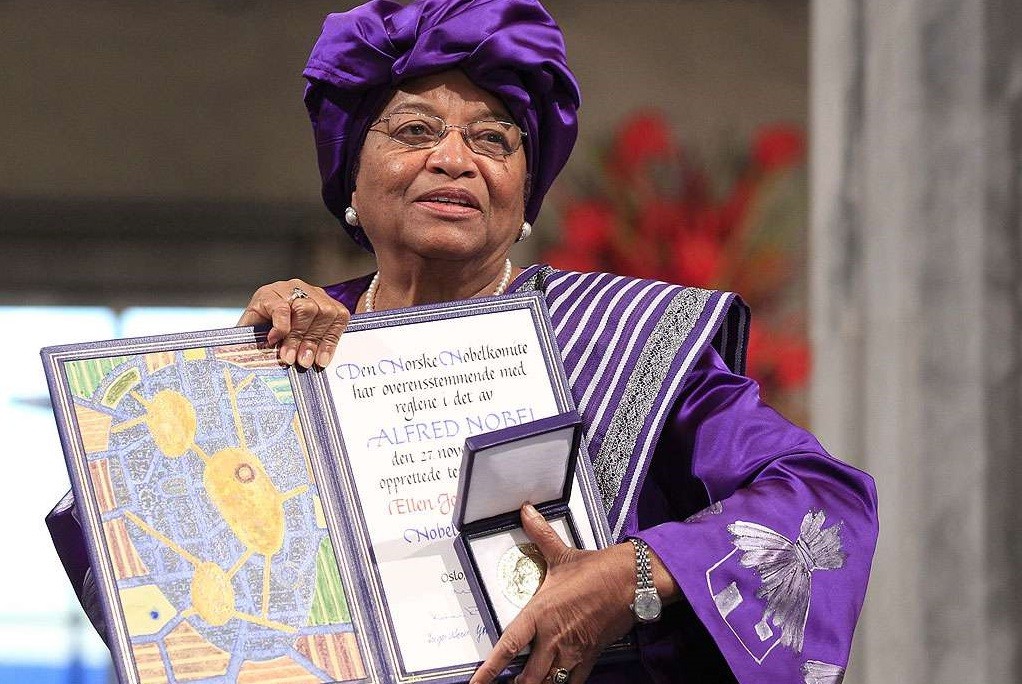 International Achievements and Awards
In 2006, she was honoured with the Common Ground Award and the 'Africa Prize for Leadership for the Sustainable End of Hunger'. The same year, she also received the 'David Rockefeller Bridging Leadership Award'.

 

In 2007, she was awarded the Presidential Medal of Freedom, the highest civilian award given by the United States.
In 2010, Newsweek listed Sirleaf as one of the ten best leaders in the world, while Time counted her among the top ten female leaders.
Johnson Sirleaf was one of three recipients, along with Leymah Gbowee and Tawakkul Karmān, of the 2011 Nobel Peace Prize "for their nonviolent struggle for the safety of women and for the furtherance of women's rights to full participation in peace-building work."
Sirleaf was also conferred the Indira Gandhi Prize by President of India Pranab Mukherjee on 12 September 2013. The same year, she was awarded France's highest award and public distinction, the Grand Croix of the Légion d'Honneur.
As of 2014, she was listed as the 70th most powerful woman in the world by Forbes.
President Sirleaf has also been recognized amid numerous honours such as 14 honorary degrees from American colleges and universities.
Ellen Johnson Sirleaf is the first sitting female African president.
See Also: Why Nelson Mandela was Called Madiba
5 Lesser Known Facts About Ellen Johnson Sirleaf
She is the first African to have her bust installed in the Garden of Nations of the U.N.
She is nicknamed, the "Iron Lady of Africa".
She is the aunt of the American comedienne and actress, Marietta Sirleaf – best known by her stage name – Retta. Retta is most popularly known for her role on the hit show, Parks and Recreation, as Donna Meagle and Barbara in Girlfriends' Guide to Divorce.
She is biracial and she is proud of her dual heritage.
However, because of schooling and education in the united stated, she is consistently referred to as an America-Liberian (an African American of Liberian ancestry); however, she personally does not identify as one,