The beautiful blue-eyed blond with a well-structured body in the Nazi Concentration camp serving as the second highest ranked female SS Guard was Irma Grese. From the age of 10, she was indoctrinated with the beliefs and ideologies of being Nazi, she held tightly to this belief and quickly rose to prominence carrying out nefarious activities.
The Nazi were greatly associated with brutality and tales during World War II of their gruesome acts were known facts and very appalling to the ears that hear them. Our character study, Irma Grese nicknamed 'Beautiful Beast' and/or 'The Hyena of Auschwitz' is no exception from the bandwagon of perpetrators of evil in the Nazi concentration camps. Here are 5 interesting facts to know about this woman with a heart of stone, but before then, get to know the basics about her.
Brief Bio
Irma Grese was born on the 7th of October 1923 in Wrechen, Mecklenburg-Strelitz, Germany to Alfred and Bertha Grese. Domestic violence marred her childhood days as her parents were in a constant war with each other, making their home unhealthy and very oppressive for their 6 kids. This unfortunately marred their childhood and worse still, the rest of Ima's life albeit she reigned supreme but with the sweat and blood of others.
Her mother committed suicide by drinking Hydrochloric acid when she discovered her husband Alfred had an affair with another young woman. Her suicide, however, did not deter him from eventually marrying the same girl a few years later. 
Ima's life was characterized by many low points but for her cruelty and absolute dedication to the Nazi course, she basked in the glory of her ruthlessness. On her arrival at Auschwitz-Birkenau, she was assigned to the women's camp at BII/b in Birkenau, where nefarious activities such as massive gassing, flogging, beating to points of injuries or death, cremation of Jews and other victims of the Third Reich transpired unabated. When she assumed office, about four large crematoria were being constructed and were almost at their completion stages to serve the evil plans already set in motion for the remaining years of the Holocaust. Some of her other assigned duties at the prison included commanding a gardening squad, being a telephone operator, and censoring mails.  Irma Grese carried out her heinous job for 14 months after which she got promoted and was given command over more than 30,000 women in the prison.
She is remembered by some of the prisoners who survived her ordeal with three things; a heavy Boot, a whip clipped to her side and a pistol with which she inflicted harm, havoc, fear, and terror on the body & minds of the prisoners for the few years she was a warden. Irma Grese ironically represents a twist of how a beautiful soul could pan out bad, she over the years had stored up hatred and anger which she eventually poured out, when an opportunity presented itself as she unleashed unrelenting havoc and unimaginable harm on her unfortunate prison inmates.
Here Are 5 Facts About The Notorious Nazi Prison Guard Irma Grese
1. Academic Background
Her heydays in school were dotted with poor academics performances and constant bullying by her classmates which eventually gave rise to her quitting school at her early teens (fourteen years).
2. Early Contact and Activities with Nazi
Irma Grese joined the Nazi Party for the youths called the League of German Girls which was against her father's better judgment and obvious disapproval. Following this, she tried unsuccessfully to train as an assistant nurse but was never really good enough and as such didn't get posted to a hospital rather to a dairy farm followed by a concentration camp against her wish.
3. Rise in Rank
 She was a passionate devotee of the cause of Nazi and a firm believer of the agenda of Adolf Hitler which promptly gave her access to serve as Guard warden in female prisons of Ravensbruck and Auschwitz all in Bergen-Belsen. For you to understand just how "good" she was for the for the job; she started serving as a prison warden at the age of eighteen. At a time when anti-jewish activities were at its peak and highest, her devotion was the prerequisite for such a job and she rose quickly in the ranks and had quick promotions to the status of a Rapportführerin, a proof of the approval of the Nazi government.
4. Her Love Affairs
She is alleged to have been bi-sexual and had many affairs with notable men like Dr. Josef Mengele, Josef Kramer, Rudolf Hoss and host of other SS officials. Ima was widely believed to be bi-sexual as she had her sexual lust satiated by any male or female she seduced including a countless number of Jewish prisoners who she had her way with.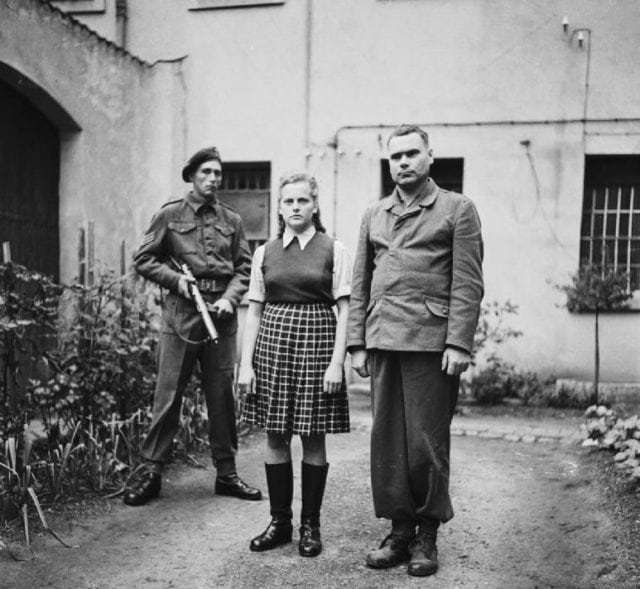 5. Irma Grese's Capture by the British, Her Trial and Death
After World War II, she was captured by the British Army, on the 17th of April, 1945 along with other SS personnel who did not flee, she is reputed to have committed about thirty murders per day; totaling to about two hundred thousand innocent deaths by her hands which is a staggering record in the history of murders committed by one person.
After a rigorous 53 days of trials, she was charged alongside sixteen other guards notably Johanna Bormann, and Elisabeth Volkenrath her fellow female prison wardens. On Thursday, 13 December 1945, those convicted of crimes against humanity were lined up for execution – a death Irma gallantly went into gallows, chanting Nazi songs unrepentantly in Hamelin Jail, Regimental Sergeant Major Richard Anthony O'Neill assisted the British executioner, Albert Pierrepoint in the discharge of this particular task of riding earth with such a sadist. The rest were sentenced to serve jail time for their crimes.
Read Also: Meet Georgia Tann – A Woman Who Stole Children From The Poor To Give The Rich
Irma Grese crimes against humanity that earned her death penalty can be summarized as; her brutality demonstrated in the unabashed tortures of the prisoners which involved the whipping of beautiful well-formed female prisoners on their breasts, faces, entire bodies, kicking, trampling with Hobnailed Jackboots to death in some cases. She also punished male and female prisoners by forcing them to kneel down lifting or holding still large rocks for long hours over their heads till she was satisfied. She also had the inclinations of picking feeble, and sick prisoners for the gas chambers.
The stone-hearted woman was also reputed to use German Shepherd guard dogs to attack and feed on starving feeble prisoners, raping, and shooting them at the back of their heads with her pistol. She did also kill pregnant Jewish women.
Despite all the negativity she was associated with, one fact that could not be taken from her was her beauty that had many of the male and female wardens loving her and which some of the survivors of the concentration camps where she served could not deny. She has had about two films adaptations made – the Pierrepoint and Out of the Ashes which depicted her as a brutish, violent, merciless but yet beautiful prison guard.