Gerald Gillum a.k.a G Eazy's performance with Lil Wayne and Snoop Dogg became a stepping stone in his rise to fame. More so, his numerous tours around the globe and so many of his other collaborations with well-celebrated artists have also pushed him to stardom. G Eazy could be best described as a self-made artist as he has done amazingly well as a music artist, a record producer, and a songwriter. The article below contains the full detailed information on his biography, rise to fame, net worth, height, and his personal life. Enjoy the read…
G Eazy's Bio (Age and Ethnicity)
Only a few know that G Eazy was named Gerard Earl Gillum at birth. He joined his family as the first child of their home on May 24, 1989, but also welcomed a younger brother, James as the years rolled by. As a young child who didn't understand the rules of the world, he became quite perplexed when his mother started dating a woman, and not knowing how to comprehend it, he relocated to join his grandparents in Berkley, California after he had spent a few years of his life at Oakland, California. He is of a white ethnicity.
G Eazy attended Berkley High School and furthered his studies at Loyola University where he bagged a degree in Music Industry Studies. While at the University he was very active with everything that included music and that was where he met the first producer he ever worked with, Christopher Andersson. The musician's career started taking a form after he began mingling with the right people. He was also a member of The Bad Boyz collaborative and the East Bay Area hip-hop gang that included Lil B, Crohn, and The Cataracs.
The California-born artist became well known after he shared the stage with the likes of Lil Wayne and Snoop Dogg in 2010. Ironically, his career suffered some struggles after being announced on that platform, he was counted amongst the wanna be's through 2010 until 2013 when his album Must Be Nice released the previous year topped the number 3 spot on the iTunes hip-hop chart.
After that success, he collaborated with 2 Chainz and Lil Wayne and organized America's Most Wanted Tour. He later released his next album titled These Things Happen on June 23, 2014, in the United States and a month later in the United Kingdom. The album was a success and topped as the number 3 spot on the US Billboard 200 Chart and the Top Digital Digital Albums chart. Also, the album was later certified gold by the RIAA.
G Eazy blew the minds his fans away following his announcement of his 40 days tour in the United States of America and in Canada. For the tour, he shared the stage with a lot of other well-celebrated music legends like the likes of Rocky Fresh, Tory Lanez and Kyle. After his remarkable performances in the US and UK, the musician then took his tour performances to New Zealand and Australia.
With the rise in his career, he became an Avant-Garde fashionista and was named as one of the top ten most stylish at the New York Fashion week by GQ Magazine.
Following the release of his second studio album, When It's Dark Out, he went ahead to organize another tour moving through the United States, Europe, and Australia. More so, his single with Bebe Rexha titled Me, Myself and I topped as the number 7 spot on the US Billboard hot 100. He also worked with Britney Spears in her song, Make Me Off in 2016.
Gillium released a sequel to The Endless Summer mixtape titled The Endless Summer II and his third studio album, The Beautiful & The Dammed on Dec 15, 2017, just after he won the People's Choice Award in the Favorite Hip-Hop artist category.
Net Worth
Having built a successful career, the California born artist, G Eazy has pocketed enough cash from the sales of his singles, tours, mixtapes, and albums. He is currently estimated to be worth $9 million.
Who Is He Dating? Girlfriend
Gerald Gilium has been in a lot of relationships. In all, he has only dated female superstars in the entertainment industry. He was in a jolly platonic relationship that went sour with Devon Baldwin in 2011 and was also said to have dated Britney Spears and Lana del Ray.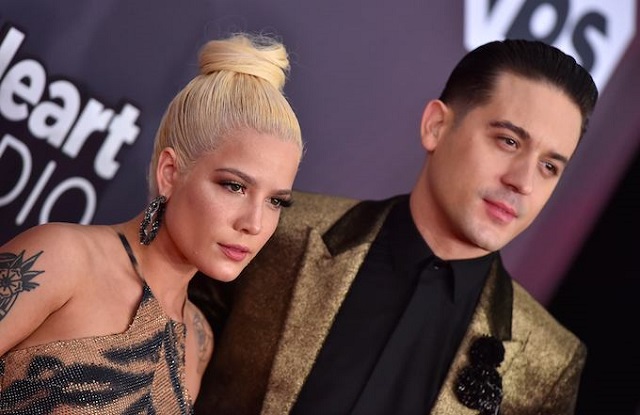 Currently, G Eazy has found love with a lady named Halsey. The two started their love tango sometime in 2017 just after he broke up with Lana. Their relationship has suffered a few mishaps but they have succeeded in walking past their troubles and loving again.
Height
G Eazy is not one of the many men out there that is after the plenty packs and abs. He has had his share of rough rides but he has managed to maintain a few good records in the industry what with his performances on set and his fashion sense. He has a slim body build and stands at 6 feet 4 inches.