The very versatile G Eazy, or Gerald Earl Gillum as he was named at birth, has had a very eventful career in the music industry. Famed for his powerful performance, witty rap verses, and energetic flow, the young man is one of the finest rappers of his era. He has released several chart-topping singles and albums and continues to exhibit potential for more growth.
Before G Eazy caught the attention of the public through his top-notch performance with rappers like Snoop Dogg and Lil Wayne, he was a record producer and a member of a group known as The Bay Boyz hip hop crew.
G Eazy Started His Career As a Music Producer
Although G Eazy is best known within and outside the music world as a rapper, he started out as a record producer. He was still schooling at Loyola University New Orleans when he started learning how to make music with his longtime collaborator and producer Christoph Andersson, who was also a student there. The pair worked on several singles together until the time the rapper began to do more of rapping after connecting with a local hip hop band.
The Oakland-born rapper's career got a boost in the year 2010 when he recorded an appreciable success after opening for prominent rappers like Snoop Dogg and Lil Wayne. He recorded massive success for the first time in his career in August 2011 with his mixtape, The Endless Summer. The mixtape did not only feature well-known music guests but it also earned him millions of views on YouTube.
He Earned His Big Break After Releasing His Debut Album
G Eazy's first attempt to make it in the industry as a rapper was met with limited success. Being a focused individual, he kept pushing with so much determination until 2012 when his hard work finally paid off. That year, the rapper dropped his debut full-length album titled Must Be Nice which successfully made its way to the number three spot on the iTunes Hip-Hop Chart.
Riding on this success, the rapper went ahead to release his second studio album titled These Things Happen in 2014. The album earned him the number 3 position on the Top Digital Albums and the US Billboard 200 charts and also outshone many projects to make it to the top of the Top Rap Albums and US Billboard's Hip-Hop/R&B charts. To date, the project has sold almost 265,000 copies across the globe.
His Nationwide Tours Played a Huge Role in Boosting His Career and Fame
To a large extent, G Eazy's numerous tours across the U.S and other regions in the world were chiefly instrumental in boosting his career and growing his popularity. Ever since the rapper fully launched his career, he has embarked on several nationwide tours with prominent talents in the music industry starting from November 2011 when he and American rapper Aaron Smith had a concert tour.
I MISS TOURING 😢

— G-Eazy (@G_Eazy) July 14, 2020
G Eazy was present at the Vans Warped Tour in 2012 and also performed alongside Hoodie Allen at the Excellent Adventure Tour in the same year, entertaining fans across major cities in the United States.
His career witnessed massive growth in 2014 after he shared the stage with the likes of KYLE, Rockie Fresh, and Canadian rapper Tory Lanez at his "These Things Happen Tour" that held in both the U.S and Canada for almost two months. His second world tour took place in 2016 across Australia, Europe, and the United States after which he and rapper Logic co-headlined the Endless Summer tour from June to August 2016.
The California-born artist embarked on his first headlining tour overseas in the year 2014. He performed across the world, including in New Zealand and Australia where he entertained his overwhelming fans with his songs.
G Eazy Stands A Chance of Winning More Awards in the Future
G Eazy is talented and hardworking; he has a passion for excellence as well as an enviable drive for greatness. While he may not have made it to the list of the highest-earning or greatest rappers of all time, he sure has all it takes to get to the top of the rap game.
The rapper, unlike most of his contemporaries, practically made his way to the top from nothing but today he stands out as a force to be reckoned with.
'Everything's Strange Here' the full project is out now everywhere. Each song represents a part of the journey, I hope y'all enjoyhttps://t.co/d0oH0R4Zz6 pic.twitter.com/g44fGjlWjb

— G-Eazy (@G_Eazy) June 26, 2020
G Eazy has released a total of 6 full-length albums and several singles and EPs. Even though he is yet to win any of the major musical awards, he walked home with the People's Choice Awards for Favorite Hip-Hop Artist in 2007. The rapper was also nominated for an MTV Europe Music Award in the category of Best Hip-Hop Artist in 2016.
A Close Look At The Women G Eazy Has Dated
1. Britney Spears 
G- Eazy has a history of dating celebrities. In 2016, he was linked to American songstress Britney Spears after the two walked the red carpet together and also had a steamy performance at the MTV Video Music Awards.
While Spears later came out to deny the rumor that she was an item with the rapper, G Eazy did not bother to address the speculations. He rather paid deaf ears to the rumors until everything fizzled out.
2. Lana Del Rey
Lana Del Rey and G Eazy started dating in 2017, the very year they were seen expressing their love for each other at different places, including Coachella. The duo sadly went their separate ways after dating for a couple of months. It is believed, to a large extent, that their breakup wasn't amicable as Lana's song "White Mustang" might be about the rapper.
3. Halsey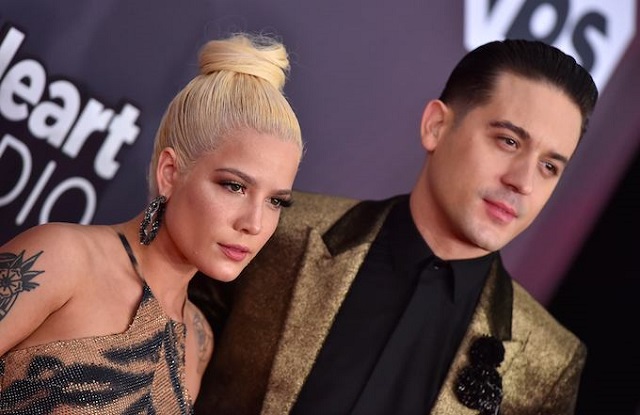 G-Eazy moved on to date Halsey in August 2017 and this was his most publicized and longest relationship. They got together to work on the song "Him & I" and Halsey later admitted that he relentlessly pursued her. Things got intense pretty quick and It was definitely unlike him to gush about his feelings on social media.
The duo appeared absolutely in love but after being together for roughly a year, their relationship went 'south'.
4. Yasmin Wijnaldum
In February 2019, G-Eazy appeared with Victoria's Secret model Yasmin Wijnaldum. As usual, he never came out to publicly declare his relationship with her but they didn't shy away from public display of affection whenever they attended any red carpet events.
The details of their relationship and breakup aren't clear but she did unfollow him on Instagram after he shared steamy videos with Megan Thee Stallion in February 2020. The steamy videos did spark rumors of a relationship between Megan and G-Eazy which she was quick to shut down.
5. Livia Pillmann
Fast-rising Hungarian actress and supermodel Livia Pillmann and the rapper were rumored to be dating after they came as a couple to the Oscars viewing party for the Elton John's AIDS Foundation in February 2020. The pair later left the occasion together looking lovey-dovey by 2.00 am as several photos of G Eazy kissing the model on her cheek also surfaced on the internet.
After that night, however, they were never seen together in public.
6. Ashley Benson
In April 2020, after G Eazy dropped the song "Creep" featuring Ashley Benson, their amazing chemistry had their fans speculating about a possible relationship. The duo has been spotted hanging out and even kissing.
While it's so cute that they are all over their Instagram comment sections, their fans are eager to know if their relationship is serious or just platonic as neither G Eazy nor the actress has publicly refuted or confirmed if they are dating or not.
Who is G Eazy Dating Now? 
It is quite difficult to tell who the rapper is currently seeing at the moment. Ever since he broke up with his last girlfriend, he has maintained a low profile relationship-wise. He hasn't commented about his love life recently and neither has he given the public reasons to believe he is dating someone.
While many believe he might be in a secret relationship with someone, we will assume he is single and probably searching for love.