The ever beautiful and sassy Black American actress Gabrielle Union can never go unnoticed with her captivating smile. She is one of BET's finest actresses and a force to reckon with so far as movies and its components are concerned. Formerly a model, Union must have thought she would continue with modelling until she discovered she also has a thing for acting. The actress has had an interesting career journey filled with excellence and uniqueness. There is so much to know about Union apart from her varying on-screen personalities.
Gabrielle Union's Bio & Age
She was born Gabrielle Monique Union on 29 October 1972, in Omaha, Nebraska. She attended Foothill High School after which she proceeded to the University of Nebraska for her tertiary education. However, she didn't finish there as she later transferred to Cuesta College in California and then to UCLA where she got a degree in Sociology. Amid these transfers, Union knew she had a talent in her waiting to be exhibited. But before her acting stints, she caught the attention of Judith Fontaine Modeling & Talent Agency while she interned there during her time at UCLA. The agency found her pretty and soothing enough to model for them and she accepted.
She soon toed the acting line and started to appear in small movies like 10 Things I Hate About You, She's All That, and Love & Basketball. Gabrielle Union got her first major role in Deliver Us from Eva (2003), a movie she starred alongside LL Cool J. In 2004, she starred in Breakin All the Rules alongside popular actor Jamie Foxx. In 2007, she starred as Julia Rossmore in Daddy's Little Girls by Tyler Perry. That same year, she appeared in The Perfect Holiday, as a divorced single mother of three.
See Also: Who Are Vanessa Williams Children, Husband, Parents, Age, Height, Net Worth
2008 came with lots of activities for the talented actress who handled them all with great poise. The same year, she played a role in the popular movie Cadillac Records and also made an appearance in Ugly Betty. This was also the same period she appeared in Neyo's music video for his track Miss Independent. She was also cast alongside Eddie Murphy in Meet Dave where she played his love interest.
In 2010 she got a role in romantic comedy Think Like a Man, an adaptation of Steve Harvey's 'Act Like a Lady, Think Like a Man'. She also reprised her role in the movie's sequel Think Like a Man Too in 2014. She is the voice of 'Nala' in the Disney series Lion Guard, a role she has played since 2015. She has gradually risen to prominence in the movie industry and has her impeccable skills to thank for this.
What Is Her Net Worth?
Gabrielle Union is not only an embodiment of impeccable talent but is also a good businesswoman with some excellent business sense, and has garnered quite enough wealth in the course of her career. The actress has a net worth estimated at $20 million and not only has her acting stints to thank for it, but also her business savviness.
Talented Gabrielle launched a clothing line for plus size women – 'Love & Blessings' in 2010. She also has her own 'Vanilla Puddin' wine which she launched in 2014. Gabrielle has had a couple of ambassadorial deals with some notable brands. Reports had it in November 2014 that the actress was to be the brand ambassador for SensatioNail, a nail polish company.
In 2017, she launched a haircare line – Flawless – which was basically products for textured hair. That same year, she struck a deal with 'Invicta watches' where she sold her own designed watches.
Who Are Her  Husband, Kids & Parents?
No matter how hard she tries, Gabrielle Union cannot escape the grips of the inquisitive media, as well as the prying eyes of her fans. This is due to her interesting personal life which is not entirely different from her on-screen personalities. Union is still the center of attraction in real life just like in her movies.
Born to well-disciplined parents, Sylvester E. Union, her father and Theresa Glass, her mother, she learned how to discipline herself. Gabrielle who is the second of three daughters learned how to be strong and independent at a very young age. Her mother who was a phone company manager and also a social worker as well as her father who was a military sergeant, inculcated in her, the attitude of self-worth and appreciation.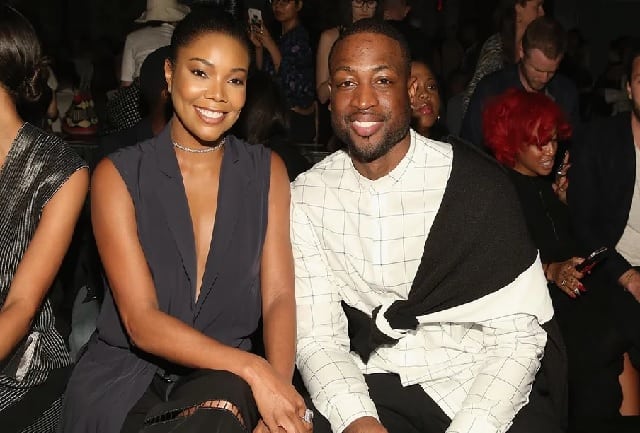 Union who was raised a Catholic was also encouraged by her social worker mother to appreciate everyone regardless of who or what they are. She recalls that her mother once took her to a gay pride parade when she was young, to see how people stood up for themselves amid castigations from others.
Gabrielle Union was formerly married to Chris Howard, an NFL player. The two who met in 1991, tied the knot ten years later in 2001. However, the marriage only lasted for four years. Gabrielle and Chris separated in 2005 after they realized that their respective dreams and aspirations could not be peacefully reconciled. In 2006 they were officially divorced.
Three years later, Union started a relationship with Dwyane Wade. Gabrielle and Dwyane who already has three children from a different woman got married in August 2014. The couple who had a lot going for them in their respective careers initially had issues and were on the verge of splitting before their reconciliation and engagement in 2013. Gabrielle Union has no kids of her own but is a stepmother to Dwyane Wade's three children.