Genevieve Cortese gained mainstream attention in the American film industry following her depictions in the famous dark fantasy TV series, Supernatural. She made recurring appearances in the series, portraying the role of demon Ruby. Her outstanding performance was able to bring the actress to the limelight and since then, she has scored roles in other notable movies and TV series to date.
Genevieve has additionally been in the spotlight as the better half of the Supernatural star, Jared Padalecki. She was active in the acting scene from 2004 to 2012, when she decided to take a break from her career and solely focus on her family life. Her amazing acting talent can further be seen in movies and TV shows such as Kids in America, Salted Nuts, and Wildfire. Having honed her acting skills at the Tisch School of the Arts, it's no surprise that the actress has gained many awards to her name.
Genevieve Cortese Graduated With Two Degrees From Tisch School Of The Arts
The famous supernatural actress was born in Danville, California, in the United States, on the 8th of January 1981. Her mother's name is Camille Batt while her father's identity is not known. She has two brothers and a sister namely; Johnny, Ben, and Sarah. At the age of 13, her family left Danville for Montana and they subsequently relocated to Sun Valley, Idaho, a year later.
Before starting her career in acting, Genevieve Cortese earned two Bachelor's degrees – Bachelor of Arts in English and Bachelor of Fine Arts in Drama from Tisch School of the Arts, New York University.
She Kickstarted Her Acting Career On Stage
Cortese, like many other Hollywood actors, began her acting career with stage productions. In the early stages of her career, she appeared in several theatre productions, including Crimes of the Hearts, A Midsummer Night's Dream, Joseph and the Amazing Technicolor Dreamcoat and One Flew over the Cuckoo's Nest.
After years of proving her mettle as a stage actress, Genevieve Cortese made her film debut in the year 2005 when she was cast as Amber in Death Valley. In the following year, she had her first TV role in The Dead Zone where she was cast in a dual role of Chloe Greg/Laura Tierney. In the same year, she played a lead role in the series, Wildfire and equally starred in the movie Kids in America, as well as a short film titled Unraveled.
Later on, Jared Padalecki's wife portrayed Toga girl in the 2006 film, Bickford Shmeckler's Cool Ideas and equally appeared in another short film, Life Is Short. She then played Jen in Salted Nuts in 2007 before gaining her most recognised role of Ruby in the American dark fantasy series, Supernatural. She subsequently had roles in FlashForward from 2009 to 2010 and also starred in the 2012 film, Hated before taking a long break from acting in order to focus on her family life, hence, becoming a full-time mom.
A Look At Her Career Defining Roles –  Ruby In Supernatural And More
Genevieve Cortese scored one of the most recognised roles of her acting career in 2005 when she was cast in a lead role as Kris Furillo in 51 episodes of the ABC family show, Wildfire. Following the end of the series in the year 2008, the gifted actress quickly earned her breakout role of a demon named Ruby in the TV series, Supernatural. There, she was cast in the recurring role of Ruby from 2008 to 2009.
The talented actress, however, was intended to be among the few actresses to portray the character of Ruby but based on her sensational display on the set of the series, Cortese was retained throughout the 11 episodes she appeared as Ruby. Following her outstanding performance in the series, Genevieve became publicly acknowledged and was endeared to her millions of fans.
Later in 2009, she was featured as Tracy Stark in 10 episodes of the science fiction TV series, FlashForward, and thus, attained more popularity. With her portrayal of Veronica in the 2012 film Hated, Genevieve Cortese established herself as a Hollywood star. She took home several awards in the best actress category as a result of her performance in the aforementioned film.
Her awards include FirstGlance Film Fest Hollywood Award, Phenom Film Festival Award, Williamsburg International Film Festival Award, Women's Independent Film Festival Award, and The Newport International Film Festival Audience Award.
What The Actress Has Been Up To And Her Recent Return To The Acting Scene
Following the birth of her first child in 2012, Cortese decided to take a break from acting and then became a full-time mom. After some time, she began running a blog called NowandGen. Therein, she talks on captivating topics relating to motherhood, fitness, relationships, and recipes. She additionally has a YouTube channel of the same name which has amassed over 40,000 subscribers. On her channel, she has interviewed some experts in diverse career fields including Mike C., the founder of Resolution Gardens situated in Austin, Texas.
Although many thought that Genevieve has retired from acting, she proved them wrong with a comeback in 2020, as she made a guest appearance in the fifteenth and final season of Supernatural. Despite her character Ruby being killed at the end of the fourth season, she was brought back to the series through flashbacks in an episode titled Destiny's Child. She has gone on to reveal that she hopes to kick-off her acting career pursuits a bit in the future.
How Much Is She Worth?
The Wildfire star is known to have featured in several movies, TV series and also theatre productions. With her recurring roles in Wildfire, FlashForward, as well as her appearances in the hit series, Supernatural, the actress ought to have earned a decent fortune. She has additionally bolstered her earnings through her works as a blogger. As a result, Genevieve Cortese is said to be worth around $2 million.
Cortese Has Been Married To Jared Padalecki For Over A Decade
In 2008, when Genevieve Cortese appeared in the fourth season of Supernatural, she met her future husband, Jared Padalecki on set. The two eventually got romantically involved after months of getting to know each other. Then in October 2009, Jared popped the question to the elegant actress at Metropolitan Museum of Art in New York, in front of Jules Bastien-Lepage's painting; Joan of Arc, which is the couple's favourite painting.
They, however, kept their engagement a secret for a few months before making it public in January 2010. The couple moved ahead to seal their love in a wedding held at the bride's hometown, Sun Valley, Idaho in the next month. After their wedding, Genevieve Cortese gave birth to their first child, a son, Thomas Carlton Padalecki on 19th March 2012.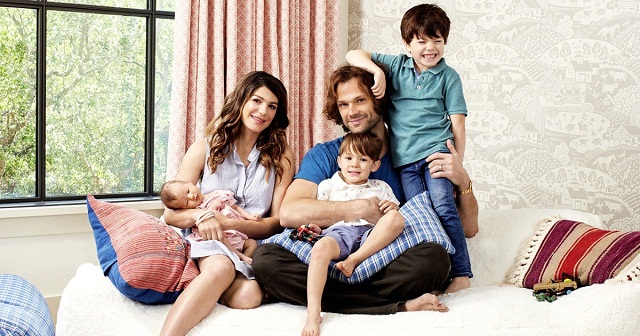 The following year, their second child Austin Shepherd Padalecki was born. The couple welcomed their only daughter, Odette Elliott Padalecki on 17th March 2017. They are currently enjoying a marital bliss of over 10 years and reside in Austin, Texas.
Her Husband Is A Multi Award-winning Actor
Cortese's husband, Jared Padalecki is an American actor who is widely recognised as Sam Winchester, a role he has been portraying in Supernatural since 2005. Following his graduation from James Madison High School in the year 2000, he briefly attended the University of Texas before dropping out in his freshman year to secure the recurring role of Dean Forester in the Gilmore Girls, which he played from 2000 to 2005.
He has also had roles in ER (2001), Cheaper by the Dozen (2003), Flight of the Phoenix (2004), Cry Wolf (2005), Room 401 (2007), Christmas Cottage (2008), and Friday the 13th (2009). He is currently among the cast of the upcoming series, Walker, Texas Ranger slated for a release in 2021. He will be scoring a titular role in the TV series. So far, Padalecki's acting career has been decorated with many awards, including Constellation Awards, Teen Choice Awards, and People's Choice Award.