After breaking bonds with longtime girlfriend, Russian model Irina Shayk, Cristiano Ronaldo was without a steady girlfriend until he met the upcoming Spanish model, Georgina Rodriguez. For a while after being publicly spotted together, fans didn't take the pair seriously as they thought it must be one of those on and offs.
But Ronaldo and Rodriguez proved them wrong when they started appearing at official events together. The first was the 2017 Best FIFA Football Awards where Georgina joined the rest of Cristiano's family members in attendance to celebrate the football hero. She also watches his matches live, always cheering from the stands. Here are more details you need to know about Georgina Rodriguez.
Georgina Rodríguez's Age and Family Background
Georgina Rodriguez was born on January 27, 1995, in Jaca, a city located in Northeast Spain. Rodriguez is a hard-working lady who is determined to work her way out of the poor background she was born into. She, therefore, started working as a waitress in her hometown while still a teenager. She later got to work as a live-in domestic worker and eventually left Spain for the UK when the family for whom she worked relocated to Bristol, England. While in England, Georgina studied English in London. She subsequently worked as a salesgirl in a Gucci shop in Madrid.
Relationship with Cristiano Ronaldo
So how did Georgina being just an ordinary person meet and strike up a relationship with a football superstar? Well, Georgina Rodriguez met Cristiano Ronaldo back in June 2016 in Madrid. While some sources say that Ronaldo first spotted and cast an interested glance at Rodriguez in the VIP corner at a Dolce & Gabanna function, others hold that the duo met and exchanged numbers when Cristiano came to pick up summer clothes at the Gucci shop where Georgina then worked as an attendant.
Whatever be the case, the point is that they started off a relationship sooner or later. Ronaldo later proposed to the Spanish beauty late in 2018 after about two years of dating. They are now engaged and fans can't wait to see them walk down the aisle!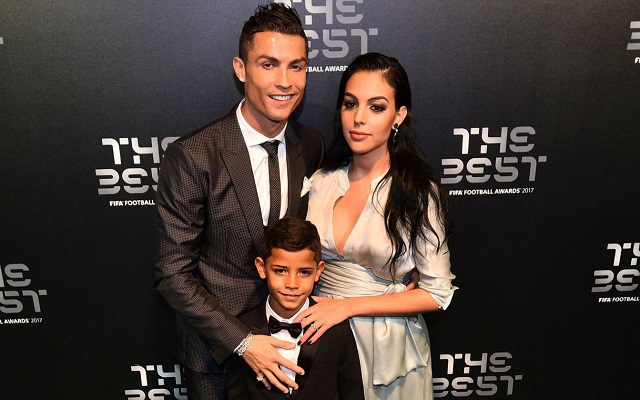 Meanwhile, Georgina Rodriguez and Cristiano Ronaldo have already welcomed their first child together. Georgina gave birth to the lovely baby girl in November 2017. Her name is Alana Martina, and she is Ronaldo's second daughter and fourth child. The family of six live together in their deluxe mansion in Italy.
Modeling Career
After meeting Cristiano Ronaldo, Georgina must have considered all her former jobs too demeaning for her new kind of personality as Ronaldo's girlfriend. She, therefore, decided to venture into something more reputable; and her choice was modeling.
Georgina appears to have already started making her marks in the profession. Thanks to her newfound fame, she has earned millions of followers on social media with over 10 million on Instagram alone! She has so far featured on the cover of a number of magazines in Spain, Portugal, and Italy including Women's Health, VIP, LOVE, Nova Gente, Lux and Diva E Donna. She is the face of Yamamay, an Italian lingerie brand. In addition to modeling, Georgina is also a skilled dancer.
What to know about her family
Georgina Rodriguez was born to Jorge Eduardo Rodríguez Gorjón and Ana Maria Hernandez. Her father, Jorge Eduardo was a coach and retired professional footballer. Georgina's dad has not a very good reputation as he served a 10-year jail term (2003-2013) for drug trafficking. He died sometime in 2018 from complications that arose from a stroke he suffered two years before. The last team he coached before his passing was the Jacetano football club based in Aragon, Spain. Georgina Rodriguez also has an older sister, Ivana. Not much is known publicly about her mother.
Other Facts About Cristiano Ronaldo's Wife
1. Georgina is a good stepmom.
She maintains a very cordial and loving relation relationship with all of Cristiano's previous kids, especially with his eldest son, Cristiano Jr. She is always chatting away with the young lad during Ronaldo's matches. Georgina got many tongues wagging after she called Cristiano Jr "my child" in an Instagram post she made to celebrate his 8th birthday. Georgina also shares a lot of photos from her happy moments with the kids including the toddling twins. Cristiano's mum has also described her as a very calm person and a future daughter-in-law.
2. She must be a tender soul.
Apart from loving her step kids like her very own, there's one more action that suggests Georgina Rodriguez must be the soft-hearted type. Cameras captured the beautiful Spanish model as she fought to hold back tears after her partner, Cristiano Ronaldo scored his third goal (and all for the match) to shoot Juventus to the Champions League quarter-finals against Atletico Madrid in the 2018/2019 season.
3. Her stepchildren are of different mothers.
Georgina has three step kids from different biological mothers. While the identity of the mother of Cristiano (born in 2010) is still a mystery, the twins, Eva and Mateo were born in June 2017 by a surrogate mother, five months ahead of Georgina's own daughter.
4. Her cat is her best friend.
Rodriguez once revealed in an interview with HOLA! USA that she loves children, animals, and nature. She also pointed out that she owns a cat who was three at the time of the interview, saying that it is her best friend!
5. Rodriguez is ten years younger than Ronaldo!
Didn't they say that age is just a number? This is mostly true when it comes to matters of the heart like love. And so Georgina and Cristiano's wide age gap never stopped them from falling in love with each other.