Gregory Porter is a big, stocky, bearded middle-aged American jazz singer, songwriter, and actor hailed as a modern great by critics. He may never have become a professional singer if not for a shoulder injury that ended his dream of becoming a professional American football player and his mother's encouragement.
Porter was nearly 40 at the time he made his first album, but his rise in the industry has been astonishing. His first, Water (2010) and the title track for his second album, Be Good (2012) were nominated at the 53rd and 55th Annual Grammy Awards for Best Jazz Vocal Album and Best Traditional R&B Performance respectively.
In 2014, his third album Liquid Spirit earned him a Grammy Award for Best Jazz Vocal Album and became a crossover hit in the UK. He followed it up in 2017 with another Grammy for Take Me to the Alley, which was the first jazz album to make it to the British top five this decade.
Gregory Porter Biography
The sonorous jazz singer was born on November 4, 1971, in Sacramento and was raised in Bakersfield, California. He attended Highland High School where he played football and graduated in 1989. Porter moved on to San Diego State University (SDSU), having received a full athletic scholarship to play as a football lineman for the Aztecs. Unfortunately, he suffered a shoulder injury during his junior year and that curtailed his American college football career.
Porter began singing in church when he was a child but never considered making it a career until his conversation with his mother, Ruth, on her death bed in his early twenties. After his football career was squashed, Gregory Porter decided to become a town planner but his mother knew he was destined to thrill the world with his deep, rich voice. As she lay dying from breast cancer, Porter tried to assure her that everything was going to be fine and as she nodded and said okay, she asked him to not forget the music as it's the best thing he does. Two days after, she died.
Overwhelmed by the pain of losing his mother and not being an athlete anymore, he stopped singing for almost a year. He later moved to the Bedford-Stuyvesant section of the New York City borough, Brooklyn, to be with his brother, Lloyd in a bid to get some inspiration just to get up in the morning. He worked as a chef at his brother's now-defunct restaurant, Bread-Stuy and with time, he began to find his voice.
He made up his mind to pursue a musical career and began by performing in his brother's restaurant, cafes, bars, and at other neighborhood venues like Sista's Place and Solomon's Porch. Subsequently, he moved to Harlem, performing in St. Nick's Pub, where he maintained a weekly residency. From this residency evolved what later became Porter's touring band.
Gregory Porter released his debut album, Water, in 2010 on the Motéma label alongside Membran Entertainment Group, and in 2012, his second album Be Good was released. He later started singing with Blue Note Records (under Universal Music Group) in May 2013 and released his third album, Liquid Spirit, in Europe on September 2 of the same year and in the US on September 17.
Liquid Spirit peaked at the top 10 on the UK album charts and was certified gold by the BPI. It enjoyed the kind of commercial success that albums in the jazz genre scarcely achieved, selling more than 100,000 units in the UK.
In August 2014, Porter released the single The 'In' Crowd and followed it up on May 6, 2016, with the release of his fourth album, Take Me to the Alley.
He has performed at different shows and concerts including the Glastonbury Festival 2016, the annual BBC Children in Need show, and BBC One's The Graham Norton Show.
Porter sincerely admits that even as he pursued a musical career while working as a chef, he never dreamed of the kind of stardom that has come his way.
His Wife, Kids and Family Life
The jazz singer is married to a Russian woman named Victoria and they have two children, Demyan and Josie. The couple met at a club in Moscow in 2005 while Gregory was performing in Russia and they stayed friends for some years.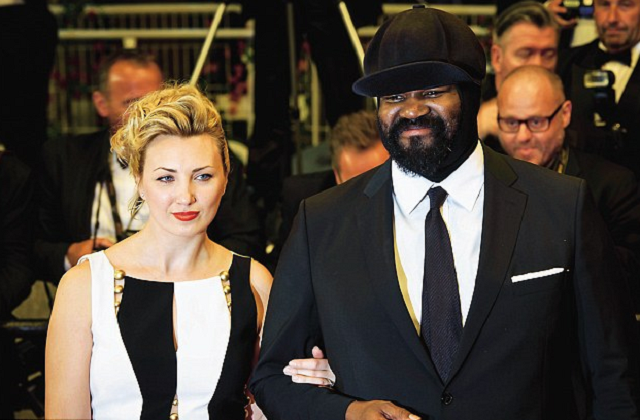 Within the period of their friendship, Victoria visited New York (where Gregory was living at the time). She had just broken up with her partner and Porter had been alone for some time but he just acted as her tour guide.
She went back home afterward and visited again. It was during this second visit that they both decided to take their friendship to another level.
Gregory Porter is the son of Ruth and Rufus Porter. He grew up in poverty alongside his seven siblings. His mother – a nurse and preacher – hugely influenced his life, having encouraged him to sing in church when he was little.
His father was mostly absent from his life. According to Greg, he hung out with the man just a few days in his life and it wasn't a long time. For reasons best known to him, he (Rufus) just didn't seem to be completely interested in being there.
It was during his father's funeral that Gregory learned that his dad was a great singer.
Facts You Must Know
1. He is easily recognizable not only because of his huge size and 6 feet 3 inches height but also because of his trademark baker's boy cap on top of a black balaclava. Gregory has worn his signature balaclava since the beginning of his professional career because of a facial scar he sustained when he was about seven or eight years old. However, he insists that his appearance was never a limitation to him. Speaking of his balaclava, he said it has become his fashion and style.
2. Five of his favorite things includes his Leica T digital camera, his vintage watch, the suit that was made for him for the Grammys when he got his first nomination, beautiful blue cup and saucer he bought in Oslo, and his Nat King Cole Nature Boy record.
3. He draws his inspiration from people – people who are downtrodden, broken-hearted, or on the underside of society and if not music, Gregory would have loved to be a modern dancer.
4. The song More Than a Woman on Take Me To The Alley was written about his mother while When Love Was King was for his son.
5. He released his debut album at the age of 39 and was one of just two artists in 2016 to have two simultaneous UK top 20 studio albums (Liquid Spirit and Take Me To The Alley).