Reality Television is a great way to make a name for oneself as well as amass a fortune, Heather Storm can attest to this as she is one of such people who has made a name and earned a lot from reality TV.
Though being a media personality, a lot of things as it pertains to her work are already know, but how well do you know about her commitment to protecting the environment? Find out below including who her boyfriend might be as she has remained tight lip on that aspect of her life.
Heather Storm Wiki (Age)
In West Chester, Pennsylvania on the 13th of June 1962 Danielle Trotta aka Heather Storm was born. Her parents are Phyllis Trotta and Dan Trotta, she has no siblings. While she was a child, her family decided to relocate to Montana to the Big Snowy Mountain area in the state, where she spent most of her time as a child. She credits her dad with teaching her about cars, shooting guns and instilling in her the industrious virtue that has guided her numerous business ventures. Information about her parents beyond the aforementioned is not known.
Storm went to university at the Oregon State University and has a bachelor of science in Environmental Science from there. Her knowledge of the science that goes into sustaining and maintaining habitats can be pointed to as the reason for her venturing into sustainable tourism and marine conservation; these are the causes she campaigns for. One of the ways she expresses her passion for the environment is by traveling to different countries; she offers to help them with some of their environmental problems.
Most notable is Heather Storm's work in the Caribbean where she worked with their Hotel Association, while there she created toolkits that are eco-friendly and also helped with the preservation of the population the soft-bodied animals; Queen Conch in the water bodied areas close to the Turks and Caicos Islands. Storm has gone to over twenty countries in her quest to propagate eco-friendly actions. You can check out her travels on her lifestyle blog; heatherstorm.com where she preaches the message of the benefits of being eco-friendly.
The events company Black Lab was co-founded by Storm, the special thing about this company is the serving of eco-friendly cocktails at parties and events, which is another thing she is great at; drinks and cuisine. She has been a guest on the live show The Playboy Morning Show as a mixologist on different occasions.
Heather Storm has worked with Mercury Auto Insurance as one of the on-screen reporters on their network My Combat Channel. This is not her only on-screen performance as she has led a career in acting, she has been featured in some movies and had appearances on television shows some of which are; No Bad Days (2008), Nightingale (2004), Tosh 2.0 among many others.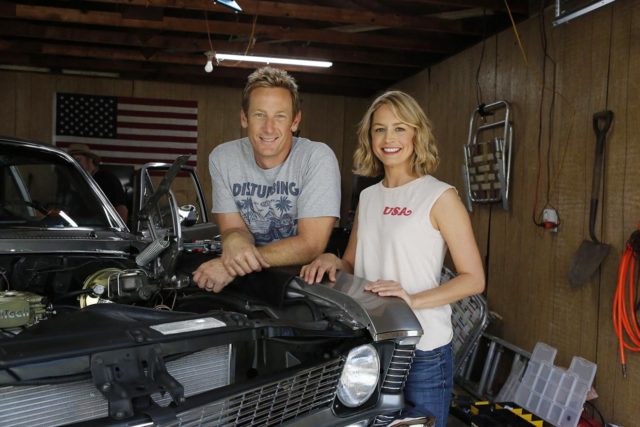 Storm alongside Bruno Massel, a two time champion of NHRA and Joe Zolper; a mechanic are all hosts on the Velocity Network car show; Garage Squad. On the show, she gets to express her love for and expertise of automobiles.
See Also: Charissa Thompson Dating, Boyfriend, Married, Husband, Net Worth
Storm is estimated to have a net worth of $2 million, with a career that is connected to multiple streams of income. You can check out her social media pages where she actively posts details of events going on in her life to her many followers. She can be found on Instagram with the handle Heather Storm, with a follower count of thirty thousand that speaks to her social media presence, her handle on Twitter is HeatherStormLA and on Facebook with the same name as the one in her Instagram handle.
Is She Married, Who is The Husband?
In all the time that she has being a public figure, there has been no mention of a relationship or a marriage. That aspect of her life just like her parents is unknown and it is safe to say that Heather Storm has a tight control over what the public knows about her.
Body Statistics – Height, Weight
This multi-talented woman has worked as a gym and fitness instructor, as a result of this, it is not out of place that she is fit and has a figure that reflects that. Heather Storm has a height of 5 feet 7 inches which is 1.70 in meters and weighs 60 kg or 132lbs.