Heidi Watney is a media personality who has created a niche for herself as a sportscaster. Starting out as a radio presenter, the brilliant young lady has gone on to work for several prominent sports networks, and currently, she is with the MLB.
The sportscaster is also known to have been an avid sports lady right from her days as an undergraduate at the University of San Diego. Heidi took part in several sports as well as being an active member of the cheerleading team. Interestingly, she has a very close relative, Nick Watney who is a professional golfer.
Heidi Watney's Early Life Was Spent As A Military Brat
Born on the 19th of May 1981 in Fresno, California, Heidi Watney is the only child of her parents. Although her place of birth was in California, Heidi did not grow up there rather, she spent most of her early childhood moving around with her family since her dad was a military man. Her mother, on the other hand, made a living as a reporter. However, her parents got divorced when she was still a child and though there are no details about who raised her, it is believed she was in her mother's care.
For her high school education, Heidi went to Clovis West High School, where she excelled in both her studies and other sports. She was good at gymnastics, diving, hurdles as well as cheerleading. More so, she went on to win a National Merit scholarship to study at the University of San Diego where she graduated from in 2003 with honors.
Her Sportscasting Career Started On Radio Before Proceeding To Boston Red Sox
Heidi Watney started her sportscasting career working for the ESPN Radio 1430 KFIG as a sports talk radio host in Fresno while subsequently shuffling between jobs to work for KMPH-TV during the weekend as a sports anchor.
However, sources have it that, the sportscaster was fired from her radio job due to a clash with her boss. Heidi apparently used abusive words on her boss which led to her being fired. She went on to get a job as an on-field reporter for Boston Red Sox.
Like they say hard work surely pays off because, with her hard work, Heidi began championing The Red Sox Report and The Ultimate Red Sox Show on New England Sports Network (NESN). The network is a joint venture of the Fenway Sports Group and Delaware North who also own the Liverpool Football Club, as well as the Boston Bruins hockey team. NESN broadcasts mainly for the Boston Red Sox and Boston Bruins – they have the exclusive right to air all their games as the primary broadcasters of the teams.
She Worked Briefly For Time Warner Cable SportsNet Then MLB Hired Her
While NESN enjoyed her paroles, she accepted a job offer to work as a sideline reporter for Time Warner Cable SportsNet in Los Angeles. Meanwhile, the sports lady moved from California to Los Angeles with the intention of shaping her big dreams.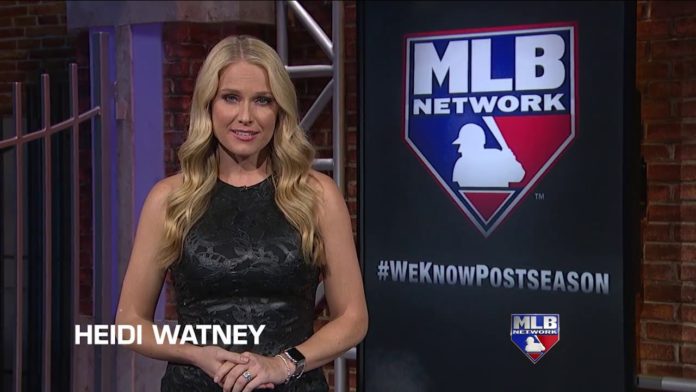 After working for about a year at Time Warner Cable SportsNet, Heidi Watney joined the Major League Baseball (MLB) Network in 2012. The network which is owned by the MLB primarily broadcast professional baseball and it has its headquarters in Secaucus, New Jersey. As of now, Rob McGlarry is serving as the second president to handle the operations of the network which has reached more than 69 million homes in the United States.
On the MLB Network, Heidi began hosting the Quick Pitch weeknights show. She has proven loyalty to the show from 2013 to date. However, in early 2018, she took maternity leave before coming back to man the show.
She Has Been Involved In Other Pursuits Besides Broadcasting
Asides from broadcasting, Heidi Watney has been involved in a number of other things. Back in college, she had a brief foray into modeling. She contested for Miss California USA pageant in 2002 where she emerged as the first runner-up. Interestingly, the winner of the pageant, Tarah Peters later married Heidi's colleague, Eric Brynes (a former Major League Baseball player)
The sportscaster is also known to have appeared in the music video Going Out in Style which was released by Dropkick Murphy. Heidi has also been featured in the MLB video games, MLB The Show 19 and MLB The Show 20. Additionally, the multifaceted lady co-owns a baseball business with her husband that specializes in making custom printed baseball bats.
Heidi Watney Is Married To Mike Wickham
Heidi Watney is one lady who has been tagged with the most popular sports male celebrities in the sports world. However, she finally took the forever commitment with, Mike Wickham, who works as the Miami Marlins Director of Baseball Operations.
The two took their nuptial vows in Edgewater, New Jersey on 31st December 2014. There is no detailed information regarding how they pair started dating but it is known that they spent their honeymoon at Nevis Island in the Caribbean before going to have another round of sweetness in Bora Bora.
They welcomed their cute son, Jax on 26th April 2018. Heidi also took to her Instagram a couple of months ago to announce that their family will be expecting a new addition. According to the post, is another boy and he will be arriving in December 2020.
The Sportscaster Has Been Involved In Some Rumored Affairs In The Past
It is common knowledge that most celebrities have experienced different kinds of hoaxes during their careers, be it rumors of divorce, wrong relationship tags, sexual orientation status; just name it! Heidi has had her own share of rumors and controversies. She was once said to be romantically involved with Jason Varitek; her colleague at Boston Red Sox. Even though Jason was married at that time, it didn't prevent the spread of the rumor.
Jason's actions of filing a divorce with his then-wife only intensified the spread of the rumors. However, that was just a mere rumor as Jason went on to tie the knot with a lady named Catherine Panagiotopoulos in 2011.
In another instance, Heidi was rumored to be romantically linked with another Boston Red Sox player, Nick Green but like the others, this rumor also fizzled out after a short while.