Hilaria Baldwin is an American yoga instructor who is better known as the wife of the famous writer, actor, producer, and comedian Alec Baldwin. Hilaria has made a name for herself in showbiz; working as a correspondent for the American television program, Extra, as well as writing and publishing a book. She has also been involved in dancing as far back as the tender age of five.
Another area where Hilaria has made an impact is in the wellness and health sector. She has her own string of thriving yoga studios and is also an advocate for healthier and better living habits. A busy mom of four, with another one on the way, Hilaria is definitely the quintessential definition of a modern-day woman who can hold down both the home and work fronts simultaneously.
Her Early Days As A Dancer And Subsequent Discovery Of Yoga
Hilaria Lynn Thomas Baldwin was born on the 6th of January, 1984 in Mallorca, Spain. Her mother is Spanish while her father is American. She, therefore, grew up in both countries, specifically the cities of Mallorca and Boston. As a child, Hilaria loved dancing. She dabbled into the art form at the tender age of two and stuck with it throughout her formative years. She became quite skilled in dance forms such as flamenco dancing, ballet, and gymnastics, and by the time she was 13, began competing in international dance competitions.
The young girl also added Latin ballroom dancing to her repertoire and eventually went on to major in Art History and Dance at New York University. Throughout the time she was flourishing as a dancer, from childhood into graduation, Hilaria Baldwin consistently struggled with eating disorders. Anorexia and bulimia were commonplace in her life because she tried to maintain the right figure for the various dance styles she was well acquainted with. Things, however, changed after she suffered a hip dislocation from a bad fall in 2009.
The injury made Hilaria realize she would need healthier options for keeping her body toned rather than having to be anorexic. She, therefore, took up yoga training in this regard. These yoga sessions proved to be quite helpful and the dancer took a deep interest in it, eventually becoming a trainer herself. From yoga trainer, Hilaria once made a giant leap by co-founding her own yoga studio, Yoga Vida, in the year 2010. She successfully ran this for about a year before running into her future husband in 2011.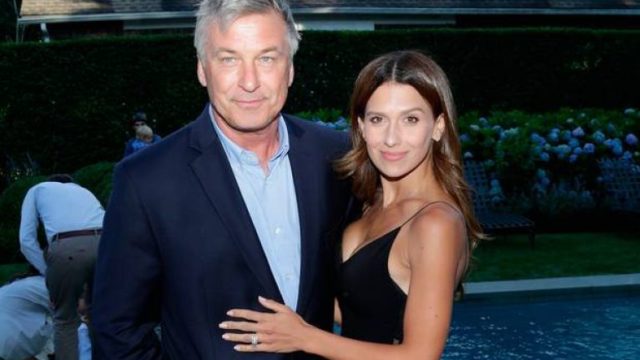 A Love Story That Began In A New York Restaurant
The first time Hilaria Baldwin met Alec Baldwin, she was at the Pure Food and Wine restaurant in New York. It was in February 2011, and on that fateful day, she was hanging out with some friends. Alec caught sight of her having a good time and couldn't help himself from getting up to meet her. He approached her and they chatted for a while before he gave her his card.
Hilaria had doubts about giving Alec a call but her friend encouraged her to do so. She eventually got in touch with him, and a few days later, they went on their first date. It is often said that love knows no barriers, and it proved to be true in this case. Even though there is an age gap of over 20 years between Hilaria and Alec, they fell in love with each other. They subsequently moved in together and started living in Greenwich Village. In April 2012, the couple announced their engagement, and on the 30th of June 2012, they tied the knot at St. Patrick's Old Cathedral in New York City.
The marriage came as a bit of a surprise for many because Baldwin had perfected the status of a serial bachelor for about nine years prior to meeting Hilaria. The actor later revealed that the marriage happened because he was ready to take vows again at that point. Moreover, his bride was quite mature and clear about what she wanted which was marriage. Hilaria, on her part also re-echoed this sentiment. According to her, her mom once advised her that a relationship can work out despite the fastness and she took these words to heart.
Four Beautiful Children And One On The Way
The marriage between Hilaria and Alec made the dancer a step-mother to model, Ireland Baldwin, Alec's daughter with his ex-wife Kim Basinger. She has also gone ahead to welcome four children with her husband. They are daughter – Carmen Gabriela Baldwin, who was on the 23rd of August, 2013. Their second child, son – Rafael Thomas Baldwin, was born on the 17th of June, 2015. Leonardo Ángel Charles Baldwin, their third together, was born on the 12th of September, 2016. Their fourth child, Romeo Alejandro, was born on the 17th of May 2018.
The Baldwin brood is set to increase once more as Hilaria revealed that she was pregnant in April 2020. Since then, she has been happily documenting her pregnancy journey on Instagram. She is, however, doing so with cautious optimism as she went through two miscarriages in 2019 alone. Meanwhile, as she awaits the newborn, Hilaria is busy lavishing her love on the four kids she has now.
Even though taking care of them can be quite daunting, she has gotten good at multitasking, such as preparing about three different breakfasts at the same time. She also has a great helper in her husband who is a very hands-on dad, a fact that has made her love him even more. It is, however, not all about kids for Hilaria and her husband. They keep their romance alive by arranging regular date nights when it can just be the two of them together.
How She Is Juggling Her Burgeoning Career And The Homefront
If you describe Hilaria Baldwin as a wonder woman, you won't be entirely wrong. This is because the Spanish/American dancer has found time to delve into several career pursuits despite being a mom of four. Baldwin continues to run the Yoga Vida studio which she co-founded in 2010. The studio offers quality and yet affordable yoga classes in the high-priced metropolis of New York City. It has also expanded to other locations such as NoHo, Tribeca, and Dumbo.
Outside of being a successful businesswoman and yoga instructor, Hilaria Baldwin has also appeared on television as an actress. She featured in the 2017 movie, Blind, as a yoga instructor. She also appeared on an episode of the comedy series, Nightcap, as herself. Hilaria is also the lifestyle correspondent of Extra — a syndicated entertainment news magazine program and has interviewed the likes of Emma Stone, Jane Fonda, and Tony Bennett.
Additionally, Hilaria Baldwin is an author. Her first book is The Living Clearly Method: 5 Principles for a Fit Body, Healthy Mind & Joyful Life. The book was published by Rodale Books on the 27th of December, 2016. It is designed to help people break through the pattern of self-abuse using the five principles of perspective, breathing, balance, grounding, and letting go.
Juggling all these different gigs whilst raising four kids can't be easy but Baldwin is handling it like a champ. She has also had some help. The dancer once revealed on the Mom School Podcast that she has a nanny that helps her take care of her kids. She also disclosed that some people have criticized her for getting help. The author, however, refuses to be ashamed as there is nothing wrong with getting help, especially because she has to work and doesn't have extended family nearby.