Holland Taylor is one of the most versatile and enduring actresses in Hollywood. In a career spanning nearly six decades, Taylor has featured in several movies, TV shows, and stage productions. One of her most notable characters came on the popular CBS sitcom, Two and a Half Men. In it, she plays the role of Evelyn Harper – the vain and snobbish mother of the two lead characters. Her character in the series was bisexual and dated both men and women.
As expected, the actress's role in the series raised so many questions about her sexuality in real life as she has kept mute about her sexual preferences for a long time. Is Holland Taylor gay/lesbian, bisexual, or is she straight? Perhaps it was just acting?
Holland Taylor's Relationship with Sarah Paulson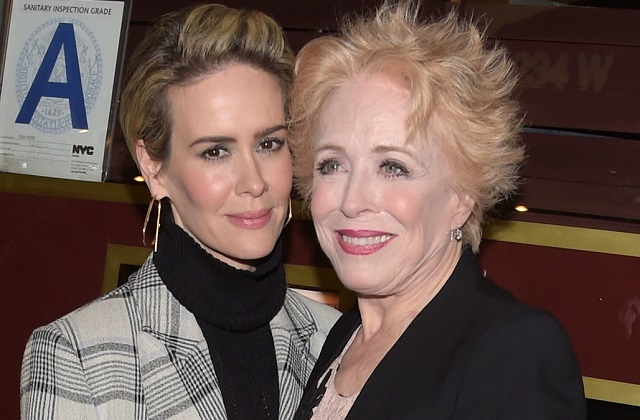 In a 2015 interview on The Death, Sex, and Money podcast, Holland Taylor revealed her sexual orientation as lesbian, stating that most of her relationships have been with women. With regard to her love life, Taylor is in a relationship with fellow actress Sarah Paulson, an award-winning actress, producer, and director who was born in 1974. Sarah has appeared in movies such as 12 Years a Slave, New Year's Eve, Mud, Ocean's 8, Bird Box, and Glass. She has also featured in several TV shows such as American Horror Story and American Crime Story: The People v O.J. Simpson; the latter fetched her an Emmy and Golden Globe awards for Outstanding Lead Actress in a Limited Series or Movie. Paulson also opened up about their relationship in a New York Times's profile
Holland Taylor and Sarah Paulson began dating in 2015. According to what Taylor said in an interview, the two first met at a dinner party in 2007 but didn't talk to each other. They met again a few years later at another event and subsequently followed each other on Twitter. Taylor made the first move by sliding into Paulson's DM. They got talking, eventually went on a dinner date, and started a relationship. Since then, the couple has remained strong and has been supporting each other in their various ventures. Sarah wished her partner a Happy New Year via an Instagram post in 2019.
Their Love Life Has Had Its Share Of Challenges And Has Raised A Storm
Their relationship has not been without its challenges as the same-sex couple has had to face so many criticisms and controversies. Many have called the duo out for the age gap between them – Taylor is 31 years older than Paulson – and some have even suggested that Paulson is suffering from mummy issues. The couple is however unfazed by these and has remained strong together.
Before the controversies began, Paulson already explained that she knew their dalliance was set to raise dust, especially due to the wide age gap between them – not that she cared a hoot. According to Paulson, she is enjoying her life with a much older person and people see that as odd and completely fascinating, but she is not interested in their opinion. In an interview, Holland Taylor's partner revealed that she has chosen not to bring any child into this world and to make her career a priority. She went on to say that she is the captain of her own ship and will never have the course to look to anybody to validate that.
When the duo initially came open with their relationship, Paulson was warned that dating Taylor may keep her from getting work which sparked another round of controversy apart from the age gap issue. But from what is perceivable, Paulson didn't care if her same-sex relationship puts her career on the line as she publicly declared her undying love for Taylor during the 2016 Emmys after she was announced a winner. "Holland Taylor, I love you," she declared while concluding her speech.
Taylor Has Never Tied The Nuptial In Her Life
Even in her late seventies, the septuagenarian has never exchanged the forever commitment vows with anybody, neither man nor woman. She seems to be comfortable with dating even after she came out of the closet and made her sexual orientation known to the world. There is equally no record of any child born to the famed actress.
Her feelings about love seem to be reciprocated by her same-sex partner Sarah who doesn't waste time slamming the critics. She revealed in an interview that people who spend their time thinking she is weird by loving the most spectacular person on the planet have a problem and she made it clear to all that she is just doing fine.
Holland Taylor's Acting Career Kick-started On Stage
Born in Philadelphia, Pennsylvania Holland Taylor commenced her career in the theatre in the 60s, and from the 60s to the 80s, the actress was cast in several Broadway and off-Broadway productions such as The Devils, Something Old, Something New, Children, and Love Letters. In 2011, Taylor wrote and starred in a solo play titled Ann. The play earned the actress a Tony Award Nomination for Best Actress in a Play.
The American entertainer also played the lead in A. R. Gurney's The Cocktail Hour which made her a nominee for a Drama Desk award. Her other starring role on stage was in Butley by Simon Gray. Taylor's appearance in Breakfast with Les and Bess earned her praises from John Simon – New York magazine theatre critic who couldn't help but express his appreciation.
The American Actor Took Her Acting Prowess To The Small Screen
Holland Taylor's acting coach Stella Adler played a big role in her career success, after Taylor's gig in The Edge of Night as Denise Cavanaugh, Stella encouraged her to take a role that would bring her to the limelight; playing Tom Hanks' sexy, demanding boss in Bosom Buddies – the 1980s sitcom. In 1985, she came in a starring role in the ABC detective series Me and Mom, two years down the line, the actress appeared in Harry alongside Lisa Eilbacher, and came in the first 13 episodes of Going Places. The Powers That Be was her pre-occupation from 1992-93.
The famed entertainer portrayed Dean Susan McMann in Saved by the Bell: The College Years in 1994, appeared as Camilla Dane on the set of The Naked Truth, and came as Judge Roberta Kittleson in The Practice from 1998 to 2003 winning the 1999 Primetime Emmy Award for Outstanding Supporting Actress in a Drama Series; she became a nominee for the same category the following year.
Since 2003, Taylor has been nominated for Emmys five times; one of them came from her role in AMC's The Lot which made her a nominee for the Primetime Emmy Award for Outstanding Guest Actress in a Comedy Series. Holland Taylor's television series Two and a Half Men where she appeared as Evelyn Harper also earned her nominations for Outstanding Supporting Actress in a Comedy Series. Another one is the miniseries Hollywood where playing the role of Ellen Kincaid made her a nominee for Outstanding Supporting Actress in a Limited Series or Movie. Her other appearances on television include The L Word, Ally McBeal, and Monk, ER, as well as Veronica's Closet.
Here Are Some Of Holland Taylor's Big Screen Roles
Appearing in the 2001 comedy Legally Blonde, Taylor played the role of a tough Harvard law professor. Her big-screen credits include Baby Mama, Happy Accidents, The Truman Show, George of the Jungle, Next Stop Wonderland, and How to Make an American Quilt. Others are The Wedding Date, D.E.B.S., Keeping the Faith, Romancing the Stone, The Sex Monster, and One Fine Day.
She has come in some animated roles such as Prudence in Disney's Cinderella II and the sequel Cinderella III: A Twist in Time. The animated show American Dad! Cast her as the biological mother of Francine. Taylor later went into writing and in 2009, came up with a one-woman play about the late Texas Governor Ann Richards, originally, the play was entitled Money, Marbles, and Chalk but later changed to Ann: An Affectionate Portrait of Ann Richards. Recently, the title was changed to Ann and has been doing some national tours and Broadway runs.
Holland Taylor's Net Worth Is In Excess of $18 Million
Holland Taylor has a net worth of $18 million according to Celebrity Net Worth. Her source of wealth is mostly from her acting career. To date, she has featured in over 45 movies, 61 TV shows, as well as 35 theatrical productions. Notable among her productions is the movie Legally Blond which grossed $141 million on a budget of $18 million and became a box office hit.
Taylor has received numerous accolades in the course of her career including a total of seven Emmy nominations of which she has won one – the 1999 Emmy Award for Best Supporting Actress in a Drama Series. This was for her role in The Practice, a long-running legal drama that focuses on the associates and partners in a Boston law firm. The series featured Taylor as a randy judge named Roberta Kittleson.
Though her lover, Sarah Paulson, is doing great in her own right, her net worth is just a fraction of Taylor's fortune at $4 million. However, the duo seems to be doing just fine.