Kenya has several beautiful beach resorts on its coast that offer wonderful accommodation coupled with a great ocean view and beach access. The beautiful serenity of the Kenyan coast has turned it into one of the world's foremost tourist destinations. The wide range of luxury beach hotels in Kenya at your disposal can be quite overwhelming; we have simplified the choice for you with a recommendation of the 5 best beach hotels available in Kenya.
Best Luxury 5 Star Beach Hotels in Kenya
1. The Diani Reef Beach Resort & Spa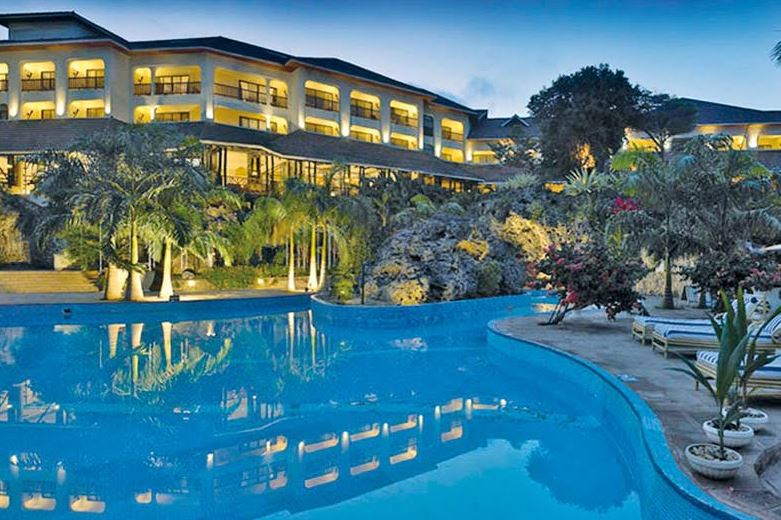 Located on the Diani Beach area in the coastal town of Mombasa, the view of the ocean from the long and pristine beachfront hotel is stunning. While the landscape surrounding the hotel is amazing on its own, the hotel has spared no expense in providing the very best in facilities to make your trip quite enjoyable. It has an indoor pool, two huge outdoor swimming pools, and sun beds for outdoor lounging, parasols, Jacuzzi, and free Wi-Fi access within the hotel grounds. For those interested in a more active tourist experience, this beach hotel offers tennis and volleyball courts, a diving school, and aqua aerobic instruction among a wide range of other activities to choose from.
2. The Serena Beach Hotel
This is located in the northern Mombasa area overlooking the Indian Ocean. The swimming pool facilities allow you to swim, lounge work on your tan and there is even a special pool for children. The outside pool has a one of a kind swim up bar. The cuisine is excellent with the Fountain Restaurant serving up tantalizing international delights while the Jahazi Restaurant offers seafood served up in the local grill and roast cooking styles. We recommend you visit the pond and butterfly nursery. Alternatively, you could enjoy a guided tour of the locale.
3. The Lion in the Sun Hotel
This is another 5-star beach hotel located in Malindi town, near the Malindi beach. This hotel has a full-service health and spa club for visitors; you can get facials as well as other beauty treatments here. Keeping in tradition with healthy fun bicycles are provided for those interested. Anyone interested in visiting Malindi town can use the town car limo service. With fifteen rooms that have private pools and fireplaces, this hotel breathes luxury all the way.
4. The Sands at Chale Island
This hotel was designed with the love of nature in mind. The pristine white sands of the beach, beautiful tropical fauna and serene environment at this hotel make for a memorable visit. The natural themed architecture hides a modern interior boasting of a casino and some of the best nightclubs around.
5. Ocean Beach Resort & Spa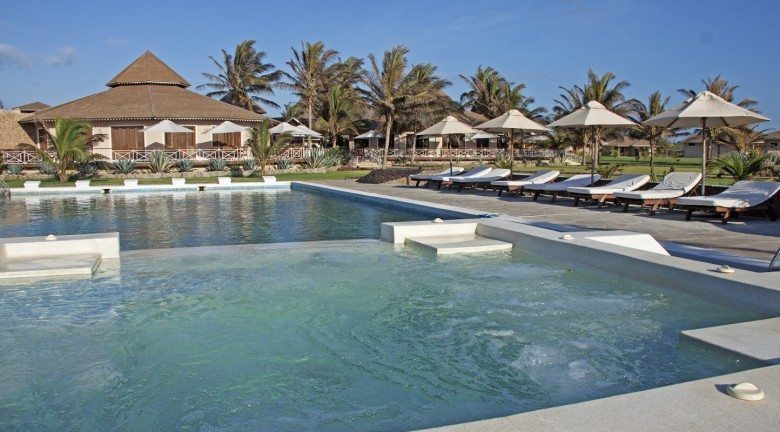 This one is located at the Malindi beach in Malindi town. Guests have a choice of two coffee shops and restaurants for dining. It has a beachside bar to cater for the ocean lovers and offers an English breakfast complimentary to guests every morning. It also boasts a full-service health spa and a library. There is a patio that offers a view of the beautiful garden and high-speed Wi-Fi across the hotel grounds.
Basically, it's come, stay, and enjoy.
6. Fairmont The Norfolk Hotel
As described on their website, this Hotel has played a leading role in Kenya's colourful history and continues to be one of Nairobi's finest and best-known luxury hotel. The hotel has its own private tropical gardens and is still the traditional starting point for safaris. It was expanded in 1999 and subsequently renovated in time for its centennial which was celebrated in 2004. There are 165 guest rooms and suites and eight conference rooms, it also offers a heated outdoor swimming pool, health club with gym, sauna and steam room, beauty salon, bookshop and gift shops. Learn More
Additional 5 Star Hotels in Kenya Include:
7. Nairobi Serena Hotel
Considered by many Kenyans to be Nairobi's finest hotel, justly famed for its superlative standards of efficiency, service and hospitality, the elegantly sophisticated Nairobi Serena Hotel is the proud flagship of the Serena Hotels' fleet of world-class hotels
8. Mara Serena Safari Lodge
Mara Serena Safari Lodge is the ultimate safari destination. Set high on a bush-cloaked hill, embraced by arcing vistas and washed by a sea of richly rolling grasslands, it stands centre-stage to one of Africa's most dramatic wildlife arenas and has a ringside seat for the greatest wildlife show on Earth, the legendary migration of the wildebeest.
9. Amboseli Serena Safari Lodge
This is one Of Africa's Finest Safari Lodges and one of the best hotels in Kenya. All Around The Lodge Roams The Big Game That Has Made East Africa Legendary – Lion, Buffalo, Cheetah, Giraffe, Baboon, Gazelle And Wildebeest.
10. InterContinental Nairobi
This superbly equipped hotel has all the usual leisure facilities including gymnasium, sauna, jacuzzi, Turkish bath and massage service. It also offers the outdoor pursuits of tennis, cycling and golf. However, guests who are a little more adventurous can enjoy a more exotic pastime and embark on a safari into Nairobi's National Park, arranged via the hotel's concierge.