Jack Falahee is an actor better identified as Connor Walsh, the lead provocative gay character in the legal drama How to Get Away with Murder. The NYU Tisch School of the Arts graduate, who has further put in remarkable performances in several movies like Sunburn (2012), Campus Life (2013), Rage (2014), and Slider (2014), is further noted for his role as Frank Stringfellow on the historical drama Mercy Street. Since he came on the movie scene in 2012, Jack has been making waves that have raised speculations about the actor's personal life, especially his true sexual orientation that has been kept shrouded for so long.
He Dispelled His Gay Rumors After The 2016 US Elections
After he portrayed the character of a gay man in the movie How to Get Away with Murder, speculations began to make the rounds that Jack Falahee was not straight in real life. The famed actor later refuted the gay rumors in November 2016, claiming that he was influenced by the aftermath of the elections to clarify his sexuality. His revelation came a few days after Trump was declared the winner of the US 2016 presidential election.
According to his posts on social media, Falahee recalled the moment how his friend, who was gay, broke down in tears after he learned that Donald Trump won the election. According to Jack Falahee, while he was cast as gay on HTGAWM, the movie star depicted a character who was involved in an interracial relationship with a man that was HIV positive.
However, he had always declined to discuss his sexual orientation in the past in a bid to dismantle the closet, but having discovered that his previous stance was not helpful in the fight for equality, he chose to embrace visibility as opponents to his previous ambiguous answers to questions surrounding his sexuality argued the importance of visibility. Even though he is not gay, Jack Falahee made a stance to utilize his voice in championing for equality for members of the LGBTQ community, which is an indication of the famous entertainer's support for gay folks.
Jack Falahee's Purported Relationship With Aja Naomi King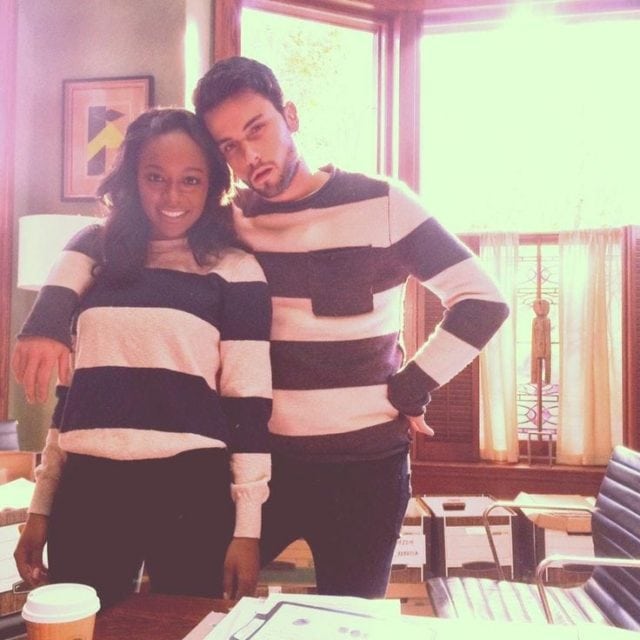 Aja Naomi King is an actress who co-stars alongside Jack Falahee as Michaela Pratt in How to Get Away with Murder. The pair's characters have a definite on-screen relationship, which has led to them having an even better relationship off-screen as they are noted to be the best of friends and spend their spare time together.
Falahee and King often post pictures of each other on their social media pages, wearing matching clothes, and being somewhat intimate with each other. The duo's behavior prompted speculation of a possible relationship between them. Fans came to the obvious conclusion that they have something going on but prefer to keep it under lock and key.
However, the California-born actress, who was previously falsely reported to be involved with another of her co-star on the show, Alfred Enoch, who plays Wes Gibbins, has neither confirmed nor denied anything. The same can be said for Jack Falahee, who declined to come up with a confirmation or denial.
It would appear that King was not the only relationship that Jack Falahee was suspected to have had, the 5 feet 10 inches dude was believed to be in a same-sex relationship with Conrad Ricamora – his love interest in How to Get Away with Murder. However, the speculations died a natural death following Ricamora's confirmation that he involved in another relationship.
He Has Been in a Relationship with Ellie Satter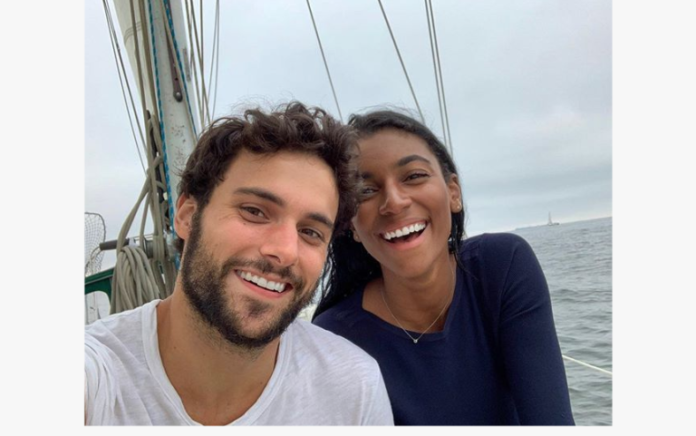 It is not clear if Jack Falahee has been able to find love in recent times as he maintains a very busy schedule, which makes it hard for him to meet new people and invest in those relationships. Another thing that might have been a stumbling block for him was his perceived gay sexual orientation, which would have put a few ladies off in the beginning.
But recently, there have been speculations that Jack Falahee is having a relationship with Ellie Satter, though the star of How to Get Away with Murder never came out directly to confirm or refute the rumors, he started posting the pictures he took with her on Instagram from July 2019. On the 5th of August, the movie star posted his picture with Ellie, where the duo was seen laughing; the caption read "Caught us laughing." Needless to say that discerning fans wasted no time putting two and two together when they saw the suggestive captions attached to the photos.
With those types of captions, it was glaring that the duo has more going on than platonic friendship. However, Ellie herself confirmed their dalliance when on the 8th of April 2020, she made it known that she was quarantined with the actor, though it is not clear when the couple hooked up and how. This confirmation dispelled all the previous rumors that Jack Falahee was involved with co-star Aja Naomi King. Besides, the American actor seems to prefer keeping his relationship beyond the microscopic eyes of the media all this while. It is said that to have a healthy and enduring relationship in Hollywood, celebrities should keep it out of the news.
Read Also: Viola Davis Husband, Daughter, Dad, Family, Net Worth, Body Size
Jack Falahee And Satter May Have Called It Quits For All We Know
The pandemic has made it hard for us to discern what is going with the couple as everyone is on compulsory quarantine and must stay indoors at all times, but on the 10th of March 2020, Jack Falahee's girlfriend shared a suggestive video recorded with her mum on Instagram.
Though not explicit, the video hinted that she had a break up with Falahee, and her mum was there to console her with two tickets to Mexico, where she can go and cry it out on a beach. We cannot categorically say whether the lovebirds are still going strong as they have not bothered to make an official announcement regarding their current relationship status. However, based on Satter's Instagram post, it is presumed that the Falahee/Satter dalliance may have hit the rocks, but as they always say, time will tell.