James Arness is one of the few late actors who despite being dead is pulling a lot of traffic on search engines. He was noted for his acting prowess in the drama series; Gunsmoke and had spent over 6 decades on the screens. He earned a lot of credits to his name for his performances on screens and had also released an autobiography. He was married twice and also has spent a few years in the US Army. Read on to find out more about this former actor.
James Arness' Bio
Born as James King Aurness on the 26th of May, 1923, in Minneapolis, USA, the late actor dropped the later "u" in his last name after he took to acting. His father, Rolf Cirkler Aurness worked as a businessman while his mom, Ruth Duesler made ends meet working as a journalist. He is the first of the two children born to his parents, having a younger brother named Peter Graves. What all seem like a united family all broke apart after his parents got divorced in the 1940s leaving James in a broken state.
Regarding his education, James Arness schooled at John Burroughs Grade school before proceeding to Washburn High School. He later transferred to West High graduating in 1942. Upon graduation, the actor took up menial jobs; he worked as a loader and also as a courier in a jewelry store.
Before becoming an actor, James Arness had always dreamt to be a naval fighter pilot, however, he built up limitations in his heart thereby stopping his dreams from getting fulfilled. Nevertheless, he later joined the USA Army and served from 1943 to 1945 before calling it quits after sustaining a massive injury leg during the Battle of Anzio.
After he left the Army, James Arness took up a job as a radio announcer; it was while he was there that he decided to join the acting world and also change his surname. He made his debut film appearance in the movie, The Farmer's Daughter in 1947 and also landed yet another role in the crime film; Roses Are Red. With his remarkable performances on set, he kept on getting bigger roles and by the time he had spent forty-six years on screen, he had appeared in over 38 movies.
On television series, James Arness played a long role in the series Gunsmoke and wowed his audience in every one of the episodes before it was closed in 1975. Prior to that, he worked in between schedules and starred in a few other television series including The Lone Ranger (1950), Lux Video Theatre (1954), The Red Skelton Chevy Special (1959) and the rest of them.
As an author, James Arness released his autobiography titled James Arness: An Autobiography released in September 2001, with a foreword by Burt Reynolds. When it comes to awards, James wasn't left out, he bagged a few awards and was also celebrated for his role in the drama series, Gunsmoke.
Net Worth
James Arness could be described as one of the very few actors who stayed loyal to the screens. He spent over six decades as an actor and has gathered a lot of credits to his name. Sources also say that while he was alive, he had other business added to his repertoire. James left behind a net worth of $8 million.
Details of his Wife, Children and Family
As mentioned, James younger brother is Peter Graves. Peter took up the surname Graves after he started acting. He was popular for his roles in the CBS Television drama series; Mission: Impossible and Airplane! Unfortunately, he passed on in the year 2010 after a heart attack just four days before his 84th birthday.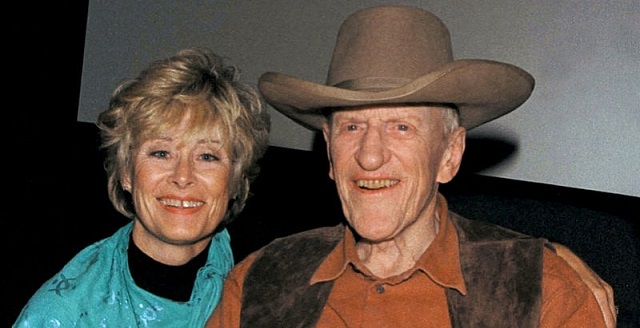 Regarding James Arness personal life, well, the actor has been married twice. His first marriage was to Virginia Chapman; an actress. The two later got divorced in 1960 after having two children; Rolf and Jenny. They also shared an adopted a son who Virginia Chapman had from another marriage.
After he divorced Chapman, he married an actress, Janet Surtees in 1978. They have no kids of their own but were united until James passed away. Sadly, the actor's daughter, Jenny Lee Aurness, took her life in 1975 just before her 25th birthday and his son, Craig kicked the bucket in 2004.
What Is His Height?
While he was alive, James Arness was noted for his smiles despite the troubles of life he had encountered during the war. His height of 6 feet 7 inches was one of the criteria he used in scaling through the army training processes. Sources say that he weighed over 106 kg while he was alive and also had a perfect body frame.
How He Died
Despite the fact that James Arness passed on in the year 2011, his works still remain inscribed in the hearts of many. He sadly passed on the 3rd of June 2011 naturally and was laid to rest in Glendale precisely at the Forest Lawn Memorial Park.