How well do you know Jane O'Meara Sanders, the wife of the US Senator Bernie Sanders? Jane left nothing to chance when she chose to serve as chief of staff and policy advisor to her husband, Bernie Sanders. Sanders has served as US senator from Vermont since January 2007 and has many years of political experience under his belt. The septuagenarian has also taken shots at the presidency at several points in time; with the unflinching support of his wife of course. And as the 2020 US Presidential elections tick closer, she is soon to get wrapped up in the whole campaign 'thingy' once again.
Jane O'Meara Sanders is an American Social worker, college administrator, and political staffer. She has served as provost and president for several colleges including Goddard College (1996–1997) and Burlington College (2004–2011). She founded The Sanders Institute; a think tank that began operations in June of 2017. More than being a college president, senior partner at Leadership Strategies, a Burlington-based consulting firm, Jane O'Meara is also a wife and mother of four adult children who still call her "Mom."
Jane O'Meara Sanders's Age and Early Life
Jane O'Meara Sanders (a.k.a Mary Jane O'Meara) was born on January 3, 1950, to the family of Benedict and Bernadette O'Meara. She and her four siblings were raised as Catholics in Brooklyn and they also went to Catholic schools. Consequently, Jane attended Saint Saviour High School, a Catholic girls' school. After graduating from Saint Saviour, she proceeded to the University of Tennessee, Knoxville. However, Jane O'Meara left schooling for a while and headed back to Brooklyn to go have (her three) children with her first husband, David Driscoll.
The couple moved to Virginia. She would later complete her college education with a BA in social work at Goddard College, Plainfield, Vermont. The young family had moved to Vermont in 1975 when her husband, an IBM employee, was transferred there. But Jane O'Meara had asked her husband to seek a transfer because she wasn't comfortable staying in Manassas, Virginia.
They soon divorced not long after the birth of their last child, Dave. Together, Jane O'Meara and David Driscoll had three children—Heather Titus (b. 1971), Carina Driscoll (b. 1974), and David Driscoll (b. 1975). But she wasn't done schooling; at least not yet. In 1996, Jane O'Meara bagged a Ph.D. in leadership studies in politics and education from Union Institute & University, Cincinnati, Ohio.
Career Exploits
Jane O'Meara Sanders' work history dates back to her time with the Juvenile Division of the Burlington Police Department. She then worked as a community organizer with the King Street Area Youth Center and for the Volunteers in Service to America. These jobs helped offset her ginormous student loans. Between 1981 and 1991, Jane O'Meara Sanders served as founding Director of the Mayor's Youth Office and Department Head in the City of Burlington. She was also a founding member of the Women's Council & the Film Commission and served as a School Board Commissioner in K-12 education.
Sanders helped bring her alma mater back to form when she was appointed as Provost and Interim President of the school, Goddard College, in 1996. Between 2004 and 2011 Jane O'Meara Sanders served as President of Burlington College; a small liberal arts college founded in 1972. However, the school was shut down in 2016 owing to financial issues several sources blamed Sanders for. In June of 2017, Sanders and her last son, David Driscoll, founded The Sanders Institute, an advanced think tank originally made up of 11 fellows; including Sanders.
Like her 10 counterparts, Sanders receives no remuneration for her work. However, she gets a package that covers her travel fares. On March 15, 2019, The Sanders Institute publicly announced that it was halting operations and will no longer accept donations, for the period of Bernie Sanders's presidential campaign.
She Married Her Husband Bernie Sanders 7 Years After They Met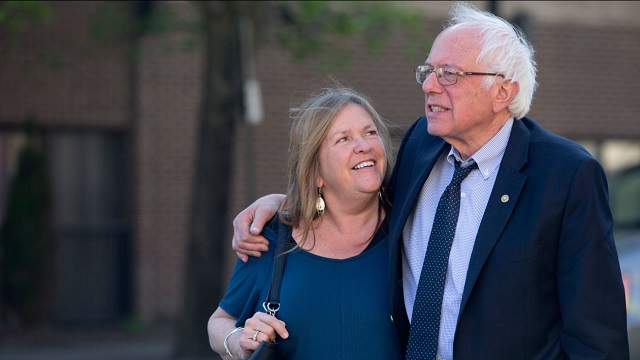 Jane O'Meara Sanders met her current husband, Bernie Sanders, back in 1981; just ten days before his campaign victory as 37th Mayor of Burlington. At the time, Jane was working in the Juvenile Division of the Burlington Police Department and as a community organizer at King Street Area Youth Center. They wedded years later in 1988 when he was nearing his second tenure as Mayor. The couple hardly had any taste of the traditional honeymoon, as it were; a day after their wedding, they flew off to the Soviet Union, now Russia, on an official assignment as Mayor. Jane shares a son named Levi with Bernie Sanders. Levi is among the couple's four adult children and they also have seven grandchildren.
Jane O'Meara Sanders' Salary and Net Worth
As far as the facts go, Jane O'Meara Sanders' take-home as Burlington College's president was about $150,000 per year, including benefits. At the time of her departure in 2011, Sanders received a total package of $200,000, including one year's severance pay, alongside substantial retirement bonuses and payments.
A recent estimate puts her net worth between $500,000 and $700,000. Her job as a college president and senior partner in several high-value firms has put her on the good side of the earning spectrum. While she receives no remuneration for her advisory role to her husband, she is nevertheless flooded with inflows from the various business ventures she and her husband run. Bernie Sanders also describes himself as a "six-figure Socialist." They both own property in Vermont and Washington.