In Hollywood (and indeed many other movie industries in the world), most actors find it hard to strike a balance between the small screen and the big screen. They either end up as film actors or TV actors. However, if there is one man who has managed to achieve a successful career in both areas, it is Jason Bateman. The award-winning actor has appeared in many TV series as well as movies; one of the most popular being the TV series, Arrested Development. In it, he plays the role of Michael Bluth, a straight-shooting guy who struggles to keep his morally dubious family on the right path.
Jason Bateman Bio (Age)
Jason Kent Bateman was born on the 14th of January 1969 in Rye, New York. His family moved around a bit while he was a kid and as such, the young Bateman lived in places such as Utah and California. Bateman's educational history is scant; most probably due to the fact that he commenced his career at an early age. He started his career at the age of 11 with appearances in some commercials. From these commercials, Jason Bateman landed minor roles in sitcoms such as Little House on the Prairie (1981-1982), Silver Spoons (1982-1984) and Knight Rider (1984).
In Silver Spoons, Bateman played the role of Derek Taylor, the mischievous best friend of lead character Ricky. His portrayal of the role was so good that he soon landed his own lead role in the sitcom, It's Your Move. From there, he moved on to other TV series such as The Logan Family, Burke's Law, Rude Awakening, The Twilight Zone, and Chicago Sons.
In 2003, he landed the career-defining role of Michael Bluth on Arrested Development. Since then, Jason Bateman has gone on to star in a bunch of other shows.
Jason Bateman has also appeared in over 45 movies with the first being the 1986 movie, How I Can Tell If I'm Really in Love. Others include Starsky and Hutch, Forgetting Sarah Marshall, Hancock, Couples Retreat, The Switch, Horrible Bosses, Identity Thief and This Is Where I Leave You. Bateman has received numerous award nominations, and won several, in the course of his career. They include the 2005 Golden Globe Award for best performance by an actor in a TV series as well as the 2019 SAG Award for outstanding performance by a male actor in a drama series. He also received a star on the Hollywood Walk of Fame in 2017.
Wife and Kids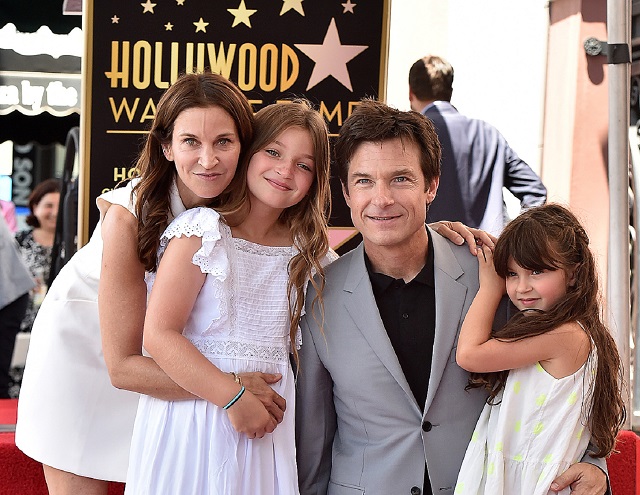 Bateman is married to Amanda Anka. Anka is also an actress as well as the daughter of renowned singer and songwriter, Paul Anka. Bateman and his wife got married on the 3rd of July 2001. They have two daughters together. They are Francesca Nora (born in October 2006) and Maple Sylvie (born in February 2012). The actor never fails to acknowledge his family whilst receiving awards. He regards his wife and kids as the three most important people in his life. He credits them with providing the love and support that has enabled him to achieve his full potentials.
Family (Sister)
The Horrible Bosses star hails from an accomplished family. His mother's name is Victoria Elizabeth. She is English and previously worked as a flight attendant. His father, on the other hand, is an actor and a filmmaker. His name is Kent Bateman and his directorial credits include The Headless Eyes, Death on Credit and Land of No Return.
Bateman has an elder sister named Justine. She is also an actress as well as a director and producer. She is popular for TV series such as Family Ties, Desperate Housewives and Californication.  She has also appeared in several movies including the 1988 comedy/drama, Satisfaction. Her co-stars included Liam Neeson and Julia Roberts. Jason Bateman and his sister have worked together on one occasion. They both appeared in the 1986 movie, Can You Feel Me Dancing. The movie was produced by their father, Kent.
See Also: Who is Charlie Day? His Wife, Son, Net Worth, Age, Height, Bio
Net Worth
Bateman has a net worth of $30 million. He made his money majorly from his acting career. Other sources of income include directing and producing. Bateman earned his first directorial credit at the age of 18 when he directed some episodes of the TV sitcom, The Hogan Family. This incredible feat made him the youngest director in the annals of Directors Guild of America. Since this remarkable achievement, Bateman has also directed other movies such as Bad Words and Family Fang. The New York native is also a director of the popular Netflix series, Ozark.
Height
A cursory glance at the Arrested Development star will reveal that he has a tall slim build. This assumption is further confirmed by his body measurements; Bateman is 5 feet 11 inches tall (1.8 m) and weighs 187 lbs or 85 kg. The actor also has light brown hair and blue eyes. Other additional measurements are chest size – 42 inches, waist size – 34 inches and Arms size – 15 inches.