Born and groomed to be an NBA star, Jayson Tatum is a basketball player who is naturally built for the sport. Though almost persuaded to change his dreams of becoming an NBA player because it was deemed 'unrealistic', the player worked hard to make his dreams come true despite all odds. Regardless of his humble beginning, Tatum overcame his low points, became a dynamic high school and college player and eventually made it big to the NBA draft. Considered a consistent and frequently spectacular player who creates a game for others, here is all you need to know about the star player.
Jayson Tatum's Early Life
The African-American star was born on March 3rd, 1998. Raised by a single mom in St. Louis, Missouri, Tatum's interest in basketball was evident from an early age. He played high school basketball at Chaminade College Preparatory School where he was ranked among the top 3 overall players by ESPN upon his graduation. Tatum continued with his impressive performance to Duke University, but after his freshman year, he decided to forgo college basketball for a chance at professional play.
A five-star recruit in his college years, it was no surprise that Tatum was selected as the third overall in the first round into the 2017 National Basketball Association (NBA) Draft by the Boston Celtics.
See Also: Kyle Kuzma Ethnicity/Nationality, Parents, Girlfriend, Family, Height
Besides his NBA career, Tatum also plays for his country. He was part of the team that participated in the 2014 and 2015 FIBA Under-17 and Under-19 World Championships.
Career Stats and Salary
In June 2017, Tatum was taken into the NBA by the Boston Celtics and was included in the NBA All-Rookie First Team in 2018. Tatum made his big league debut against Cleveland Cavaliers where he recorded a double-double with 14 points and 10 rebounds. Following his outstanding performance in the 2017 NBA Summer League, he was named a member of the All -Summer League 2nd Team. More so, on May 22, 2018, Jayson Tatum was named as part of the NBA All-Rookie First Team.
The baller who has been a consistent and frequently spectacular player was one of the top three highest-earning rookies of 2017. He currently earns a mouth-watering paycheck of $5,645,400 and has an estimated net worth of $6 million, a figure that is expected to rise in the nearest future following his several lucrative endorsement deals.
Meet The Parents
Jayson Tatum is the only child born to Justin Tatum and Brandy Cole. He, however, has two younger siblings Jaycob and Kayden who are both from his father's other relationship. Jayson was raised by his mom who had him at age 19. The two established a close bond while growing up and struggling to make ends meet.
Though Tatum's mom raised him and shielded him from most of life's challenges as a child, his dad was always around and they also shared a good father-son bond. A high school basketball coach and a former professional player in the Netherlands, Justin Tatum was of immense help in carving a career path for his son. Justin was one of Jayson's primary coaches and helped hone his son's skill for the big league. Nonetheless, Jayson owes all of his confidence and maturity to his mom who, despite all their struggles, made both their dreams come true.
Girlfriend Or Wife
A seemingly reserved personality, Jayson Tatum has maintained a low romantic profile, leaving details of his love life quite a mystery to the public. Currently, he is believed to be dating his college sweetheart Samie Amos whose full name is Samantha Taylor Amos. Just like Jayson, Amos is also athletic and is a volleyball player at Duke University.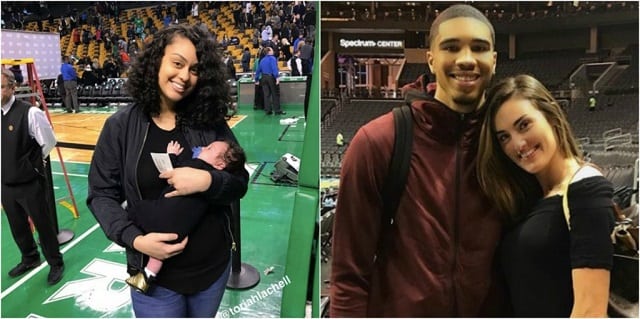 But even more fascinating is the fact that the NBA star has been linked to more than one woman suggesting, that he may be in an open relationship. In the past, Tatum dated a girl from his high school named Toriah Lachell who is believed to be the mother of his son Jayson Christopher Tatum Jr., born in January 2018. However, Tatum is yet to clarify the speculations regarding details of his baby mama.
How Tall is The Basket Ball Player?
With his muscle toned lean frame, Tatum's have been a major advantage for his career and they definitely speak for themselves. The NBA star towers at a height of 6 feet 8 inches and weighs about 93 kg, making him physically fit for any position in the game of basketball.