Born and groomed to be an NBA star, Jayson Tatum is a basketball player who is naturally built for the sport. Though almost persuaded to change his dreams of becoming an NBA player because it was deemed 'unrealistic', the player worked hard to make his dreams come true despite all odds.
Regardless of his humble beginning, Tatum overcame his low points, became a dynamic high school and college player, and eventually made it big to the NBA draft. Considered a consistent and frequently spectacular player who creates plays for others, Tatum has been tipped for greatness by many including LeBron James who once stated that Tatum is built for stardom.
Tatum Turned Pro after One Season in the NCAA
The African-American star was born on March 3rd, 1998. Raised by a single mom in the city of St. Louis, Missouri, Tatum's interest in basketball was evident from an early age. He played high school basketball at Chaminade CoSlege Preparatory School where he was ranked among the top three overall players by ESPN upon his graduation.
Tatum continued with his impressive performance to Duke University, but after his freshman year, he decided to forgo college basketball for a chance at professional play. A five-star recruit in his college years, it was no surprise that Tatum was selected as the third overall in the first round into the 2017 National Basketball Association (NBA) Draft by the Boston Celtics.
He Broke Several Records In His NBA Rookie Season
Tatum made his debut with the Boston Celtics in a game against Cleveland Cavaliers where he recorded a double-double with 14 points and 10 rebounds. The small forward continued in this fine form all throughout his rookie season and averaged 13.9 points, 5.0 rebounds and 1.6 assists as the Celtics made it all the way to the Eastern Conference playoffs. During the playoffs itself, Tatum showed the stuff he was made of by going on to set multiple records.
In game one of the second series, he scored 28 points, thereby making history as the first Celtics rookie to score 25 or more points in a game since 1980. In game two of the series, Tatum could only manage 21 points but still surpassed the great Kobe Bryant to become the youngest player in NBA history to achieve 20 points in four consecutive playoff games. The player's record-breaking exploits did not stop at this juncture.
He still scored 24 points in game three and made history as the first Celtics rookie to score 20 points or more in five consecutive games. In doing this, he surpassed the great Celtics legend, Larry Bird, who could only manage that feat in four games. Following such an outstanding performance in his rookie professional season, Jayson Tatum received praise from several quarters. More so, on May 22, 2018, he was named as part of the NBA All-Rookie First Team.
The Small Forward Is Yet To Land His First NBA Silverware
Following that freakishly spectacular debut season, Jayson Tatum has continued to improve on his performance and output across all indices. For his sophomore season of 2018-2019, he averaged 15.7 points, 2.1 assists, and 6.0 rebounds as his team once more made it to the playoffs. They however fell short of reaching the NBA finals and as such, his quest to land his first NBA title fell apart.
The small forward however remains optimistic and hopes to remedy that defect in the nearest future. Meanwhile, even though he may not have collected any trophies in the NBA yet, Tatum is not entirely empty-handed as he has won some silverware at the national level. The St Louis native was part of the USA team that won gold at the 2014 FIBA Under-17 World Championships in Dubai. He was also part of the triumphant contingent to the FIBA Under-19 world championships in Greece in 2015.
Tatum Shares A Close Bond With His Mother
Jayson Tatum is the only child born to Justin Tatum and Brandy Cole. He, however, has two younger siblings, Jaycob and Kayden, who are both from his father's other relationship. The NBA star was primarily raised by his mom who had him at age 19. At the time of his birth, she was still in college and thought of dropping out. She however preserved and shouldered the difficulties of being a single mom and a college student.
As you can imagine, the journey was a tough one. Mother and son often lacked money for utilities or even food but they soldiered on. Brandy made sure that her son always did his homework. She also supported his basketball dreams and happily spent money to get him the gear and training he needed. This indefatigable lady also did not let go of her own dreams. She completed law school and now practices as an attorney. These circumstances have made the pair quite close and Marcus has a tattoo of his mother's face on his leg.
The NBA star also maintains good relations with his father. Even though the man wasn't really around much of the time, he made an effort to be present and they shared a good father-son bond. A high school basketball coach and a former professional player in the Netherlands, Justin Tatum was of immense help in carving a career path for his son. He was also one of his son's primary coaches and helped hone his boy's skill for the big league.
Coping with Girlfriend and Baby Mama Drama
Jayson Tatum gives the picture of a seemingly reserved personality but his love life has the makings of a soap opera. Firstly, the NBA star was in a relationship with his college sweetheart, a volleyball player at Duke University named Samantha Taylor Amos. It however emerged that the player had embarked on a fling with a high school girlfriend named Toriah Lachell whom he had knocked up.
Tatum and Amos were able to weather this storm and Lachell eventually gave birth to their son, Jayson Christopher Tatum Jr., on the 7th of December 2017. However, after the birth of their son, Tatum left Amos for his baby mama.
A displeased Amos took to Instagram in December 2018 to vent her feelings, narrating how she could easily replace. She also stated that he would have a hard time finding a girl who can tolerate his s*** as much as she did in the now-deleted Instagram post.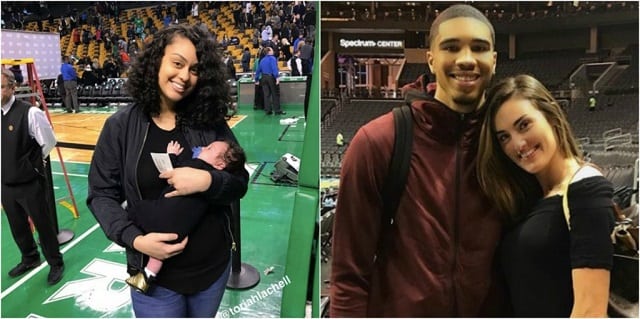 Jayson Tatum has never responded to that post but is instead focusing all his love and attention on his infant son nicknamed Deuces. The NBA star was initially filled with trepidation at informing his mother about his incoming baby because he knew how much it would displease her. He however fessed up and she has since been a big source of help to him, providing childcare when he is busy.
Jayson also makes ample time to be with his son. After his practices, workouts, and treatments, he comes back home and spends the remainder of his day with his son. His Instagram profile is littered with photos of him taking his son on vacation trips.
He Later left His Baby Mama For SInger, Ella Mai
Jayson has now left his baby mama and is believed to be in a relationship with Grammy-winning singer, Ella Mai. Mai is an English singer and songwriter who first rose to fame for her 2018 hit single, Boo'd Up. Since then, she has gone on to headline her own tour, The Debut Tour – 2019, as well as support other acts on their own tours.
Mai has also won a litany of awards including the 2019 Billboard Music Awards for top R&B artist, top R&B female artist, and top R&B song as well as the 2019 Grammy award for best R&B song. Jayson and Ella Mai reportedly first got in touch via Instagram. Things proceeded quickly from there and the two became a couple in January 2019. They have maintained a low profile since then but the NBA star has flown out on a couple of occasions to see his girl in concert.