Jesse Watters is one man who can't seem to avoid controversy no matter where he goes. Ever since he became popular for his ambush-style interviews on the Fox News show, The O'Reilly Factor, he has hosted several shows where he generously shared his provocative political views. His outrageous rhetoric has fetched him lots of fans, including President Donald Trump himself. He has, however, attracted criticisms with some of his remarks about minorities, female journalists, etc.
On the home front, Watters was previously married to his long-term sweetheart, Noelle Inguagiato. The union produced two adorable daughters and the family oozed off the picture of perfection and bliss. That illusion was later shattered in scandalous circumstances following the revelation that the Fox News personality had been cheating on his wife with a much-younger colleague who worked as a producer on his show.
A Breakdown Of Jesse Watters' Most Controversial Career Moments
Jesse Watters has spent the entirety of his career with Fox News and it has been a rollercoaster ride. After completing a bachelor's degree in history at Trinity College in 2001, the Philadelphia native was hired by the network as a production assistant in 2002. He spent just a year in this role and by 2003, was moved to the production staff of the show, The O'Reilly Factor. After a year-long stint in the production unit, he began to appear in on-air segments of the show in 2004.
These on-air segments featured Watters' notorious man-on-the-street interviews which saw him ambush unsuspecting and unprepared subjects. Such tactics annoyed a great number of people. It nevertheless propelled him to the spotlight and since then, he has gone on to co-host Fox News' programs like Outnumbered and The Five. He also has his show, Watters World, which debuted in 2017. Watters utilizes these avenues to dish out his polarizing opinions and this has caused many controversies.
His 2009 Ambush On Fellow Journalist, Amanda Terkel
Back in March 2009, an upcoming journalist and blogger, Amanda Terkel penned a blog that criticized Watters' then-boss and mentor, Billy O'Reilly, for some of his comments which seemed to blame victims of rape. O'Reilly didn't take too kindly to this and dispatched Watters to accost Amanda. The whole thing rattled the blogger but Watters and his boss refused to apologize. They rather dubbed her a far-left blogger who attacks rape victims.
Fast-forward to May 2016, Watters got a taste of his own medicine after the Huffington Post D.C. bureau chief, Ryan Grim, confronted him with a camera phone at the White House Correspondents Dinner. Grim asked him to apologize to Terkel but he refused to do so and a minor scuffle later ensued. He (Watters) later took to the air to blame Grim but expressed his regrets for how things transpired.
Stereotyping Asian-Americans
Jesse Watters also attracted widespread criticisms in October 2016 for an episode of his show, Watters World, which was deemed to be racist and derogatory of Asian-Americans. The episode was filmed in Chinatown, New York City, and saw Watters doing stereotypical stuff such as playing with nunchakus (a martial arts weapon) and asking Asian-Americans whether they knew karate.
These actions led to criticisms from several quarters, including the mayor of New York City, Bill De Blasio, who condemned him for perpetuating stereotypes. He was thus forced into a defensive position and he stated that the segment was not intended to offend but rather, it was a light piece from a political humorist.
The Lewd Remarks He Made About Ivanka Trump
Seeing as Jesse Watters is a big supporter of President Trump, one would expect that he would not extend his antics to that side but this is not the reality. The Philadelphia native gives no qualms about who he takes on and once directed his ill-advised humor towards Ivanka Trump. Back in April 2017, the businesswoman was booed whilst trying to address a women's rights event in Germany. This incident attracted lots of media coverage and Watters, as well as his fellow The Five co-hosts, also joined the fray to give their opinion.
It was while doing this that the Philadelphia native mentioned that he loved how Ivanka was speaking into the microphone and proceeded to make phallic symbols with his hand. Such lewdness did not go unnoticed and many viewers called him out for it. He however maintained that he was merely fascinated with Ivanka's smooth, jazzy voice and not trying to make sexual innuendos. This excuse was not enough to pacify anybody, including his employers, and he was forced to take a mandatory two-week leave from all broadcasting activities.
Sexist Comments About Female Journalists
That two-week suspension somehow calmed Jesse Watters' exuberances but it did not eliminate it. He has therefore gone on to stir other controversies, including making comments about his female peers. During a December 2019 episode of The Five, Watters claimed that female journalists sleep with sources all the time to be able to get scoops. He also went ahead to name one NYT reporter whom he accused of sleeping with a source for about four years to get juicy news items.
These disparaging comments attracted condemnations from far and wide including the International Women's Media Foundation, National Organization for Women, Women In Media, as well as Press Forward (an advocacy group for safe and respectful news environments). These groups condemned that prevailing mindset that women can only get ahead in their career by sleeping around. They also pointed out the ironic fact that it is women who often get sexually harassed whilst trying to do their jobs.
The Workplace Affair That Ruined His First Marriage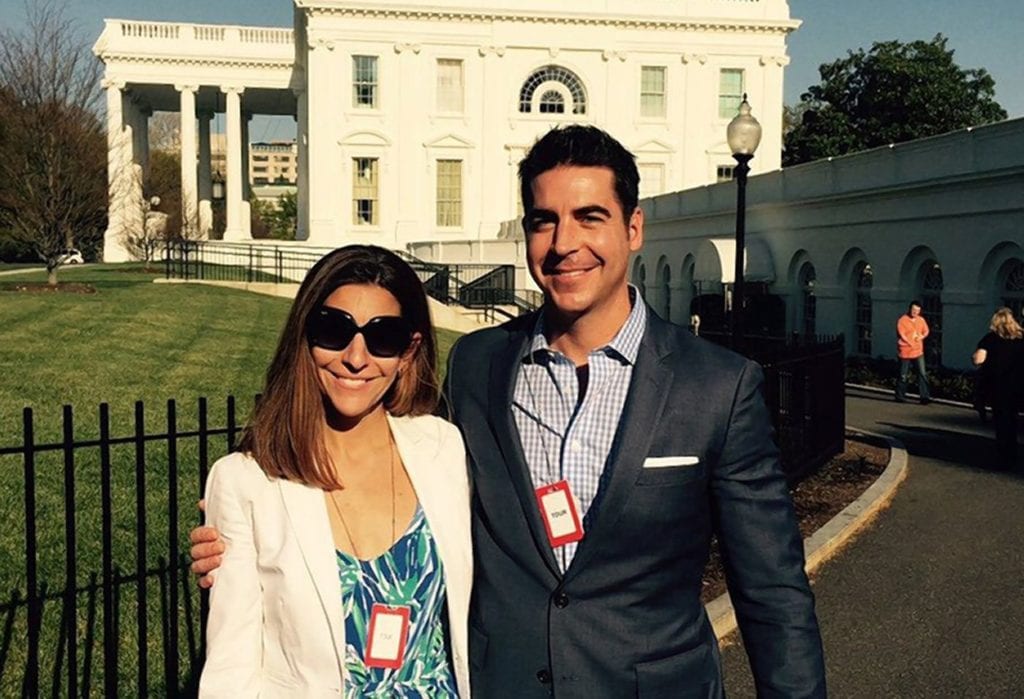 Jesse Watters was previously married to his longtime heartthrob, Noelle Inguagiato but the marriage was truncated as a result of an extramarital affair. However, before we give you the scoop on this affair, it is only fair to get the basics out of the way.
Watters first met Noelle while they were both working at Fox News. They later started dating and tied the knot in 2009. At that time, Watters was working on the O'Reilly Show while his wife worked in the promotions and advertising department. She also hosted a web-based fashion show known as iMag Style but had to suspend her career after welcoming twin girls, Ellie and Sophie, in November 2011.
Noelle thus spent the next several years primarily as a homemaker while her husband soared in his workplace. Their happy family of four lived in Manhasset, Long Island, New York until disaster struck in late 2017. After learning about her husband's affair with an unnamed 25-year-old producer working on his show, Noelle filed for divorce in October 2017. The divorce was finalized in March 2019 and the lady has now moved on with her life.
Jesse Watters Is Now Enjoying Marital Bliss With His New Wife
I'm Watters and this is my wife #loveyou pic.twitter.com/v7lKHNv0Wc

— Jesse Watters (@JesseBWatters) January 6, 2020
Watters has since remarried and his new wife is none other than the lady he had an affair with and her name has been revealed to be Emma DiGiovine. He and Emma first commenced a consensual relationship during the time that she worked as an associate producer on his show. The affair eventually leaked and Watters had to confess his indiscretions to the chief of the human resources department at Fox in November 2017. The situation created a dilemma for the HR department but they solved it by assigning Emma to work on another show, The Ingraham Angle.
Emma's transfer to another show, as well as Watters' divorce from his first wife, gave the couple the freedom to date openly and they utilized it quite well. They showed off their love on Instagram and were spotted at several public outings together. They later went ahead to tie the knot in Naples, Florida in December 2019. The wedding featured several star guests, including prominent members of the Trump clan such as Donald Trump Jr., Eric, and Lara Trump, as well as attorney and former Fox personality, Kimberly Guilfoyle.