Are you familiar with the Fox News show, The O'Reilly Factor? Then it wouldn't take you long to recognize the 'guy' from the show's on-street interview segment. Jesse Watters is an American show host who is famous for his work on Fox News' programs like Outnumbered and The Five. His On-The-Street, ambush-style interviews on the O'Reilly Factor has won him hearts across the US in no small way. But that's not all there is to the smiley face you see on TV. Watters is also a husband and lovely father of two. Let's take a short hike into Watter's world.
Jesse Watters Bio
Born on July 9, 1978, in Philadelphia, Pennsylvania Jesse Watters spent much of his formative years in Germantown and the nearby East Falls neighborhood. Although he was born and bred in the US, Watters' lineage can be traced to a strong Jewish ancestry. Growing up, he attended the William Penn Charter School through junior high school but later had to move when his family relocated to the bustling neighborhood of Long Island, New York. There, Watters completed high school in Friends Academy, a Long Island-based school. He then proceeded to Trinity College, Hartford, Connecticut, where he bagged a Bachelor of Arts degree in History in 2001.
Barely one year after graduating, young Watters secured a job as a production assistant at Fox News; and in 2003, he was moved to the production staff of The O'Reilly Factor. After a year-long career at the production unit in 2004, Watters began to appear in on-air segments of the show.
On June 11, 2014, Jesse Watters appeared for the first time on the Fox News show, Outnumbered, as a guest co-host. He would go on to make several intermittent appearances on the show. A year later, in November 2015, he hosted his own show, Watters' World, for the first time. The show was a monthly Fox News program, which, thanks to how viewers loved it, became a weekly show from January 2017; airing every Saturday at 8 pm EDT.
In the same year, Watters also appeared alongside his mentor, Bill O'Reilly and Dennis Miller as a guest in The Spin Stops Here Tour. He has also co-hosted the roundtable series, The Five since April of 2017. But that wouldn't be his first appearance on the show. From 2013 to 2014, he was a guest presenter on the show and was also a guest anchor on Fox and Friends in the same period. As America's ambush-journalist, his interviewing stint has landed him a session with current US President, Donald Trump; who openly follows Jesse Watters on Twitter and watches his shows.
As was the case with Trump, there have been controversies surrounding Watters' on-air career. The most famous of them involved a joke he cracked about Donald Trump's daughter, Ivanka Trump. This didn't go down well with viewers who described the joke as "lewd". That notwithstanding, Watters calls himself a political humorist.
Salary and Net Worth
The journalist is currently worth $1 million. According to sources, his annual salary stands at around $300,000 asides the handsome bonuses and incentives his exciting career affords him. However, Watters hasn't come out plain about where he invests all that money. His active social media handles are proof to the comfortable life Watters shares with his family.
Married, Wife, Family, Divorce, Girlfriend
Now to the Jesse Watters behind the camera. The partly Jewish journalist got married to his longtime heartthrob, Noelle Inguagiato in 2009. Noelle is a fashion stylist as well as a media host. She has made several appearances on Fox News and hosts Something Called iMag Style on Foxnews.com. Although the show didn't last for too long, it was enough to push Noelle Inguagiato out of obscurity 'forever'.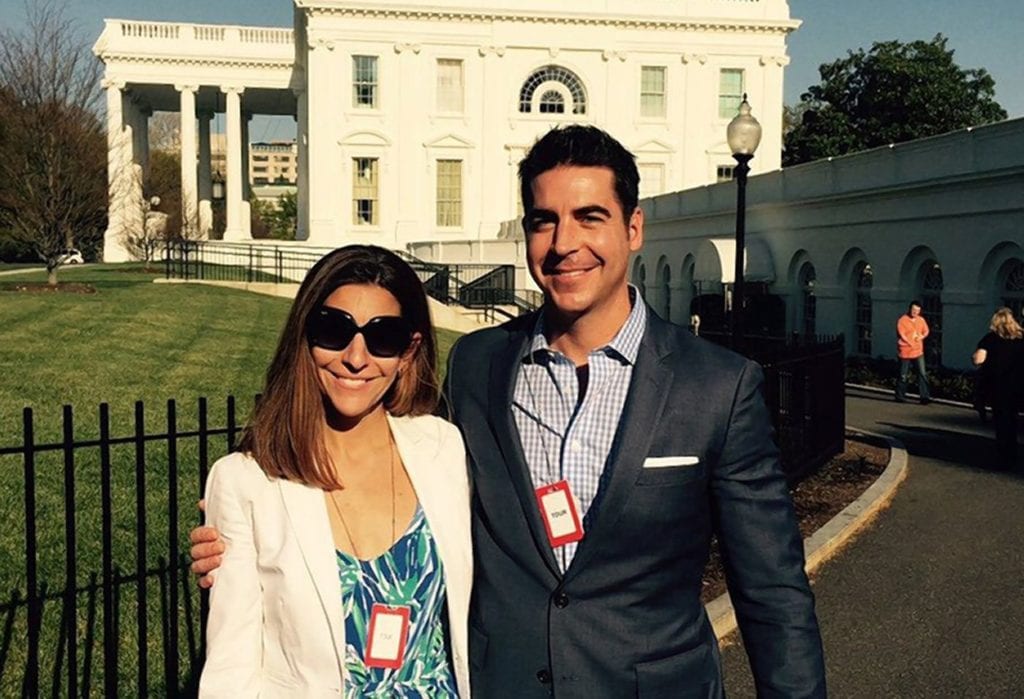 In November 2011, the couple welcomed a set of twin girls they christened Ellie and Sophie. The happy family of four lived in Manhasset, Long Island, New York until disaster struck in late 2017. After learning about her husband's affair with an unnamed 25-year-old producer working on his show, Noelle Inguagiato filed for divorce in October 2017. However, details of their rift didn't go public until March 2018. Jesse Watters went public about his impending divorce shortly after Noelle's divorce papers were leaked. The producer was, however, transferred to The Ingraham Angle, where she and Watters continued to date.
Jesse Watters seems to have settled into his new-found state as a divorcee awaiting a second marriage. He still enjoys the company of his two daughters and is yet to say anything about his alleged extramarital affairs.
Height and Body Measurements
Jesse Watters stands 6 feet and 1 inch tall (1.83 meters). He is of average build, has dark brown eyes and wears brown hair. His handsome build and attractive persona continue to melts hearts across his female fan base. Watters is also active on social media where he gives fans a sneak peek into what it means to be Jesse Watters. A brief name-search would give you a peek too.