As the biggest film industry in the world, Hollywood has been a preferred destination for many actors and actresses all over the globe who wish to pursue a career in acting. Many of them, come down to Los Angeles and find that the industry is not what it seems from the outside. The disillusionment causes many to leave, while some stay and fight against the odds to make out something for themselves. Some of these people end up succeeding, living the dream of having their name on posters in some of America's major cities. One actress who belongs in this category is Jessica Rothe, who made the move from Colorado to California to become an actress. She is mostly known for the film, Happy Death Day. Learn more about her below.
Jessica Rothe – Biography, Age
Born Jessica Rothenberg, the actress was born on the 28th of May, 1987 in Denver, Colorado into a Jewish family where she has Susan and Steve Rothenberg as her parents. Though she wasn't exactly born into a family of artistic people, acting ran in Jessica's blood through her grandmother Colleen Rothenberg who was a theatre actress when she was alive.
Jessica did not waste time before she began to train as a future entertainer. At the age of eight, she started taking ballet classes and attended summer theatre camps as a teenager. She incorporated her passion and desire for the acting profession into her formal education as she studied Fine Arts at Boston University after graduating from Cherry Creek High School. She graduated from college in 2009 with a bachelor's degree. By the time she was graduating, Jessica was a skilled violin player, tap dancer and had an accomplished knowledge of pottery.
After graduation, Jessica did not have to wait very long before she got her first role onscreen. She made her onscreen debut in a television show, America's Most Wanted: America Fights Back, guest starring in an episode titled "The Pink Panthers" as Bojana Mitic. The following year, she starred in two episodes of The Onion News Network as Katie Clements followed with another starring in an episode of Happy Endings as a nameless teenage girl. The trend continued in 2012 with Gossip Girl where she starred in a solitary episode as another nameless character.
2013 proved to be a better year of Jessica who starred in multiple projects, specifically on film. She started with a short film, Promised Land before starring in four films – The Last Keepers, The Hot Flashes, Bastards of Young and Jack, Jules, Esther and Me. She also starred in three television shows, Blue Bloods, Futurestates, and High Maintenance. Things got a little lean in 2014, with just a short film appearance, Dissocia and a 6-episode appearance on Next Time on Lonny as Stephanie.
Since 2015 till date, Rothe has starred in 14 films, which include notables like La La Land and Happy Death Day, which she got an award nomination from the New Mexico Film Critics Circle Award for Best Actress. On television, she starred in Chicago P.D and in Mary + Jane, an MTV show where she played the lead character Paige in the main role for 10 episodes. She reprised her role for the sequel of the slasher film, Happy Death Day, Happy Death Day 2U.
Jessica Rothe is also a philanthropist who has dedicated her time and resources to the foundation, Save The Children.
Parents and Sibling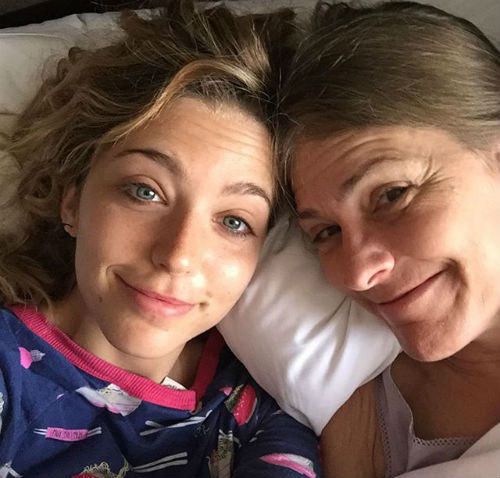 Jessica Rothe is one of two children born to Steve Rothenberg and Susan Rothenberg. Her father is an Ashkenazi Jew while her mother is of German and Scottish descent. Her only sibling is her sister, Cate Rothenberg. As mentioned earlier, Jessica's acting passion was borne out of her grandmother, Colleen Rothenberg who was a theatre actress. Apart from her, no other person has been on the spotlight in their family like Jessica. No doubt, her parents must be very proud of the work she is doing as an actress.
See Also: Lexa Doig Bio, Net Worth, Measurements, Relationship with Michael Shanks
Husband (Married) or Boyfriend (Dating)
The Denver Colorado actress joins the long list of actors who have kept their personal life private. Although we know she is currently single, her social media page – Instagram suggests that she might be in a relationship. However, the identity of the possible partner is currently unknown.
Body Stats – Height
Jessica Rothe is certainly a beautiful actress with an athletic body. She stands at 5 feet 4 inches with a body weight of 55kg. Her notable body features include a blonde hair with green eyes, bust, waist and hip measurements of 32-24-34 inches respectively.