Jillian Fink is a well-known makeup artist in Hollywood who has worked on the set of many movies. She has also applied her remarkable talents to have her clients looking stunning for the red carpet. Apart from her career, Jillian Fink is also popular as the wife of Grey's Anatomy star, Patrick Dempsey. So how did a makeup artist and a movie star become husband and wife? This and much more information will be provided below.
Jillian Fink Biography (Age)
Jillian Fink was born on the 4th of February 1966. There is not much information about her early life, educational background or immediate family. However, we do know that she has a sister named Kristin Fink Mason. After completing her high school education, Jillian Fink proceeded to a beauty school in California where she learned everything about makeup and cosmetology.
Jillian commenced her career in the 90s. She worked in some of the world's top fashion capitals such as Paris and London. She later moved back to the states and set up her own hair salon. Thanks to the excellent quality of her work, Fink started landing makeup gigs on the set of several movies. Her first Hollywood gig came in the year 1992 when she was hired as a makeup artist for the movie, Something to Live For: The Alison Gertz Story. Fink landed her next movie gig two years later on the set of The Crew.
She has also worked as a makeup artist on the set of other movies such as Skipped Parts and Charlie's Angels. Charlie's Angels was a blockbuster which featured stars such as Drew Barrymore, Cameron Diaz, and Lucy Liu. Fink's work has not been limited to the movies. She has also prepared celebrities for the red carpet. Her clientele includes global superstar such as Kristen Stewart. Apart from being a makeup artist, Jillian Fink also has her own line of makeup items. Her products are made of natural and organic materials and as such, do not pose any danger to the end user.
Husband and Children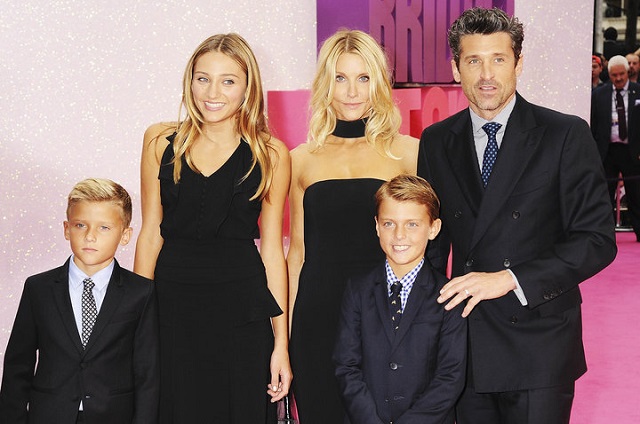 Jillian Fink is married to popular Hollywood actor, Patrick Dempsey. Dempsey is an award-winning actor who has featured in movies such as Sweet Home Alabama, Made of Honour and Bridget Jones' Baby. He is, however, most popular for his role as Dr. Derek Shepherd on the long-running medical drama, Grey's Anatomy. His sexy good looks, combined with a good head of hair earned him the nickname, Dr. McDreamy.
So how did Fink and Dempsey meet? Reports have it that they first met in 1994 at her hair salon. He had come to get a haircut and she was the one that attended to him. They were immediately taken with each other but did not act on that attraction. Rather, they spent the next three years flirting and being friends. They later commenced a relationship in 1997. Fink and her beau tied the knot on the 31st of July 1999. The emotional ceremony took place at the Dempsey's family home in Maine.
Jillian Fink has three children with her husband. Their first child, Tallulah Fyfe was born in February 2002. Their twin sons (Darby and Sullivan) followed five years later in February 2007.
See Also: Pam Dawber – Biography Of The Woman Who Mark Harmon Is Married To
Facts To Know About Patrick Dempsey's Wife
In January 2015, Fink shocked many movie fans when she filed for divorce from her husband Patrick Dempsey. She and her husband were one of the most loved couples in Hollywood and as such, the divorce came as a surprise to many. The tabloids went to town with the story, suggesting that she filed for divorce as a result of infidelity.
However, it must be stated that the official papers never mentioned that but only cited irreconcilable differences. In preparation for the divorce, Fink even purchased a five-bedroom home for herself in Pacific Palisades.
Thankfully, the couple decided to shelve the divorce and work on fixing their marriage. This was partly in view of their young children. Their mutual hard work was a success and in September 2015, Jillian Fink filed to withdraw the divorce petition. She also sold off the house she had earlier purchased for herself.
Since that scare, the couple has been waxing strong. They have been seen engaging in public displays of affection in many places. Jillian Fink has also been spotted visiting her husband on the set of his movies. The entire family also attended the world premiere of Bridget Jones' Baby in London in September 2016. This indicates that all is truly well in their paradise.