Joanna Gaines and her husband Chip Gaines became celebrities after their television show Fixer Upper began airing back in 2013. The show which was about home renovation and decoration ran for about 6 seasons with a total of 79 episodes before the couple bade farewell to it in April 2018. Apart from their appearances on Fixer Upper, the enterprising duo has also ventured into several businesses in their life together.
More so, it's known that Joanna has always been drawn to doing good business, an attribute she picked up while working with her father in his automobile worship. She has also tried pursuing several other career paths vibrantly before settling for interior designs.
Joanna Gaines' Early Life Experiences Shaped Her Business Mindset
Joanna Lea Stevens was born on April 19th, 1978, in Kansas, United States, to Jerry and Nan Stevens. Her parents first met when her dad was on a duty tour in Korea during which he courted and eventually married Nan. Joanna's dad is half-German and half-Lebanese while her mum is Korean. Apart from the popular TV personality, her parents also have 2 daughters, Teresa Criswell and Mary Kay McCall with whom Joanna spent her growing up years in Texas where their parents relocated to from Kansas.
During her early years, Joanna spent a lot of time at her father's automobile worship and helped him in running the business in the coming years. However, the vibrant young lady also yearned to be a newscaster at the time. This fueled her passion to study Communication at Baylor University, bagging her first degree in the year 2001.
She would later move to New York City to work as an intern for the publication firm known as 48 Hours. However, her career pursuit in that line was short-lived as Joanna revealed that she got bored of journalism. She eventually moved back to Texas where she continued to work with her father but turned down his offer for her to take over the automobile business. Joanna was rather interested in developing an interior design business as she had grown an interest in that line during her stay in New York.
She Met Her Husband, Chip Gaines Through Her Father's Automobile Workshop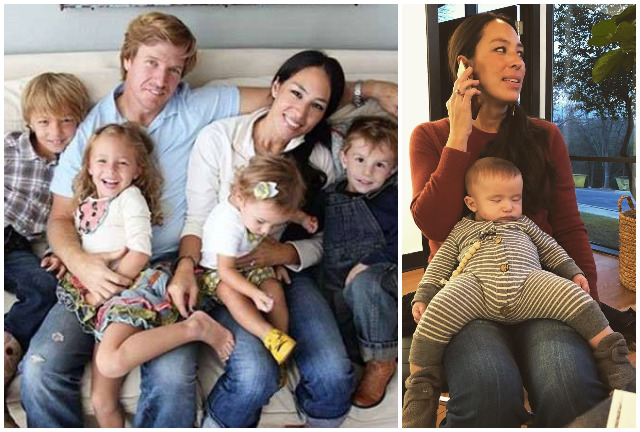 Although Chip and Joanna both attended Baylor University, they met for the first time in 2001, thanks to her father's automobile workshop. Chip had come to the workshop and upon seeing a family picture of Joanna with her folks in the workshop, he was smitten by her. From that moment, he revealed that he had a gut feeling that he was going to marry her. The pair finally met and after asking her out on a date, they officially kick-started a romantic relationship towards the end of 2001.
Like all relationships, Joanna and her beau have also faced their own share of challenges. Sometime in 2017, there were widespread rumours of their divorce which the pair could not figure out how it all started or who started it as they were happily married. Joanna had to debunk the talks of the divorce in an interview while Chip took to his social media page to respond to a tweet about the divorce by posting "Won't ever happen.. you can take that to the bank! #loveOfMyLife".
They Have Grown Their Family Tremendously
The couple nursed their relationship for about 2 years before they got married in Waco Texas in 2003. The pair have gone on to grow their family into quite a large one as they now have 5 children – 3 boys and 2 girls. The oldest, Drake Gaines was born in 2005, their first daughter, Ella Rose Gaines was born a year after in 2006, their second son, Duke Gaines was born in the year 2008, a second daughter, Emmie Kay Gaines was born in 2010 and their last child and son Crew Gaines joined the clan in 2018.
Their Appearance On Fixer Upper
Chip and Joanna Gaines co-starred in Fixer Upper. The popular reality TV show was premiered on May 23, 2013. It became a hit in its very first season when the couple transformed a dilapidated den of hoarders into a lovely home. A prompt renewal for more airtime spanning into 5 full seasons from April 2014 when the show harnessed almost 2 million viewers. The series eventually ran for a total of 5 seasons, comprising of 79 episodes. Its final episode aired on HGTV on April 3, 2018.
Prior to wrapping up the series, the showrunners announced in March 2017 that a spin-off series titled, Fixer Upper: Behind the Design was in the works. It was aired for the first time on April 10, 2018. This show which is timed 30 minutes showcases how she came up with the designs used in the defunct Fixer Upper reality television show.
Later on in 2019, Joanna and her husband collaborated with the Allison Page, President of HGTV, to create a media firm that will include a streaming app and TV network. They have also announced the launch of their cable network named, Magnolia which starts running by October 2020.
Joanna & Chip Gaines Turned Their Magnolia Franchise Into An Enterprising Business
The couple who started a retail store named Magnolia Market has spent 10 years growing it. Eventually, they ventured into helping clients buy and remodel properties and at that initial time, Joanna ran a blog where she published her home designs.
This was how they landed into stardom after the TV producer, Katie Neff picked interest in their work and met them about airing a home rehab show with the HGTV which gave birth to Fixer Upper. However, aside from that, the pair have explored a myriad of ventures with their Magnolia company and notable amongst them include the following.
The Refurbishing Of Waco & Launching The Magnolia Publications
In January 2015, they converted an abandoned Waco site into a beautiful bustling shopping mall, making Waco – the place where they got married – into another interesting touring destination. They also started a quarterly magazine, The Magnolia Journal.
More so, Joanna runs a Magnolia blog and in collaboration with Chips, she has published a memoir, 'The Magnolia Story' which comprises an examination on milestones of their lives and family. Within a month of the publication of the memoir, it became a New York Times bestseller and ranked among the United States Today list of nonfiction bestsellers.
They Run Diverse Retail & Home Accessories Outlets
Joanna Gaines also works together with US retail giants like Total Corporation to make available home and lifestyle products online. In addition to that, she and Chip have a garden that serves as the main source of the food products they use in a restaurant named, Magnolia Table which Joanne opened in February 2018. They also run a coffee and beverage shop which they call the Magnolia Press.
The next year, the enterprising lady went on to establish an exclusive collection of rugs and pillows which she termed 'globally inspired'. They also have a line of paints, wallpaper designs, and furniture in their business ventures.
The Gaines Have Made A Fortune Working Together
The power couple who started their first business pursuit with a $5000 loan currently, has an integrated net worth estimated to be $18 million. Their appearances on the Fixer Upper did not just bring them into the limelight but it also made their Magnolia company gain wide recognition and over the years, they have created various businesses under it which accounts for their current net worth.