Joey Bosa is one lucky chap who grew up in a footballing family and he has relentlessly continued in the family tradition of playing football, a job he has remarkably executed in his short career, clinching not less than 5 notable awards along the way.
He was among the five players (alongside Eli Apple) selected from Ohio State University and drafted at the 2016 NFL Draft and even though Bosa was the first to be picked amongst them, he was the last to eventually put pen to paper as the initial contract offers and clauses did not suit him. After reaching a compromise with the San Diego Chargers, he signed a four-year contract worth $25.8 million with $17 million play bonuses.
Early Life and Career Beginnings
Joey was born as Joseph Anthony Bosa on the 11th of July, 1995 in Fort Lauderdale, Florida to John and Cheryl Boss. He has a younger brother called Nick and he identifies as a Native American by ethnicity. His great-grandfather, Tony Accardo, was one of the big shot of the Chicago Mob. His father and uncle all played football in their time. His father played briefly from 1987 to 1989.
Joey Bosa attended the St. Thomas Aquinas High School and on graduation, he proceeded to the Ohio State University following his uncle's footstep. There, Bosa got involved with the Buckeyes playing in the defensive end position for the team. He made a massive impression in the game of football there, ending the college year with a remarkable score of 148 tackles, 26 sacks, he made 1 interception and had 5 forced fumbles all in 38 games played in, all through 2013 to 2015.
His remarkable performance earned him the title of the 4th Best Defensive end in his class and later he was awarded the Smith-Brown Defensive Lineman of the Year award, and he also became the Unanimous All-American in the same year. He also clinched the First Team Freshman All-American and the Big-Ten Lineman of the Year awards, etc. Rival.com also published his name as a 5-star recruit and a very high pick prospects at the 2016 Draft.
Career Stats
Professionally, Joey Bosa got signed up by the San Diego Chargers wearing the #99 shirt, in April 2016 in the first round of 2016 NFL Draft. And although he missed his first 4 games of regular season due to a hamstring injury he sustained, he still managed to work his magic in his debut game. He recorded 27 defensive snaps, 2 sacks, 1 hit, thus, wrapping up the 12 games he played in the 2016 season beautifully well with 10.5 sacks, 41 tackles, and 1 forced fumble. He also got the nod for the NFL Defensive Rookie of the Year and later got rated by his peers as the NFL 100th Player of the Year 2017.
Joey Bosa went on to solidify the efforts of his rookie year with a more impressive performance in his second season where he recorded 70 tackles and 12.5 sacks.  This meant he was ranked 7th among NFL defensive ends, thereby getting his first mention for the Pro – Bowls in 2017. The sum total of his career stats as of 2017 is recorded as 111 total tackles, 23 sacks, 5 forced fumbles, and 1 recovered fumble.
His Brother and Family Life
Joey Bosa has just one brother Nick Bosa, who was born on the 23rd of October, 1997. They had the privilege of being tutored and drilled by their father, a one time Dolphin player, who retired after he sustained several knee injuries. Nick has actively tailed in the footsteps of his elder brother, Joey in every way. He attended the same high school – St. Thomas Aquinas High School – where he played for 4 years as a starter in the team and his efforts earned him multiple awards and the 5-star recruit prospect rating.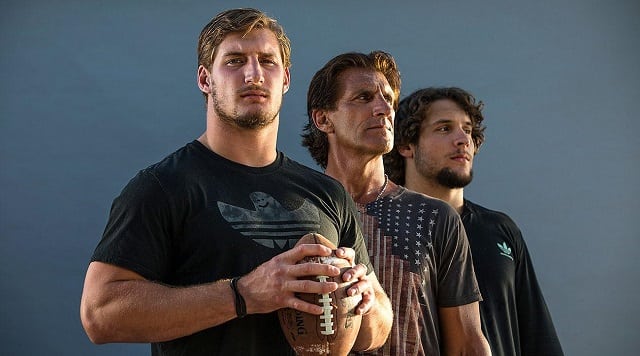 Nick, like his older brother and uncle, proceeded to Ohio State University wearing the #97 shirt, which was worn by Joey which they did in honor to their father, and he has played a total of 26 games, recording a combined tackle of 63, total tackles of 36, 27 assisted tackles with 13.5 sacks and he successfully defended 2 passes for the Buckeyes. He is currently being bested as one of the first recruits that will get drafted very fast in 2019 NFL draft. Joey who is close and fond of his brother is looking forward to working with him on the defensive line after he gets picked in 2019. It will indeed be good, to see this remarkable duo's synergy on the field someday.
Height and Weight
The defensive end player stands at about 6 feet 5 inches with his frame neatly supported by a weight of 127 kg which is bigger than that of his younger brother, Nick, who stands at about 6 feet 4 inches and he has a smaller body mass of 122 kg.